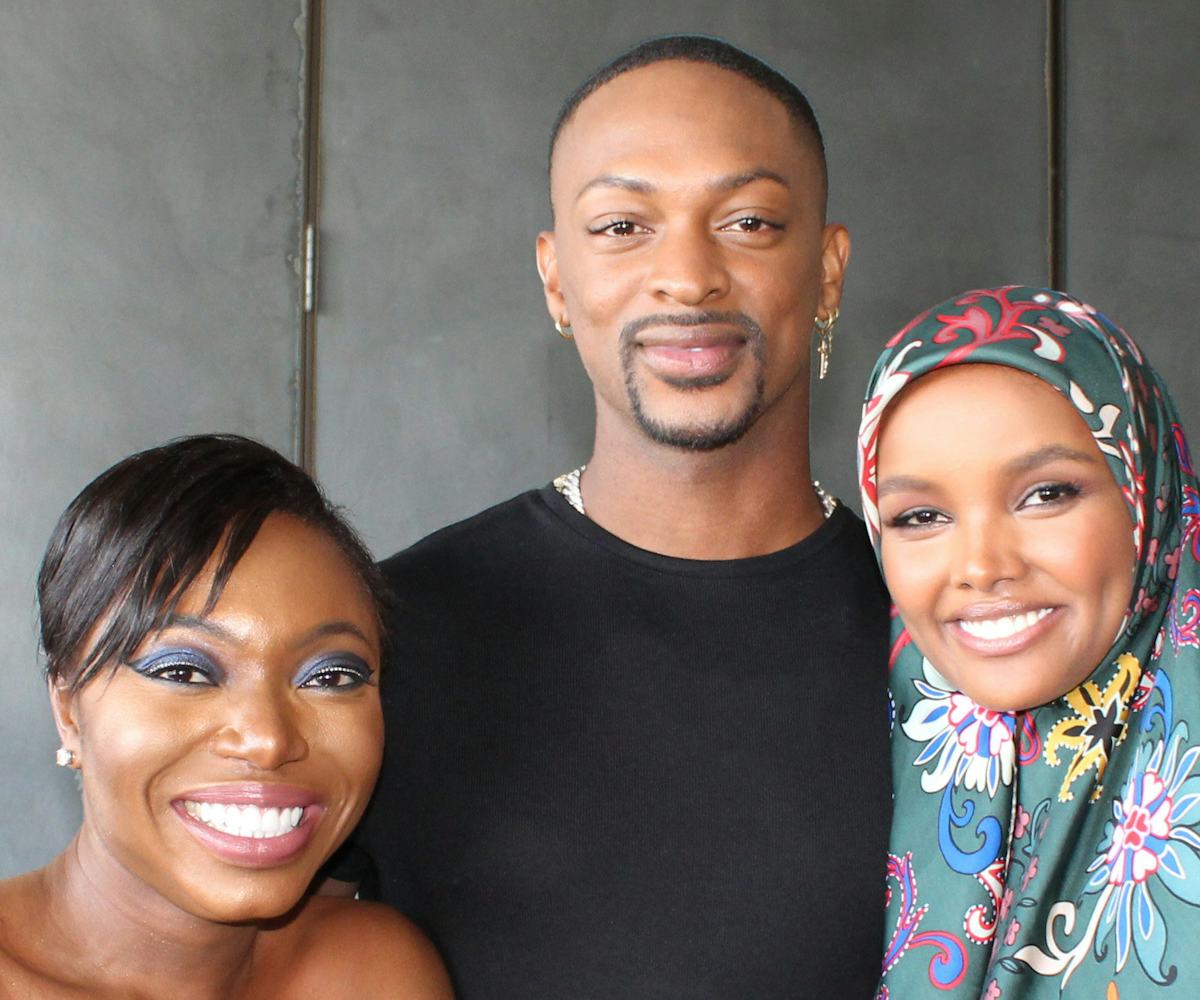 Image by Ruby Park
Uoma Beauty Did Fashion Week For The Culture
The Afropolitan beauty brand partnered exclusively with Black designers
A year ago, Uoma Beauty had yet to become the industry-disrupting juggernaut it is today—snagging sponsorships with fashion's buzziest names and earning cosigns from beauty bloggers like Alissa Ashley and Patrick Starrr. It was in its infancy then—just a series of samples; still, though, it already had a story and perspective.
I was introduced to the brand prior to its launch; its founder, Sharon Chuter, who strolled into my office in sky-high heels, promised me that her "Afropolitan" beauty brand would soon turn the beauty industry on its head. I believed her, and I was right to do so. Upon launching in April, Uoma Beauty quickly became a brand to watch, and expanded fast in its few months on the market. The newest line item on its growing list of accomplishments? Sponsoring two of the most-anticipated and Blackest shows at Fashion Week—Laquan Smith and Pyer Moss. It's no small feat for Uoma Beauty to sponsor the shows, considering the two have been backed by legacy beauty brands—Shiseido and Maybelline, respectively—in past seasons.
The partnership feels fitting, though. It's no mistake that the two designers opted to partner with a brand like Uoma Beauty, whose mission, much like their own, is to embrace and center Blackness without apology or qualification. Uoma Beauty has its history in its bones. Lipstick shades are named after iconic Black women like Aretha Franklin and Coretta Scott King, and the eyeshadows draw inspiration from the color stories of West African deities like Oshun.
Chuter, a former executive at LVMH, chose to strike out on her own after deciding she wanted to infuse culture and perspective into a brand from inception, not add it in later. The brand, "created for women of color, and by women who love color," has already become a notable player in the beauty space, centering Afro-heritage across the diaspora and using sleek packaging to do so. The beauty brand made waves when it popped on the scene with its innovative Say What? Foundation, which offers a custom formulation depending on skin tone group. The categories, called "Skin Kin," are determined by the Fitzpatrick Scale—a numerical classification system that measures skin's reaction to the sun. Since the launch, the brand has rolled out lipsticks, concealer, and eyeshadow palettes too, the latter of which took center stage on this season's runway.
Backstage, Laquan Smith felt like the slick set of a '90s-era hip-hop link-up (someone mentioned this is what Baby Phat shows must've felt like back in the day), the who's who of Black America settled into puffy leather couches with beautiful, melanated models everywhere. Blowdryers whirred and eyeshadow brushes tapped vibrant navy shades onto eyelids, with makeup artist Sir John helming the ship.
"I'm thankful to be in the business at this point in life." Sir John shared when asked about the significance of a Black-owned makeup brand sponsoring the show. "It's really revolutionary." Chuter was completely at home in the mix, cradling her white Pomeranian Leo, who quickly became the room's most popular attraction. It was very Black, and very excellent—the energy breezy and extremely well-manicured. It felt like a family reunion both on the runway and prior, the crowd bopping along to the expertly curated soundtrack and exchanging daps, kisses, and hugs.
That evening, Chuter and I were reunited at Pyer Moss, where Uoma Beauty was also a sponsor. It was equally Black and excellent but in a different way. Where Laquan felt like a party, Pyer Moss felt a little more serious and grandiose in its undertaking. The show explored Black women's contributions to music across history, using Rosette Tharpe—the inventor of rock and roll's sound—as an origin point. The beauty looks exemplified '70s-era glam, the models' blush and eyeshadow connected with a draping technique and bold eyeshadow courtesy of the vibrant jewel tones in Uoma Beauty's Black Magic eyeshadow palettes.
When asked about why she chose these shows in particular for the brand's first fashion week, Chuter had this to say: "We're here to celebrate Afropolitan heritage. You look at fashion week and see what Laquan Smith and Pyer Moss do, and it's so important for us to come here and support and amplify. We're here to change that storyline, to really promote our heritage and the thing that we've got, which is artistic integrity and creativity. We start all the trends."
Chuter's choice to align Uoma Beauty with two of the biggest Black designers showing this season sends a clear statement, and is essential in an industry that's still—in many ways—trying to find perspective and embrace true inclusivity. Uoma Beauty doesn't lack in either arena and is a strong example of what it looks like when brands use their shared cultural heritage to come together to celebrate and rewrite a narrative that has neatly excised them from its lineage. It serves as further evidence that Black beauty brands perform alongside any other major beauty brand, just like Pyer Moss and Laquan Smith hold their own in the fashion week lineup. It's proof that the Black perspective is universal, marketable, and valuable, and that there's no need for outside validation in order to make it work.
Although exciting, Chuter insists this is just the beginning. "We should be staging the biggest shows at New York Fashion Week, because we have the creativity to do it. We're taking ownership of our stories, and I want it to grow bigger and bigger." In order to expand, she continues, the industry desperately needs more talent to step onto the scene. "I really want to encourage every Black designer who's afraid to go for it. Ecosystems like we're building here will continue supporting Black designers and giving back to Black designers because there should be more of us."
And she's right. Although some of the exciting and talked about shows were put on by Black designers, they only accounted for a small portion of designers showing overall. Fashion is still very white, overwhelmingly so, but this is how it starts—and if Chuter is involved, I'm sure it will continue to change for the better.
NYLON uses affiliate links and may earn a commission if you purchase something through those links, but every product chosen is selected independently.