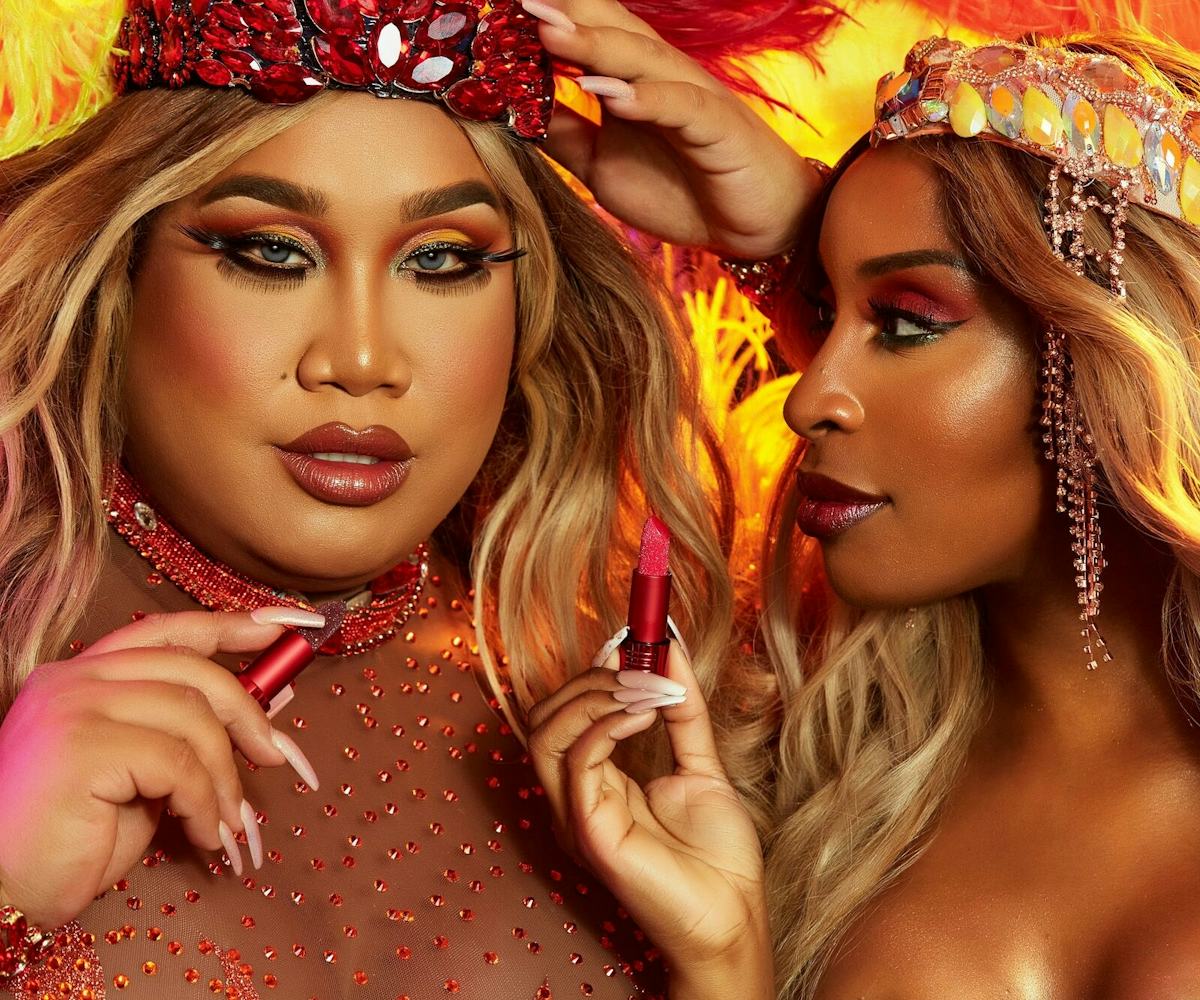 Courtesy of UOMA Beauty
Jackie Aina & Patrick Starr Joined Forces for a Carnival-Themed Makeup Collection
The two were named collaborative creators for UOMA Beauty's newest launch
Two of the biggest names in beauty have come together to spread the word on a very special collection from UOMA Beauty. Jackie Aina and Patrick Starrr were selected as creative collaborators for UOMA's newest launch, the Black Magical Carnival Collection. And as one would expect of a partnership that features some of the most noted names in makeup, the results are nothing short of impressive.
The 8-piece collection is now available online through UOMA Beauty, ASOS.com, beautybay.com, and select Selfridges stores. Items retail for between $13 and $44, and feature an item for every step of your beauty routine, beginning with a highlighter, suited for adding sparkle and shine to your look. The product comes in two shades — a golden brown called "Barbados" and a darker, bronze shade named "Notting Hill."
Other featured items in the limited-edition launch include a 10-pan eyeshadow palette with water-resistant shades that invoke the bright spirit of Carnival, three sets of false eyelashes, including a pair coated in gems, and two sparkling shades of lipstick.
Serving as the faces of the campaign, Aina and Starrr are featured in accompanying press images, and both MUAs serve major looks. Along with lips sprinkled with sparkle, which comes courtesy of the line's two lipsticks, Aina and Starrr coated their eyelids in dramatic swatches of reds and golds provided by the eyeshadow palette.
In an accompanying press release, UOMA Beauty explained the collection was created with the intention of helping everyone embrace their inner-Carnival Queen. What's more, consumers have the chance to be featured alongside their makeup heroes, and are encouraged to post Carnival-inspired looks using the @UOMABeauty tag and #UOMACarnival hashtag. Four winners will be chosen by Aina and Starrr, including a grand prize winner that will receive $5,000 and eternal bragging rights.
Below, admire (and shop!) some of the products included in the collection.
Black Magic Carnival Color Palette
UOMA Beauty, Black Magic Carnival Color Palette, $44, available at UOMA Beauty.
This 10-pan palette is packed with colorful shadows intended to celebrate the history of Carnival. From the bright matte finish of the pink "Rio" to the shimmer-filled soft purple of "Mardi Gras," this collection of shadows will help you pull off you some seriously bold looks.
Black Magic Carnival Face and Body Bronzing Highlighter
UOMA Beauty, Black Magic Carnival Face and Body Bronzing Highlighter, $35, available at UOMA Beauty.
Get a year-round glow with this face and body bronzing highlighter. Made for all skin tones, the highlighter comes in two shades, and the product is so pigmented, that you'll only need one swipe to achieve a full Carnival-inspired glow.
Black Magic Carnival Eyelashes
UOMA Beauty, Black Magic Carnival Eyelashes, $18, available at UOMA Beauty.
The collaborative collection includes three limited-edition eyelashes including this edgy purple version dubbed "Trinidad."
Black Magic Carnival Lipstick
UOMA Beauty, Black Magic Carnival Lipstick, $26, available at UOMA Beauty.
Carnival wouldn't be complete without adding some glitter to your pout. The Black Magic Carnival collection features two shades of lip product, and were particularly drawn to this deep mauve with a golden pearl dual-color flip called "Bahia."
NYLON uses affiliate links and may earn a commission if you purchase something through those links, but every product chosen is selected independently.