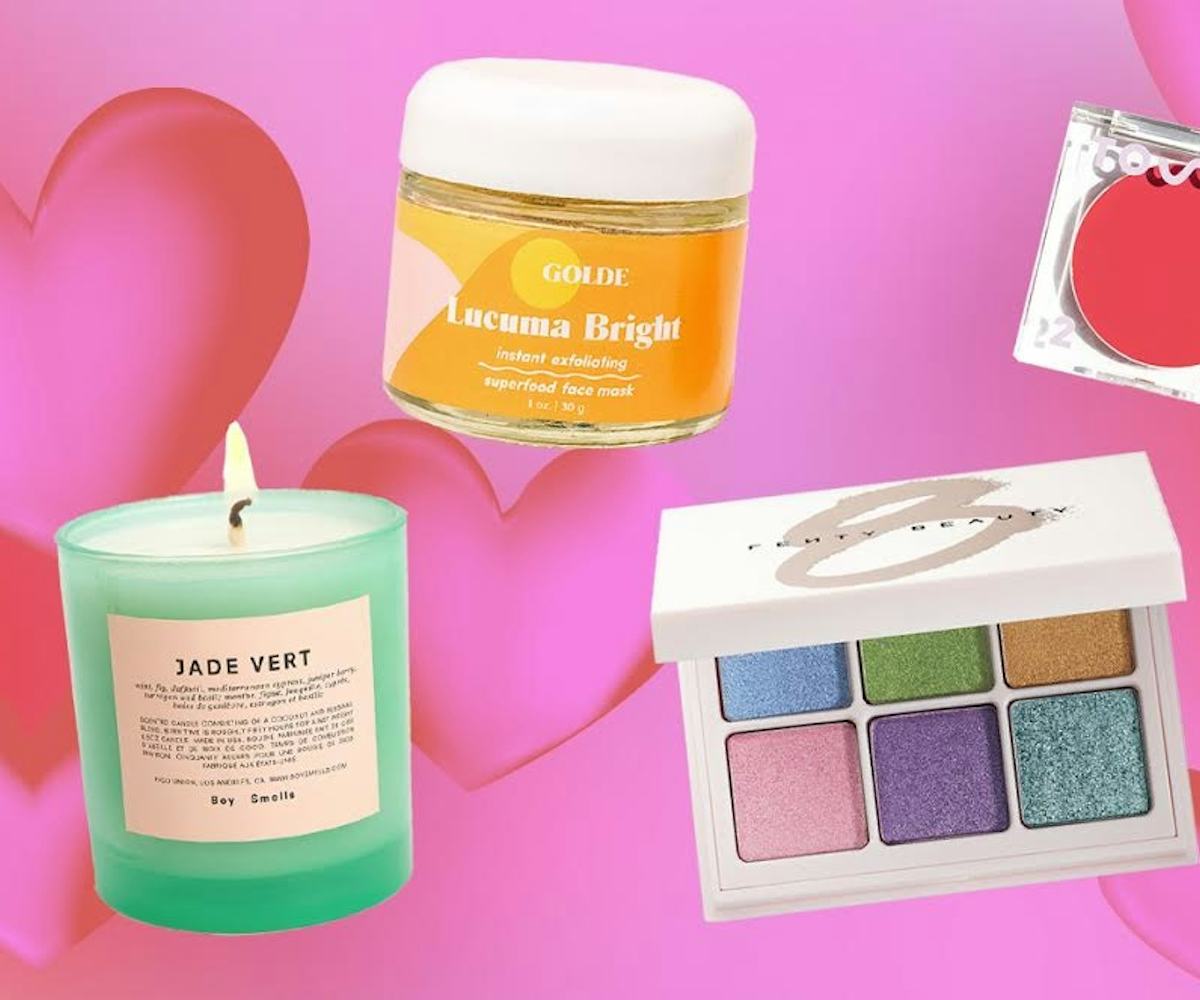 Images courtesy of brands
16 Valentine's Day Beauty Gifts Under $40 You'll Want to Keep For Yourself
Nothing says 'I love you' more than lip gloss and candles
Gifting anyone — be it a friend, significant other, or co-worker — is never really an easy thing to do. But that sentiment rings especially true about Valentine's Day, a "holiday" that seems to mean something different to anyone you ask. What is the appropriate thing to do? Item to gift? Regardless of whether you're leaning into the traditional romantic connotations, or embracing an opportunity to treat yourself in the name of self-love, opting for Valentine's Day beauty gifts is an easy way to get the recipient to love you just that much more.
The category is a no-brainer for gifting whenever, because whether you go for actual makeup, lip balms, or something beauty-adjacent like candles (everyone's favorite!), beauty gifts are something people can benefit from immediately, and more than once. Even better, there are seemingly endless beauty options out there with affordable, wallet-friendly price tags, with products and sets from some of today's buzziest brands — like Boy Smells, Fenty Beauty, and Necessaire — ringing in under $40. From relaxing bath salts to giant scrunchies and Instagrammable, superfood-infused face masks, the options are seemingly endless.
Ahead, check out 15 of the best Valentine's Day-worthy gift ideas, all under $40.
Bathing Culture Body Wash
Bathing Culture, Mind And Body Wash, $20, available at Goop.
This new body wash on the scene has gained serious traction for its sustainably harvested ingredients, gentle cleansing and hydration, and light, woodsy scent thanks to a blend of oak moss, sea fog, redwood.
Dior Lip Diormania 
Dior, Lip Glow Diormania, $34, available at Sephora.​
The cult-favorite tinted lip balm is available in a super limited edition design, covered in Dior's iconic logomania print. The balm itself is infused with wild mango butter, meant to smooth, soften, and hydrate the lips all day.
Boy Smells Jade Vert Candle
Boy Smells, Jade Vert Candle, $46, available at Nordstrom.
No matter the holiday or occasion, a candle is a good gift. This Candy Land-inspired options from Boy Smells is especially fitting for Valentine's Day, considering it's part of the brand's Love Collection, featuring a dreamy scent with notes of mint, fig, daffodil, Mediterranean cypress, juniper berry, tarragon and basil.
Fenty Beauty Snap Shadow Mix & Match Eyeshadow Palette 
Fenty Beauty, Snap Shadows Mix & Match Eyeshadow Palette, $25, available at Sephora.
What says I love you more than giving someone one of Rihanna's latest creations? Nothing! Jokes aside, this mini palette offers six ultra-pigmented, unique shades in a range of matte to shimmer finishes. Plus, it's easily portable.
Tower 28 Cheeky Love Bundle 
Tower28, Cheeky Love Bundle, $28, available at Tower28.
Instagram's favorite sensitive-skin friendly beauty brand Tower28 made things easy with this festive tinted balm and jelly lip gloss.
Room Shop Vintage Cloud Scrunchie 
Room Shop Vintage, Cloud Scrunchie, $20, available at Room Shop Vintage.
This giant, Instagrammable scrunchie is made out of recycled, deadstock, scrap ends or discontinued fabric, so you can feel and look good at the same time.
Golde Superfood Face Mask
Golde, Lacuma Bright Superfood Mask, $34, available at Nordstrom.
This brightening mask is made with 100 percent edible superfoods — from Featuring lucuma to papaya and sea buckthorn berry. Packed with vitamin C, the powder-to-gel formula gently exfoliates for healthy, radiant skin.
Tatcha Kissu Lip Mask
Tatcha, Kissu Lip Mask, $28, available at Tatcha.
This soothing, non-sticky lip mask uses Japanese peach to soften, smooth, and plump skin.
Nécessaire The Sex Gel
Nécessaire, The Sex Gel, $20, available at Necessaire.
This water-based, fragrance-free personal lubricant from minimal body care brand Necessaire is infused with organic aloe vera, distilled deionized water, and sodium hyaluronate. Reviewers call it a "holy grail" product, with one noting, "I'm allergic to everything, this is the first [lubricant] I've found that doesn't irritate me."
Anastasia Beverly Hills Mini Norvina Pro Pigment Palette
Anastasia Beverley Hills, Mini Norvina Pro Pigment Palette Vol. 3, $29, available at Anastasia Beverly Hills.
Made for going out — or staying in with really dramatic eye makeup for no reason, whichever you prefer — features some of Norvina favorite sweetest pigments, from deep red-wine mattes to sparkling berry metallics.
Kaja 'To All The Boys I've Loved Before' Gift Set
Kaja, To All The Boys I've Loved Before Gift Set, $35, available at Sephora.
For the friend that hasn't stopped talking about To All The Boys I've Loved Before since it came out, an inspired set from Kaja, featuring the brand's cheeky face stamp, lip gloss stick, and mood crystal highlighter. It's just one of the many curated sets that hit Sephora this month ahead of the film's sequel.
Herbivore Botanicals Calm Bath Salts 
Herbivore Botanicals, Calm Bath Salts, $18, available at Dermstore.
The pale Himalayan pink salts are soothing just to look at, but with a blend of ylang ylang and vanilla oil, the natural ingredients in this product helps to calm your senses and smooth skin, too.
UO Illusion Pearl Claw Clip 
Urban Outfitters, Illusion Pearl Claw Clip, $14, available at Urban Outfitters.
Lean into the claw clip revival with this colorful, 3-D pearl option.
Kosas 10-Second Eyeshadow Set
Kosas, Mixed Metals Trio 10-Second Eyeshadow Set, $35, available at Sephora.
For your friend who wants to do Euphoria makeup but can't blend a shadow to save their life. These quick drying liquid pigments from Kosas make mastering an eye look as easy as finger painting.
Glossier Body Hero
Glossier, Body Hero Daily Perfecting Cream, $22, available at Glossier.
Inspired by its dewy face products, Glossier bottled up their secret sauce in a body cream, rich with an antioxidants like cactus flower extract, prickly pear extract, and yucca extract, the formula keeps the skin moisturized all day with no residue or stickiness.
Marc Jacobs Beauty Enamored Hi-Shine Lipgloss 
Marc Jacobs Beauty, Enamored Hi-Shine Lip Laquer Lipgloss, $29, available at Sephora.
What says I love you more than a tube of iridescent pink lipgloss? This particular one is formulated to give the lips a healthy plump look, and promises to feel cushion-y on the lips, not sticky.
NYLON uses affiliate links and may earn a commission if you purchase something through those links, but every product chosen is selected independently.