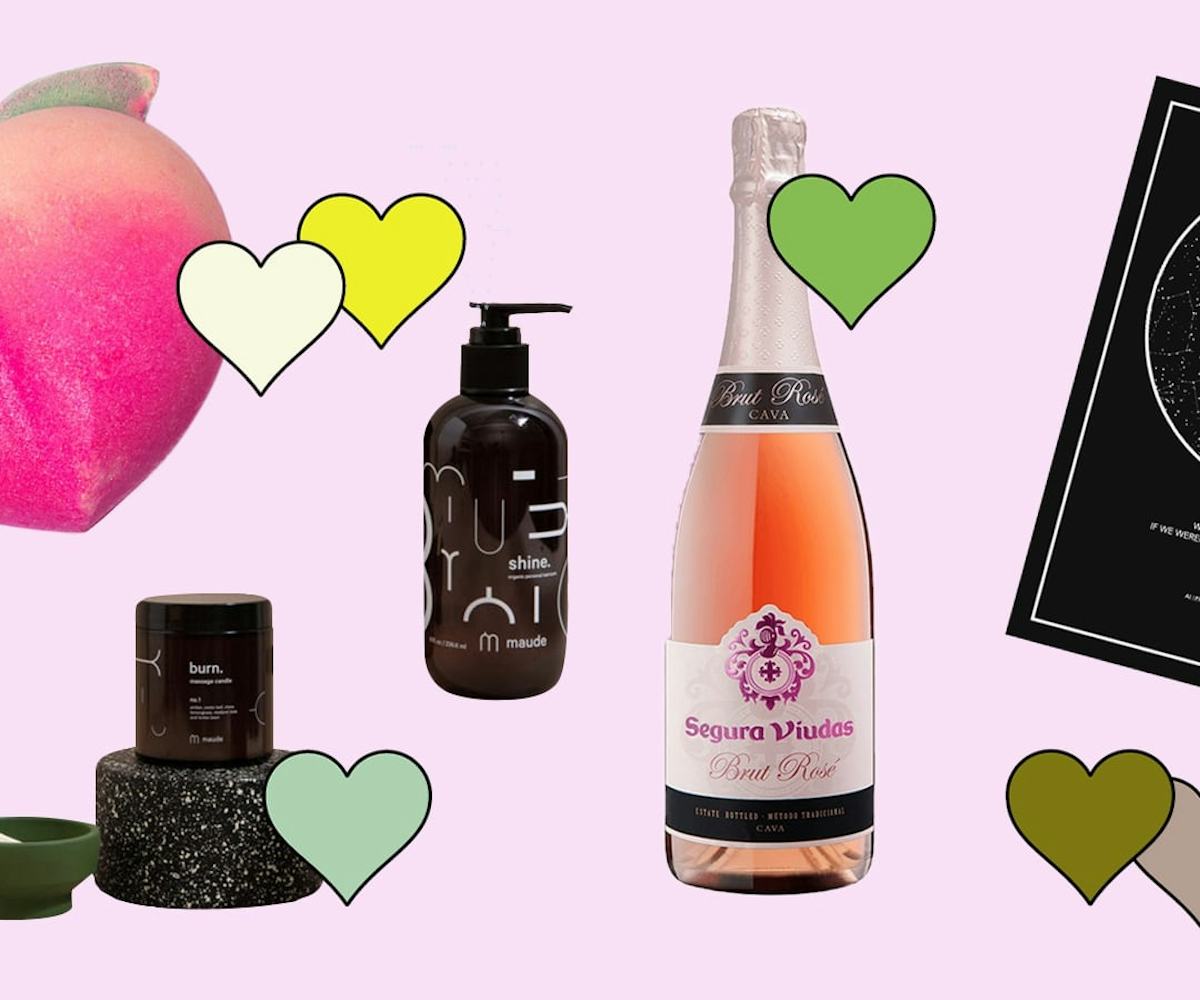 Photos courtesy of Lush, Maude, Segura Viudas USA, The Night Sky
What To Get Your Valentine, Based On Your Relationship Stage
There's something to give, regardless of the ~situation~
Ah yes, Valentine's Day: Everyone's least favorite holiday until they have someone to celebrate it with... or maybe it's just me who hates love until I am in love.
But, even though I do find myself enjoying the idea of the holiday when I have someone to share it with, I'm still cynical about one aspect of the occasion: the gifts.
Valentine's is a day which has beget tons of mass-produced gifts for the occasion, all bearing the same pre-written messages of love and adoration—and our partners deserve better. We deserve better. Even the simplest of flings deserves more than a heart-shaped box of chocolates from the corner store. If you're with someone, even if you're on a budget, you should get them something more personal.
Here's where I'll be helping you out. Below, find a range of potential gifts for the person in your life, sorted by stage of the relationship. They deserve it.
Whether or not you use it together, a cheeky (pun intended) bath bomb would be a great gift for someone you're with casually. There are also bath bombs shaped like eggplants and bananas in this line, if you're feeling even more suggestive.
Lush, Peachy Bath Bomb, $6.95, available at Lush.
- This slide is sponsored by Segura Viudas -
Wine might feel like a safe gift, but it's really not when you're sharing it with someone with whom you have a fiery connection. We recommend you choose a sparkling wine that will be sure to set off even more sparks between you and your partner. This rosé cava will match perfectly with your bubbly feels—and obviously, pink is the perfect color for the holiday.
Segura Viudas Cava, Segura Viudas Rosé Cava, price varies, available at a store near you.
This is basically the vegan version of Nutella and is comprised of only three ingredients: hazelnut, coconut sugar, and cacao. You could cuddle up and watch a movie while sharing a jar, or bring it into the bedroom for something less low-key. Your move.
Bubble, Hella, $9, available at Bubble.
This tiny plant looks like a tiny budding heart, and it could symbolize your budding relationship together (is that cute or what?). They'll think of you when they see it, so you'll never leave their mind. And why should you?
The Sill, Hoya Heart Plant, $26, available at The Sill.
Get them a comfy sweatshirt that you know they'll look good in so you can compliment them on it when they wear it. Even better: Steal it and snuggle up in it every time you go to their house.
Urban Outfitters, Burnout Crew-neck Sweatshirt, $54, available at Urban Outfitters.
Get them a book you love, and it'll make them feel like they know you more. And they will!
The Wind-Up Bird Chronicle by Haruki Murakami, $11.52, available at Amazon.
Hawthorne sells gender-neutral grooming products, and you can customize what you get by filling out a simple quiz. Flex how much you know them already, and get them a personalized set.
Hawthorne, Personalized Subscription Box, price varies, available at Hawthorne.
Sure, sending flowers to work is cute, but they do end up dying. Get a plant delivered instead, so that they can keep it by their desk and think of you year-round.
UrbanStems, The Aphrodite, $85, available at UrbanStems.
Learn more about each other with the help of a spiritually inclined guide. A tarot reading will give you insight into the future of your relationship, and tell you if it was written in the stars. And if it reveals something you don't want to believe, you can choose to ignore it (and work to disprove it) together.
Modern Mystic Shop, Tarot Reading, From $20, available at Modern Mystic Shop.
This perfume, though a bit on the expensive side, is perfect for everyone (or so I've decided). One bottle of this could be shared by the both of you—and you know it's serious when you share a signature scent.
Gamine, 100 ml Eau de Parfum, $185, available at Gamine.
Maude's boxes let you customize what you get in them, based on your sex life (solo or with a partner). Whether you need condoms, lube, a vibrator, or candles (which is made from oil that, when lit, turns into the perfect massage oil), Maude has you covered. It's a good idea to get for you and your partner, whether you want to spice things up or keep them the same.
Maude, Personalized Kit, price varies, available at Maude.
Want to remember the day you met, or the day you first kissed, or the day you became an item? Now your memory can live on your wall.
The Night Sky, Custom Star Map, from $60, available at The Night Sky.
If there's anything that you and your partner deserve, it's a day of relaxation. You're probably past the days of surprising them with flowers and chocolates, so go all in on something rewarding for the both of you. A day full of saunas, baths, and maybe even a massage together sounds just like heaven to me.
Juvenex Spa, Romantic Couples Getaway, starting at $395, available at Juvenex Spa.
A nice piece of art for your home is a thoughtful gift that would benefit you, too. Get them a statement piece that goes with the vibe of your place to show your love (it doesn't have to be as on-the-nose as the one above).
Charlie Hewitt, Bleeding Heart Woodcut, $450, available at Artsy.
Big getaways are always fun, yes, but staycations are underrated. Go somewhere nice in your own backyard, so you can skip the stress of traveling and scouring the internet for things to do and places to eat.
The Standard East, rooms start at $255/night.
NYLON uses affiliate links and may earn a commission if you purchase something through those links, but every product chosen is selected independently.