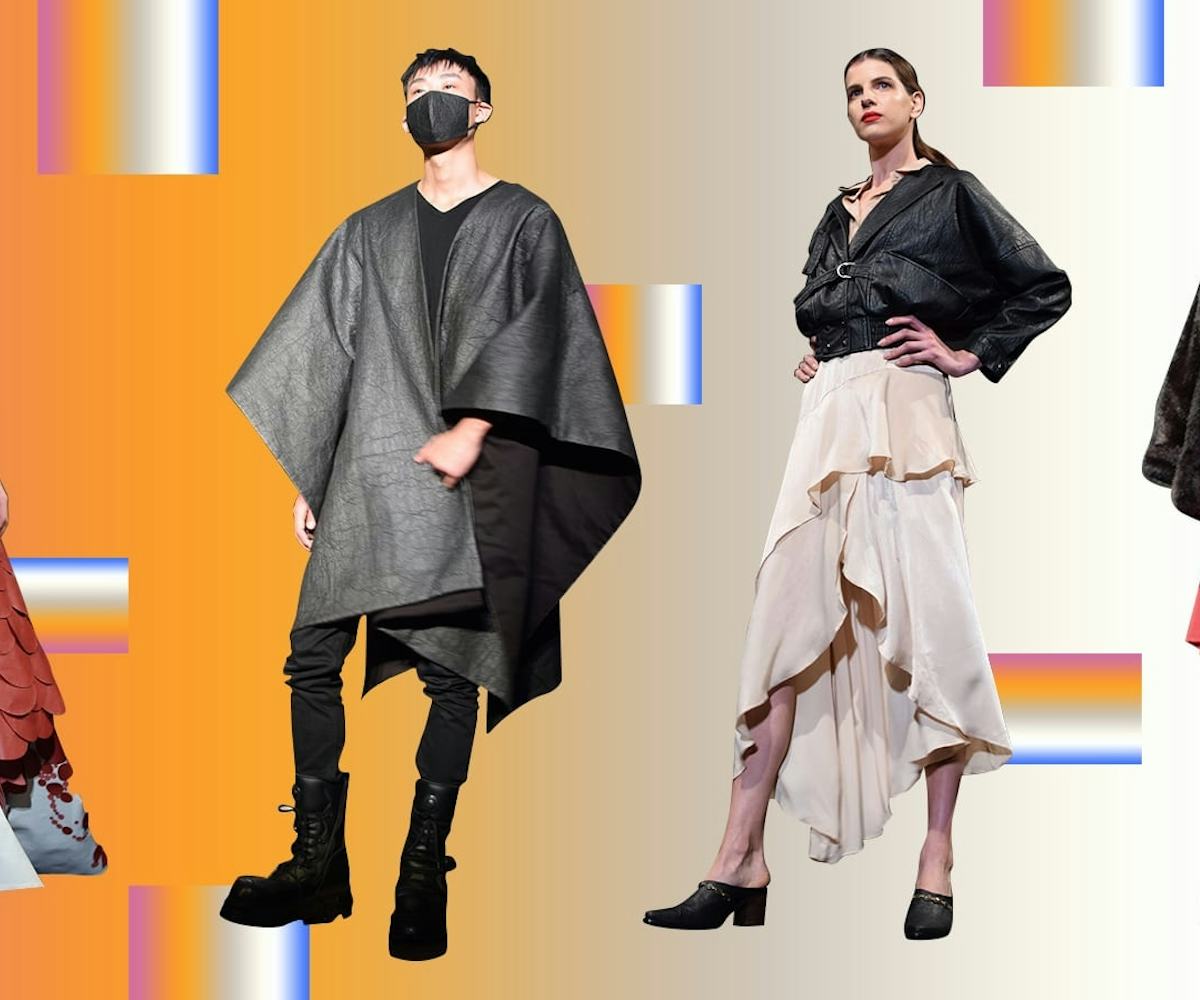 Photos by Gabrielle Faulkner
6 Sustainable Brands We Loved At The Very First Vegan Fashion Week
Ethical and eco-friendly fashion we can all get behind
This past weekend, Los Angeles—arguably the vegan capital of the U.S.—was home to the world's very first Vegan Fashion Week. It was here that global fashion brands—along with innovators in the realms of beauty and food—gathered not only to celebrate a world that is moving toward a cruelty-free future but one that strives to be sustainable and eco-conscious, as well.
Some of our favorite well-known cruelty-free brands were involved: Models were made up in full Kat Von D Beauty, while many feet were adorned in Dr. Marten's line of vegan leather combat boots. And, most importantly, some of the most innovative eco-conscious, cruelty-free fashion labels—some you may not already be familiar with—showcased their latest collections, proving that animal by-products certainly aren't a necessity when it comes to luxury clothing and accessories.
And remember: Just because a fashion label is cruelty-free and vegan doesn't necessarily mean it's good for the environment. The colorful faux fur coats and vegan leather jackets you'll find everywhere from fast-fashion retailers to some contemporary and luxury labels are, a lot of the time, made from polluting—even toxic—synthetics, which can end up being just as, if not more, harmful to the planet than using real fur and animal skins.
That's why Vegan Fashion Week founder and creative director Emmanuelle Rienda focused bringing together brands that also work to make sure they're minimizing their carbon footprint as much as possible. Saturday's runway featured pineapple-derived leather, shearling and furs made from organic cotton and recycled plastic, and other luxurious, yet conscious, materials.
As fashion—and the world—continues to take greater part in protecting our planet, it's clear that Vegan Fashion Week is on its way to becoming much larger and widespread than this past weekend's festivities.
Below, get to know six labels that took part in the very first Vegan Fashion Week who consider veganism and sustainability to be core pillars of their brand story—which, I think we can all agree, is the future of fashion as a whole.
Mateja Benedetti
Slovenia-based fashion designer Mateja Benedetti is no stranger to the world of sustainable fashion design. In her 20-plus years of experience, she's experimented with various environmentally friendly textiles, using materials derived from fruit (such as apples and pineapples), wood, and recycled plastic bottles to bring her visions to life.
It wasn't until 2014 that she launched her first eco fashion line, Matea Benedetti, which earned a spot as one of the 20 most promising eco-friendly clothing brands in the world via Vogue Italia. By 2017, she was one of five finalists at the Green Carpet Award event up for the coveted Oscar of Fashion. Now, she's shown her latest collection at the very first Vegan Fashion Week, which consisted of various laser-cut gowns derived from apple skin—a truly breathtaking example of how high fashion doesn't have to harm the planet.
Next for Benedetti? A new line, BENEDETTI Life, which will showcase its Spring 2020 collection at September's Milan Fashion Week.
Enda
Designer Ran Enda's venture into vegan fashion began with her personal journey into veganism, which began after she moved to New York from Japan. "It was shocking to learn about factory farming in the meat industry, and [it] led me to an overnight transition into vegan[ism]." However, it wasn't until working with fabrics such as leather, fur, and silk for a major American fashion label that she realized she needed to carry out this lifestyle beyond food.
Thus, she eventually left to launch her very own label, ENDA. Enda not only uses cruelty-free fabrics to create her downtown-cool collection, but she practices sustainability in other angles within her process. For example, the brand has recently launched a Take Back Program, where customers can return older products for store credit—and keep pieces they no longer wish to wear out of landfills.
Altiir
If you're as much of a fan of the classic leather biker jacket as you are of sustainability, then Altiir is the brand for you. Inspired by the anti-establishment, rock 'n' roll culture of the '60s and '70s London, creative director Timothy Turner-Sutton uses vegan and eco-friendly materials such a Piñatex, a leather alternative derived from pineapple leaf fiber, and sustainable "shearling," made from organic cotton, to create vintage-inspired pieces for the punk at heart.
Mistohn
When musician Christopher Allen, better known as Chris Stylez, went vegan nine years ago, he took this lifestyle beyond just what he ate. From there, Mistohn, his luxury fashion label, was born.
Currently, Mistohn is an offering of unisex capes. Utilizing environmentally friendly fabrics such as Piñatex, each cape is handmade with the utmost precision and care.
wastedLA
Los Angeles-based wastedLA is all about turning trash into treasure, promoting the use of upcycling as a solution to combatting the wasteful habits of industry and consumers. Founder and designer Nicole Blue creates truly artful pieces, from streetwear-inspired puffer coats made from plastic takeout bags to Western-inspired vests made from fabric scraps and recycled contact lens cases.
However, while wastedLA was a major player in the very first Vegan Fashion Week, not all of Blue's products are technically vegan. While she's against the use and generation of new animal products—such a leather, fur, and down—she will rescue those products headed to landfills to prevent them from going to waste, so you might find them in her designs. "Our sustainability efforts hope to inspire people to be more conscious of not just what they buy, but also what they throw away, and the implications of the waste they generate," says Blue.
Ecopel
Faux fur has certainly been on the rise over the past decade or so, as more and more consumers begin to shy away from purchasing and wearing real fur. However, there's the valid argument that many of the synthetic materials used to create faux fur materials are just as harmful to the environment as the production of animal-based furs.
That's where Ecopel comes into play. One of the biggest faux fur producers out there, it's been creating and supplying faux fur for more than 300 brands, including luxury fashion houses, over the past 15 years—and over time, it's worked at becoming more and more environmentally friendly. Recently, the brand has started offering a teddy faux fur that's made from recycled plastics. They also will be launching the first-ever range of bio-based faux fur before 2020. Additionally, it's working on a waste regeneration process. "As the leading company in faux fur, we're willing to show the way forward and make a positive contribution to the fashion industry," says the brand's communication manager, Arnaud Brunois.