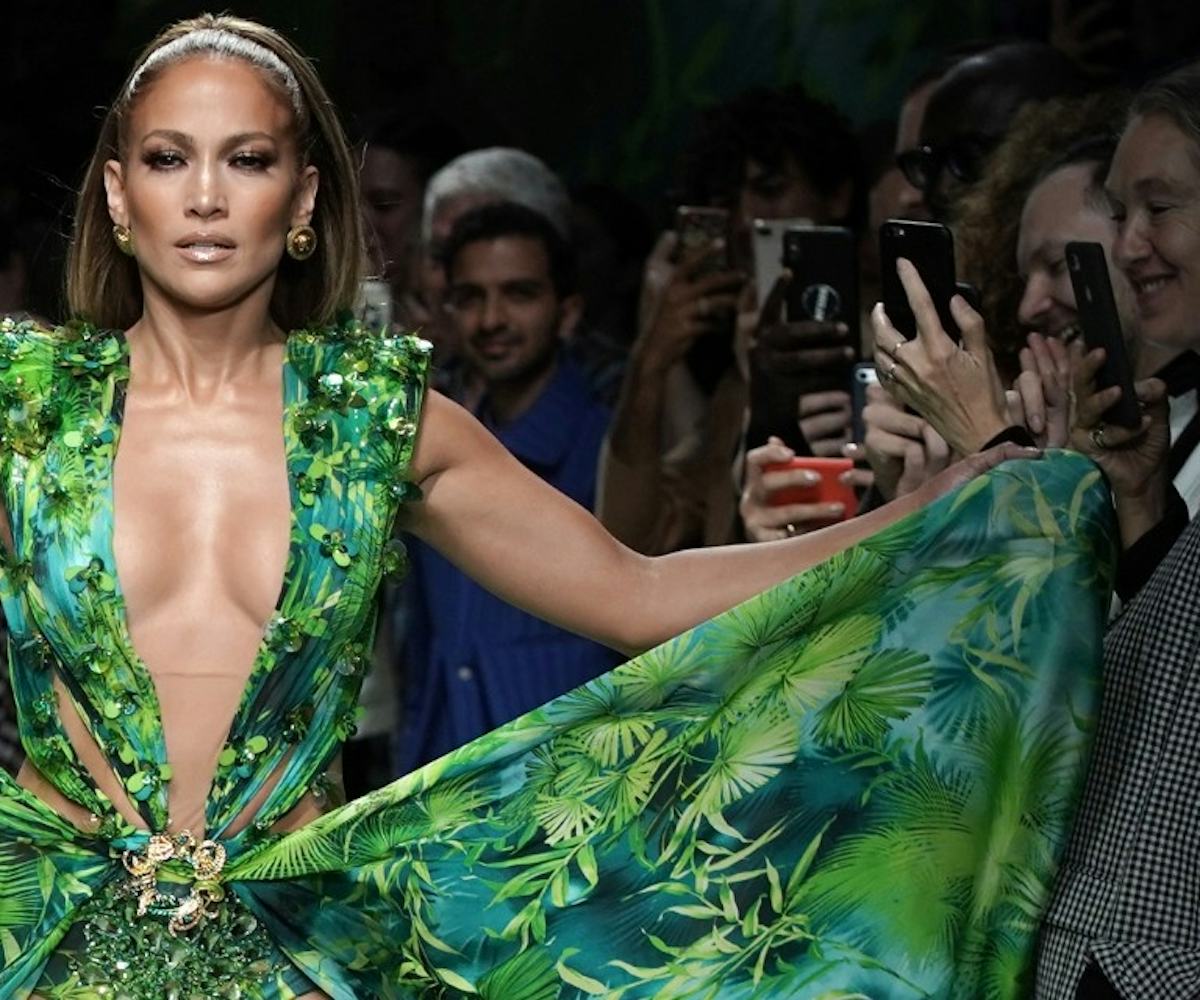 Photo by Vittorio Zunino Celotto/Getty Images
Versace Sues Fashion Nova Over Jennifer Lopez's Grammys Dress
You don't mess with the dress that created Google Images
Versace is taking on fast fashion by suing Fashion Nova. The Italian luxury house filed a lawsuit on Monday against the ultrafast online retailer, which has become notorious for its, um, "inspired" designs.
Versace alleges that Fashion Nova has copied its signature Barocco print, as well as its famous green "jungle print" dress worn by Jennifer Lopez to the Grammys back in 2000 (and recently resurrected during its Spring 2020 show during Milan Fashion Week).
"Fashion Nova's ability to churn out new clothing so quickly … is due in large part to its willingness to copy the copyrighted designs, trademarks and trade dress elements of well-known designers, and trade on their creative efforts in order to bolster [its own] bottom line," the lawsuit, obtained by The Fashion Law, claims.
Before filing a lawsuit, it's reported that Versace had formally notified Fashion Nova multiple times between the months of July and November. However, the online retail brand continued to offer product highly similar to the luxury label.
This is far from the first time Fashion Nova has found itself in hot water over copying both high-end and independent designers. Earlier this year, Kim Kardashian tweeted out against fast-fashion companies like Fashion Nova and Missguided, claiming they've been knocking off her vintage designer looks. Kardashian later won $2.7 million in a lawsuit against Missguided.
"It's devastating to see these fashion companies rip off designs that have taken the blood, sweat, and tears of true designers who have put their all into their own original ideas," she wrote. "I've watched these companies profit off my husband's work for years and now that it's also affecting designers who have been so generous to give me access to their beautiful works, I can no longer sit silent."
The current lawsuit also calls to mind the long battle between Gucci and Forever 21 in 2017. The now-bankrupt retailer was sued for releasing product with green-and-red stripes that resembled closely to that of the major fashion house; a United States District Judge eventually ruled in favor of Gucci.