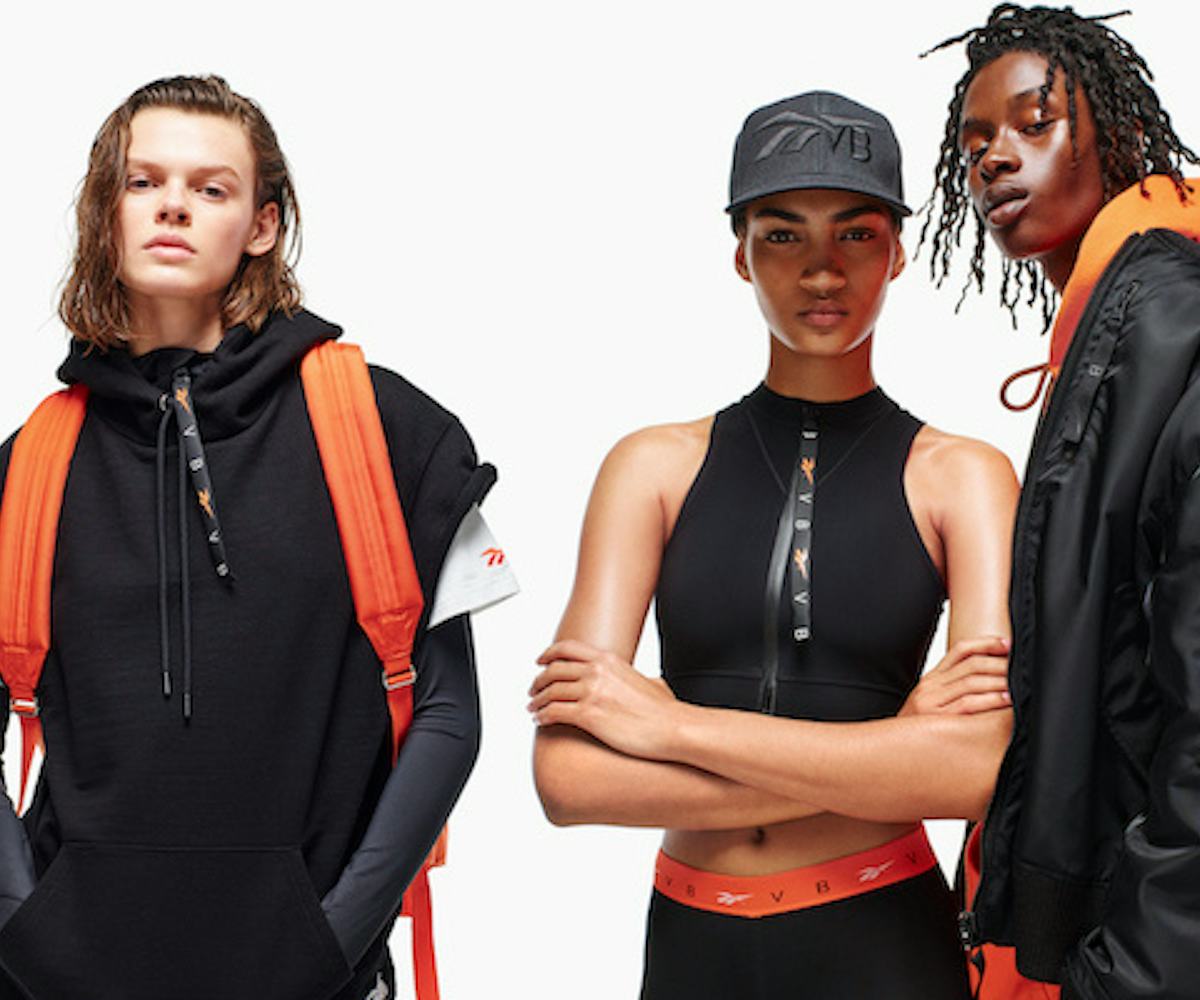 Victoria Beckham On Why Unisex Pieces Were Important For Her Reebok Collab
"Just because I'm a girl, that doesn't mean that I want girls' trainers"
The much-anticipated Reebok Victoria Beckham collection is finally here, and, for her first full offering with the brand, Beckham looked inward for inspiration. While last July's initial merch collection (a sort of teaser, if you must) was heavily inspired by the '90s and Shaq, now, Beckham tells us, "It really was just about creating what I want in my wardrobe—the perfect workout clothing that you can also wear during the day, really make your own, and mix with high fashion as well." She explains: "It was really just what I want in my life, what I need, and what I can't get from anywhere else."
The result? A minimalist, streetwear-inspired collection of workout gear that you can easily get away with wearing outside of the gym: textured, yet clean, legging and sports bra sets, hoodies of all shapes and sleeve lengths, a bomber-crewneck hybrid, plenty of gym locker-friendly outerwear, and much more.
The star of the collection is the sneaker—Beckham's iteration of the classic '90s Bolton sneaker—which features a knit sock ankle and is available in two colorways. Additional accessories include chic gym bags and backpacks, socks, and—a Beckham post-gym must—a baseball cap. The collection exists in Beckham's usual neutral color palette, also incorporating a vibrant sunset orange, which she's been using throughout her own line for the past couple of seasons. Prices range from $30 to $450.
What you'll really notice about this particular collection is how elevated it is, going above and beyond most designer collaborations. While we've long loved Reebok for its sportswear essentials, Beckham's designs take the brand to a whole new level. The quality of the fabrics used is especially noteworthy. "I wanted to develop my own fabrics and to use colors that felt signature to me—colors that might not be signature to Reebok," Beckham tells us. "So, it really was pushing the team to develop something that they hadn't done before."
At the heart of the collection lies an important factor for Beckham: that a good portion of her pieces are unisex. "I really wanted to reach out to both men and women, and I'm often inspired by men's wear," she says. "I just think it's a modern approach to dressing, and that just because I'm a girl, that doesn't mean that I want girls' trainers. I want the same trainers that the boys wear; I want the same hooded top." However, unisex designs aren't something necessarily new for her. While her ready-to-wear collection may be considered women's wear, you'll often see men's wear influences throughout, season after season. She even tells me how one of her main customers is a guy, and that we'll continue to see gender-fluid pieces come from her across all her lines.
In terms of the athleisure and athluxury trends that have been prominent the past couple of years, Beckham believes it's here to stay, thanks to its versatility. "I love how it's acceptable to mix it with high fashion and make it your own. It's great to look good and feel comfortable as well, but it's hard to find pieces that do both." Well, until now.
As this partnership is one that will be ongoing, we can expect new pieces every season—along with exclusive drops in between. In March, you'll find a low-top, sock-less version of her sneaker coming our way. And come next fall, the collection is going to expand quite a bit in all directions.
While some of the pieces have, not surprisingly, sold out within the first day, you can still shop most of the collection at Reebok. Take a closer look at the full campaign below, and, most importantly, be sure to act fast when the next drop comes our way.