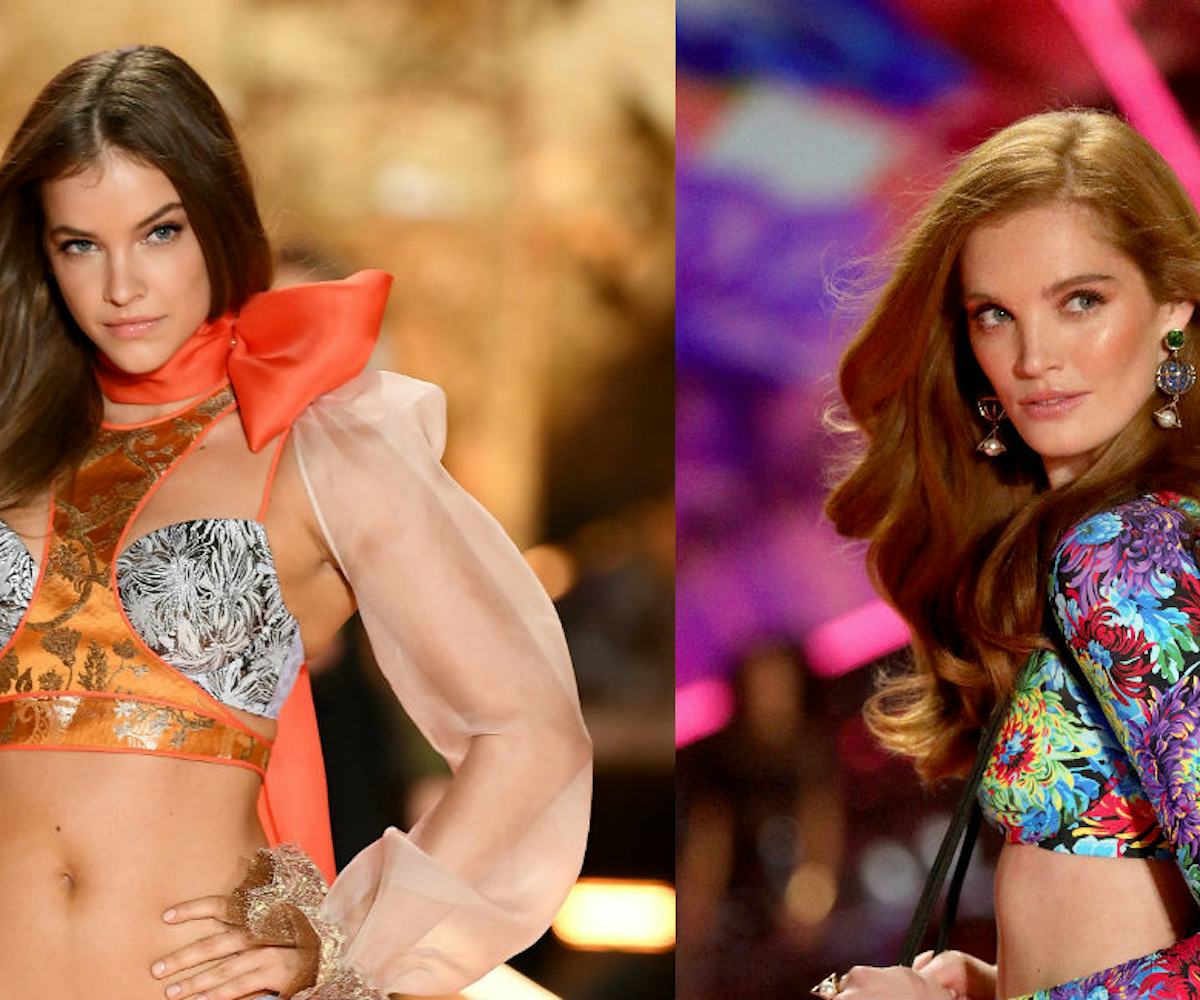 Photo by Dimitrios Kambouris/Getty Images for Victoria's Secret; Photo by Thomas Concordia/Getty Images for Swarovski.
Victoria's Secret Continues To Miss The Mark With Newly Anointed Angels
Late last year, Victoria's Secret was the source of major controversy after its chief marketing officer Ed Razek opened up about the brand's disinterest in hiring transgender or plus-size models to wear its lingerie. Following the controversial comments, the company announced that it was closing 53 stores. The company recently brought on two new angels, which would've been a great opportunity for the brand to turn things around, but instead, it further confirms its refusal to evolve.
As Fashionista reports, models Barbara Palvin (Dylan Sprouse's beau) and Alexina Graham have been brought on to join the Angel ranks. Both have walked for the brand twice and, as the article points out, both basically look like every other model on the roster, save for two very slight differences.
Palvin's hire has been applauded because she has, what many consider, a "healthier" body than other models. Meaning, she has curves, but she's by no means plus-size. Graham, on the other hand, will become the brand's first-ever redheaded Angel which… okay. "Being an Angel is part of having that media outreach so that I can say to young red head kids, 'You can do anything you want! Nothing is impossible!'" Graham told U.K's Glamour in a recent interview. Sure, redheads are sometimes made fun of, like, in middle school, but this reminds us of the time when Heidi Montag said the all-white cast on The Hills was diverse because some have dark hair. That's not how diversity works.
Would it have been viewed as pandering, something Razek said the company would be accused of doing, had it done what Rihanna did with her show and prioritized diversity? Perhaps, but it would've been better than what the brand chose to do which is make the most minuscule of changes and basically ignore everybody's feedback. We're sure the appeal of being a Victoria's Secret angel has gone down since last year, but that doesn't mean there aren't both trans and plus-size models out there yearning for a pair of wings. And, as we've said before, it's not pandering if it's done with thought and care—and perhaps it's about time to start "pandering" to marginalized communities anyway, who've always been ignored in favor of cisgender, thin, white people.