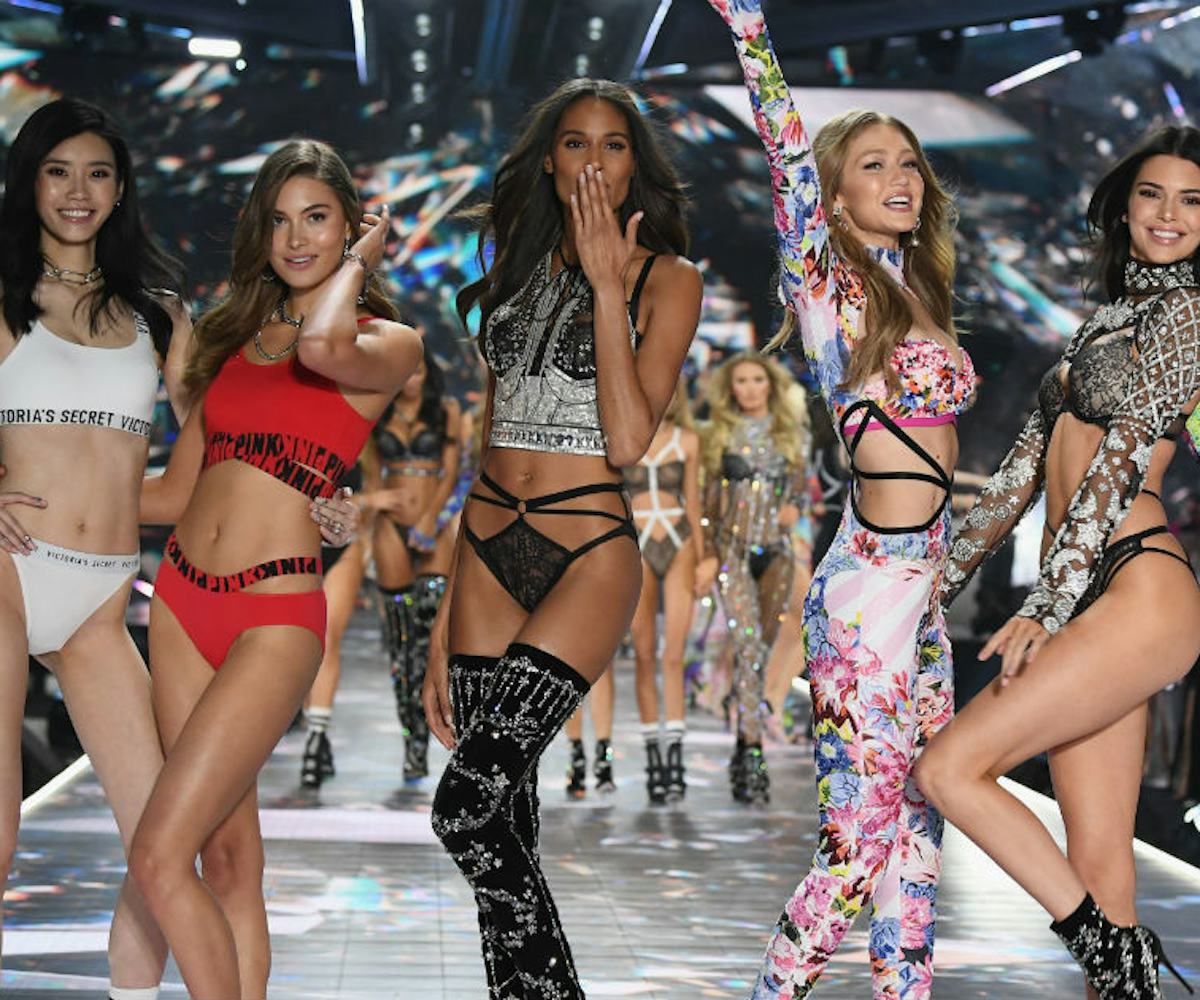 Photo by Dimitrios Kambouris/Getty Images for Victoria's Secret.
Victoria's Secret's Days Are Numbered
We chat with trans models Munroe Bergdorf and Geena Rocero about the brand's recent controversy
The Victoria's Secret fashion show is a nationwide spectacle. For the past 23 years, viewers have tuned in to watch obsessively toned young women model the brand's lingerie. Buzzwords and phrases like "empowering" and "allowing women to flaunt their sexuality" have been associated with the event, and articles surrounding who's going to wear the fantasy bra to what musician's going to perform inundate timelines come fall. This year, though, the focus wasn't on what happened on the runway, but rather what was being said off of it.
Late last week, Vogue published an interview with Ed Razek, the chief marketing officer of the company's sister brand L Brands, and Monica Mitro, executive vice president of public relations. Some pretty despicable things were said during the Q&A, specifically by Razek, about who the brand will and won't allow in its shows. The part that the internet found particularly offensive—and what Razek has since apologized for—were his comments about the inclusion of transgender models. "Shouldn't you have transsexuals in the show? No. No, I don't think we should," Razek says. "Well, why not? Because the show is a fantasy. It's a 42-minute entertainment special. That's what it is."
Razek backtracked on his statements a day after the interview was published, explaining: "My remark regarding the inclusion of transgender models in the Victoria's Secret Fashion Show came across as insensitive. I apologize. To be clear, we absolutely would cast a transgender model for the show. We've had transgender models come to castings… And like many others, they didn't make it… But it was never about gender. I admire and respect their journey to embrace who they really are."
But Razek's damage control apology isn't cutting it for a lot of trans models, including Munroe Bergdorf. "It just sounded like someone trying to save their job after being caught," Bergdorf tells us. "He said 'sorry it came across as insensitive,' but failed to acknowledge that it WAS insensitive, furthermore it was transphobic. If you had replaced 'transsexual' with 'black woman' in his original statement, it would have been deemed deeply racist. But we're living in a society where people still think it's okay to be openly transphobic and not include us in an equal way."
After explaining that "transsexuals" is an outdated term, Bergdorf adds that the implication that trans models can't exist in the "fantasy" the brand has fostered up is offensive, and also doesn't make much sense: "Trans women are just as attractive as cisgender women and to say we aren't is just his personal opinion." Razek's comments also bring up the question of whom the Victoria's Secret fashion show is for in the first place. Is it for "women who buy the lingerie, which also includes—or included—trans women or the men they assume tune into the television even to look at the women?" Bergdorf asks. "Either way, cis straight men find trans women attractive, transgender pornography being one of the top searched genres year after year."
It's interesting that Razek's comments are what provoked the strongest Victoria's Secret fashion show backlash we've seen yet, especially considering the brand has never excelled in the diversity department. Trans model Geena Rocero found Razek's comments surprising, but also not that surprising because, in a way, "we've all known that Victoria's Secret is way behind when it comes to inclusive representation of race, body, and gender diversity." It seems like, with each passing year, people are becoming more and more aware of—and vocal about—the show's irrelevance. Perhaps it was the blatant transphobic nature of Razek's comments that made people really speak up or maybe it's because he made clear that the brand didn't plan on changing its antiquated ways. "We don't market to the whole world," can also be interpreted as: "We don't care how many people we exclude." "I don't think we can be all things to all customers," can be loosely translated to: "Everyone on the outside will just have to deal."
"It's not possible to survive if you don't adapt, it's basic law of nature that applies to business models as well, especially in the ever-changing consumer and tech-based mass consumer market," Rocero says. "Adaptability and fluidity are two philosophies that are very invaluable both as a business practice and for representing the spectrum of identities." Sure, it can be viewed as "pandering" to some, but it's not pandering if it's done with thought and care—and perhaps it's about time to start "pandering" to marginalized communities anyway, who've always been ignored in favor of cisgender, straight, white people.
And so maybe another reason there was such immense backlash this time around is because now there are brands that make a point to acknowledge those women previously ignored by the likes of Victoria's Secret—and those brands are making a lot of money from this approach. Rihanna's Savage x Fenty is one, and Universal Standard is another. Thanks to the diversity these companies have displayed and the feminist awakening of sorts that's happening, images of skinny white women with bombshell waves don't have their prior luster, and they aren't selling products. "Women aren't buying into advertising that makes us feel bad about ourselves anymore, that shit just isn't cutting it like it used to," Bergdorf explains. "Women want to feel empowered, sexy in who they are, not who a brand tells them they should be. If a brand isn't changing with the times, then they may be here for the now, but their days are numbered."
And that seems to be the case for Victoria's Secret. According to reports, last year the show had its worst ratings on record, "sinking nearly 30 percent from the previous low in 2016," The Hollywood Reporter states. In July, it was revealed that the brand was struggling to sell even heavily discounted items and that it was suffering from "massive traffic declines, zero pricing power, and market share losses mounting." We can't imagine the company's going to fare too well after all of this, even with a Kardashian Halloween endorsement. Not to mention, the actual show hasn't even aired yet.
So, if the stories and social media posts and emails don't persuade Victoria's Secret to rethink its strategy, maybe the message will come across once the longevity of the company is threatened. Because as Rocero explains, people support the brands that support them. In a message to her "trans siblings and our allies," she writes: "This will not minimize our beauty and humanity. It is a long road to justice and inclusion, hang in there, let's find the love from each other, in our community. Let our buying power speak. Let's celebrate the brands that celebrate and the ones that make space for us."