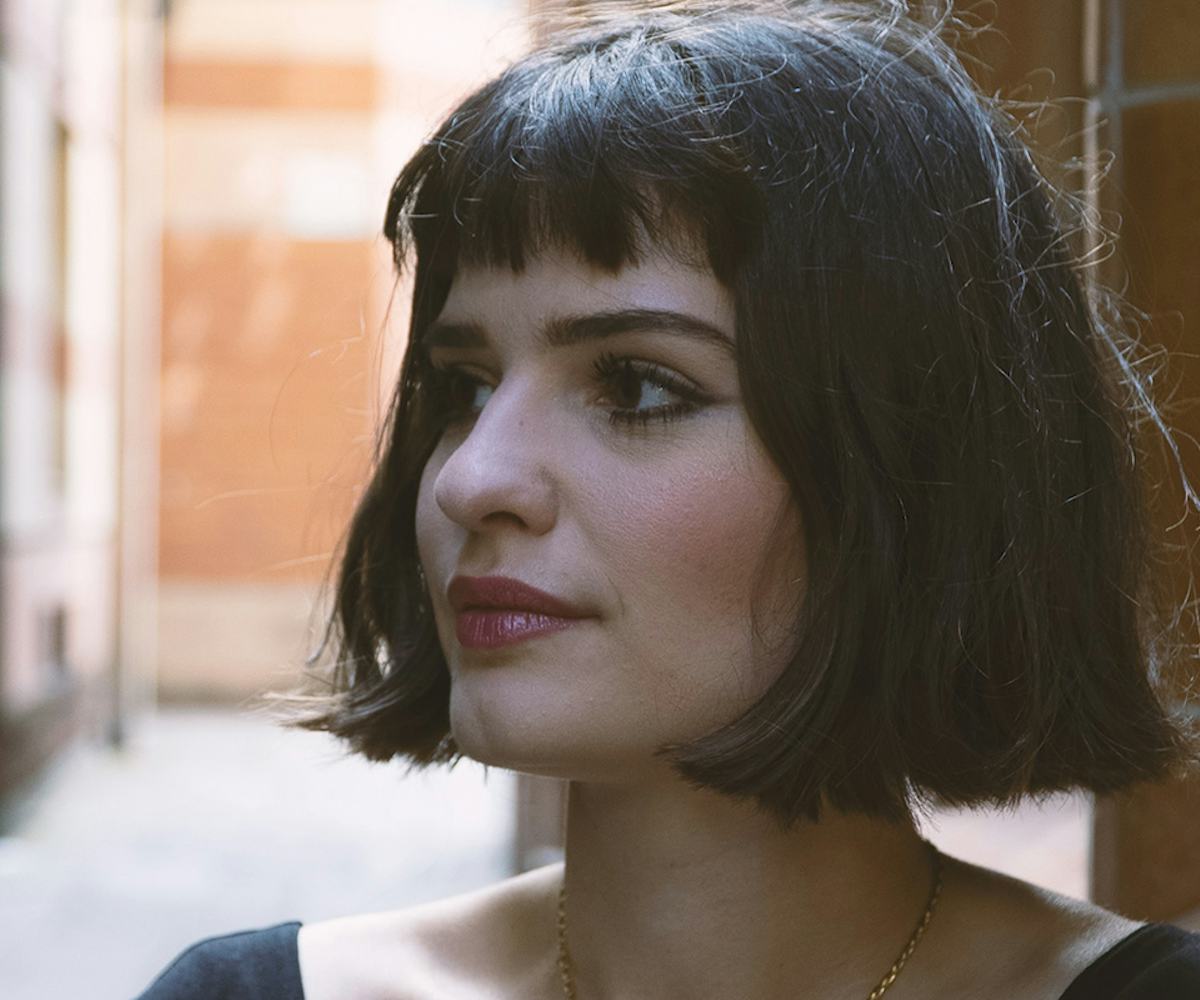 Photo by George Webster
Violetta Zironi Makes Tender Music For Chaotic Times
We talk with the modern-day torch singer about music, Europe, and Johnny Cash
Violetta Zironi is packing her life into boxes. Born in Italy, then a fixture of London's songwriter scene when she turned 21, she now calls Berlin her home, and is preparing to move across town.
A reasonably nomadic lifestyle shouldn't be surprising if you've listened to Violetta's music. At once rootsy and rootless, she combines folk, pop, and classic country with her Italian influences to create something that is lush and dramatic—and of those influences, it's the Italian which takes the wheel.
"The more I was away from home, the more I was becoming Italian, and the more this Italian way of being came out of me," she tells me over the phone from Berlin. "I started to try to get closer any way that I could to home, also by listening to Italian music. I discovered a whole lot of Italian singers and songwriters from back in the day—the '50s and '60s, even in the '40s—that really painted the picture that I was missing about my own home. I wanted to be part of it."
Violetta grew up in the small town of Emilia Reggio in the north of Italy, a region famous for parmesan cheese, as well as being the birthplace of both Italy's national anthem and its flag. Her dad—who by day drew Mickey Mouse cartoons for Disney—was an amateur blues musician, and both he and Violetta's mum filled their house with music and the arts from a young age. While Italian pop stars were her first musical interests, followed by a stint as Green Day's "number one fan," it was rockabilly that got her to pick up the guitar as a 15-year-old: "My idol at the time was Johnny Cash, and I loved Wanda Jackson, this rockabilly woman from the '50s; she had this really husky voice and was very rock and roll."
So far, Violetta has released a clutch of singles and a couple of EPs—2018's Half Moon Lane and this year's Scenes From My Lonely Window, with two more singles, "When I Wake" and "Hungry To Kill," outlined for this year, before a fuller touring and promotional schedule set for 2020. Her songs sound like a contemporary take on the classic torch song, romantic and yearning, and highly dramatic, with the singer's voice at the core: "I think what's important is to really believe in what you're writing," she says. "Even if something is cheesy, but you find a way to describe it well and really picture it... When I write the lyrics, I want to visualize what I'm writing in a very, very clear way. And then it's romantic, and people usually like that. But if it's sincere, if it's honest, then it doesn't fall into the cheesy side. For example, I'm a massive Chet Baker fan. Songs like "I Fell In Love Too Easily" or "My Ideal" or "Let's Get Lost." All the lyrics are so direct, and they're so colloquial as well, so casual. I can feel his feelings you know?"
Violetta puts this romantic influence down to Italy's musical history: "Pop music isn't really in the Italian music tradition. I think we don't come from straight pop, while British and American come from pop, very rhythmical. Italian music comes from opera and very melodic stuff." You hear this lineage in songs like "One More Goodbye," coming through stark and emotional, a little reminiscent of Marketa Irglova's solo work, albeit with a more powerful voice. "Oasis" has a similarly jazzy, European influence, its chorus—"Be my oasis, and I'll be yours"—sounding like a longing plea over a clever melodic and tonal shift.
It used to be that the mainstream wouldn't often get exposed to music from European, or non-English language traditions, but that seems to be shifting. A report in Music Business Worldwide earlier in the year claimed that increased streaming services and easier access to music from other cultures is causing a spike in success for songs from outside the U.S. or the U.K. Artists like BTS, Rosalia, and Christine & The Queens have all achieved mainstream success while embracing their unique musical cultures, and singing in their own languages. And then, of course, you have the huge influence of Scandinavian producers and writers on the way pop music sounds right now.
Violetta may use English as her first language for her songs, but maintains its her Italianness that helps her stand out: "While writing songs with songwriters from all over the world, and especially American songwriters, I find myself getting along really well on the songwriting point of view with Americans, because they find the songwriting style of people who aren't from countries like America or the U.K. really fresh." Even though she doesn't sing in Italian, her different relationship with the English language colors her writing still: "With English not being our first language, we perceive it in a different way. So I find, sometimes, translating literally things that we can say in our own language into English, they become really poetic, or they put on a different meaning. So this opens up many, many possibilities."
Towards the end of our interview, Violetta tells me she's a proud European, and is proud that Italy remains a part of the European Union. Writing this from the U.K., as the Brexit debate seems to veer ever more rapidly into farce and chaos, it's hard to escape the irony that we're seeing a large-scale erosion of musical borders at the same time as national ones seem to be becoming more fortified. With that in mind, artists like Violetta not shying away from their own heritage feels like a quietly political act, so it's all the better that more and more people appear to be listening.
Upcoming tour dates for Violetta Zironi, which you can read more about here.
02.06.20 Hamburg - Nochtwache
02.07.20 Berlin - Prachtwerk
02.12.20 Amsterdam - Melkweg Upstairs
02.13.20 Groningen - Lutherse Kerk
02.19.20 London - St Pancras Old Church
02.20.20 Manchester - Trinity Church
02.26.20 Milan - O'hibo