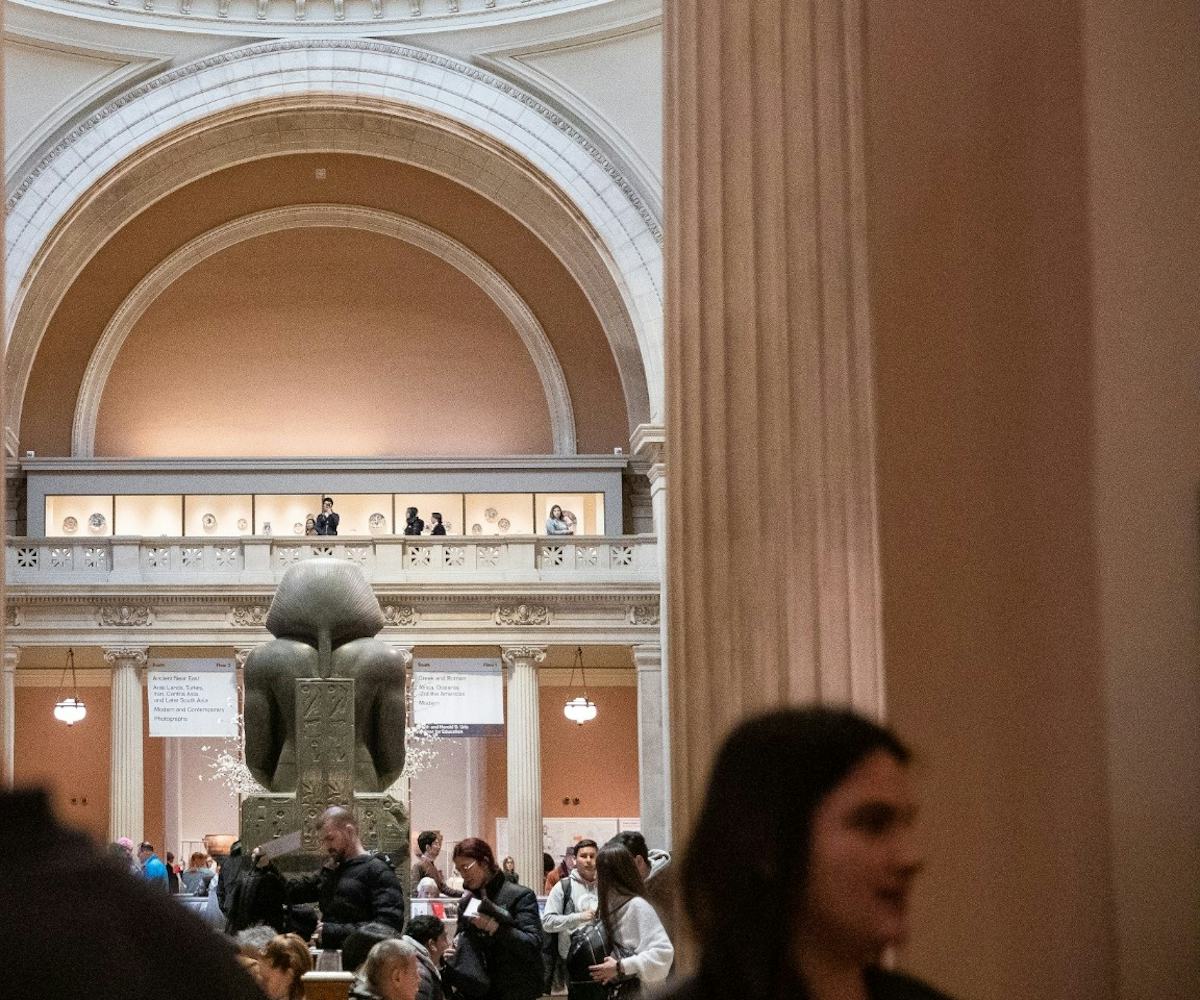 Photo by Jeenah Moon/Getty Images
These World Famous Museums Are Offering Virtual Tours
Wine and cheese board highly recommended
Although museums around the world have closed their doors, one can still find ways to enjoy the arts, especially if all streaming options have been exhausted. Many of the world's most famous art museums are offering virtual tours to their loyal and new audiences, allowing quarantined art-lovers and bored inquisitors to click through blissfully empty masterpiece-filled corridors around the world, all from the comforts of their homes. While it may not compare to seeing a Monet in real life, some virtual experiences have integrated helpful interactive features, going beyond the Google Maps-like passive clicking to grant deeper education into the pieces you're viewing from thousands of miles away. Why not become an art scholar during quarantine?
Google Arts & Culture has partnered with around 2,000 international art institutions, according to the World Economic Forum, to provide most of virtual tours. Institutions from NYC's Frick Collection to Florence, Italy's Uffizi Gallery are all available to stroll through, while Milan's Fondazione Prada is integrating their own digital activities through their social media. Plan your next trip by taking a look at the list below.
The Metropolitan Museum of Art
The Met Gala might not be happening this year, but the museum is still open for touring, virtually. Although digital visitors can only view a limited portion of the Temple of Dendur exhibit, there are still 26 online exhibits to pore through, from "Christian Dior: Ball Gowns," "Coco Chanel: Romanticism," to "The Art of Music Through Time."
Uffizi Gallery
The Italian museum is known for housing prominent works of the Renaissance. You can take a digital tour of its second floor, from the well-known Michelangelo and Florentine Painters Room, the Tribune, to the Botticelli Room. Each room that's clicked on will show links to all the artwork located in that room along with biographies of the artists.
National Gallery Of Victoria
Melbourne's NGV has gone (partially) virtual. Following the oldest Australian museum's closure on March 16, the institution has made two exhibitions available for touring online. One of them, "Collecting Comme," an exhibition that celebrates the radical work of Comme De Garçon's Rei Kawakubo, is a must-peruse for art and avant-garde fashion lovers alike. Click here to jump in.
Fondazione Prada
Though the Prada-founded art destination closed its doors in early March, the institution has announced via their Instagram that they will be welcoming the public virtually through new "digital activities" that will be hosted on their social media. #Glossary will take viewers through their expansive archive, while #InnerViews will bring visitors into the physical space through "interviews, images, videos and focuses on single exhibits." Follow along on their Instagram.
The Frick Collection
The NYC museum is celebrating #museumfromhome with a virtual tour of its rooms, where you can get 360 degree views of the Garden Court, the Oval Room, and the West Gallery, among others. Visitors can even click on art pieces, ranging from paintings to furniture, to be directed to profiles detailing the artist, name, and medium.
The Isabella Stewart Gardner Museum
The Boston art museum was originally the home of Isabella Stewart Gardner, an American art collector, and now houses a mix of paintings, decorative arts, and sculpture. Using Google's street view technology, you can tour the garden which was designed as an Italian palazzo, and catch a glimpse of the museum's architecture — an art piece in itself.
Musée d'Orsay
The iconic museum in Paris is allowing digital visitors to zoom in and out through its esteemed halls, where you can admire the intricate ceilings and find detailed summaries of some of the work, from Van Gogh to Cézanne. The current digital exhibit is a look into the history of its inauguration to its renovation, spanning from 1900 to 2013.
The J. Paul Getty Museum
The Getty is known for its art almost as much as its views of Los Angeles and though the virtual tour comes without scenic views, digital visitors can hop from room to room and read detailed descriptions of the masterpieces that line its walls. Two exhibits to catch right now including "Heaven, Hell, and Dying Well," and "Eat, Drink, and Be Merry."
The Tokyo National Museum
Located in Taito City, the museum houses a blend of art from Japan in addition to other Asian countries. Apart from the virtual tour where you can peruse sculptures and paintings, you can also tap through the online exhibit "Maple Viewers," in the design of a folding screen.