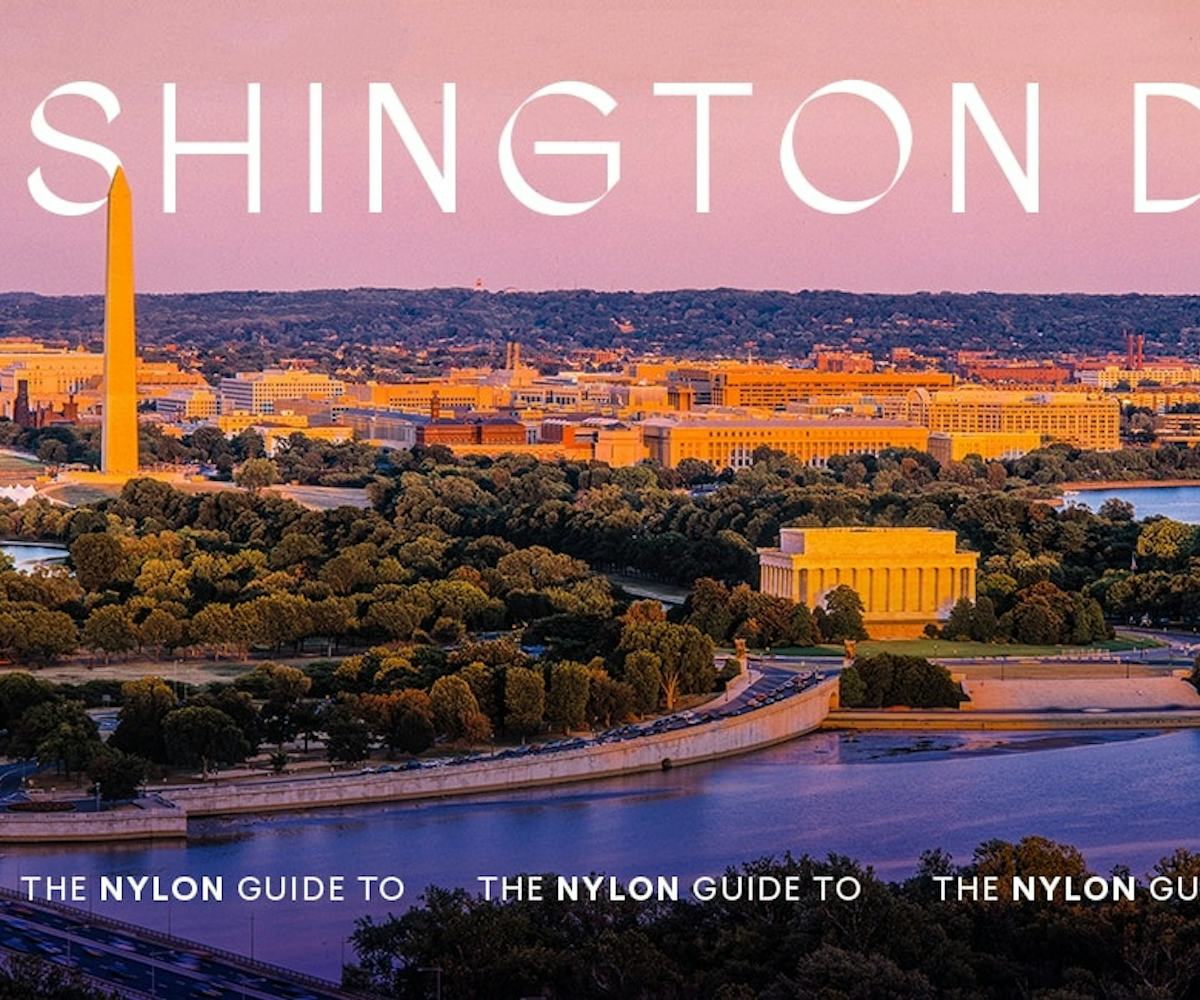 Photograph via Getty Images.
The NYLON Guide To Washington, D.C.
The Fourth of July might seem like the best time to visit Washington, D.C., but it's actually a city one should consider year-round. Most of the museums are free, cherry blossom season in the spring is beautiful, and the food scene is exploding. In fact, the last few years not only saw a rise in new notable eateries from celebrity chefs, but also in trendy hotels and craft cocktail bars.
With this in mind, ahead, the new(ish) places to stay, drink, eat, and shop in the nation's capital.
Where to Stay
The LINE DC: Located in the hip Adams Morgan neighborhood, this hotel still holds the remnants of the church it took over, with grand steps leading up to the entrance and a magnificent geometric chandelier made of organ pipes hanging over the lobby. The rooms are spacious and outfitted in quirky decor that makes you feel like you're in someone's impeccably decorated apartment, rather than a hotel. That friend-of-a-friend attitude extends to Brothers and Sisters, Erik Bruner-Yang's bustling lobby restaurant (one of three on property!) and bar that hosts as many residents as it does hotel guests, and its programming, for which it recruits local creatives. While you may not think to do this in D.C., stop by for Brothers and Sisters' afternoon tea that includes dim sum bites and matcha cake alongside more traditional tea fare.
The Darcy: Formerly the Hilton, The Darcy is conveniently located in close proximity to Georgetown, the National Mall, and 14th Street—all of which you can explore using the hotel's bikes—and is decorated with whimsical artwork. Included in the stay is free coffee from Australian cafe Bluestone Lane (located downstairs), and complimentary afternoon cocktails—including the signature Double Darcy, made from gin, lemon-mint shrub, and ginger beer—from the lobby cocktail cart. Outfitted in modern decor, the rooms boast comfortable beds and sleek bathrooms featuring graphic wallpaper and freestanding tubs.
Conrad Washington, DC: Having just opened in the newly created CityCentreDC, made up of luxury shops and restaurants, this modern hotel is decked out in marble-like counters and columns and is steps away from the Capital One Arena and the monuments. The contemporary rooms feature floor-to-ceiling windows, marble bathrooms, and Nespresso coffee machines. Stop by the Summit, the buzzy rooftop bar and lounge that offers craft cocktails against a panoramic backdrop of the city, and Estuary, the restaurant from Top Chef alums and celebrity chefs, brothers Bryan and Michael Voltaggio (more on that below).
Where to Eat
Estuary: The newest project from the Maryland-born Voltaggio brothers, Estuary is a modern seafood restaurant inspired by the flavors of Chesapeake Bay. Dishes range from bites like sashimi Milanese dressed with delightfully crispy rice pearls and ranch dressing, to lamb pastrami and cedar planked salmon; pay special attention to whimsical details like the crab-shaved chips that top the decadently buttered and filled crab roll (see above), and "fish sticks" that take the form of very grown-up puffer fish tails served with banana peppers and banana tartare sauce. Don't skip the "bread," which is made up breadsticks, that you will smell before you see, that you can (and should!) dunk in Old Bay-spiced cheese dip.
Kith/Kin: There has been no name more frequently brought up in the last few years in the D.C. food world than that of Kwame Onwuachi. The 29-year-old American-Nigerian chef went from being a struggling youth in the Bronx to a Per Se and Eleven Madison Park alum, Top Chef contestant, James Beard Winner, and owner of a D.C. restaurant that opened and closed within the span of a single year. Following the publishing of his candid memoir, Notes from a Young Black Chef, he now helps the kitchen at this very good Afro-Caribbean restaurant in the newly renovated Wharf neighborhood.
La Betty: I never thought that one could dream about chicken schnitzel before trying the giant, arugula-topped version served at the casual comfort food restaurant run by the same people as Baked & Wired, the Georgetown bakery whose bacon-, sausage-, and-gruyere quiche I dream about on a regular basis since moving from D.C. Other menu highlights include corn "doggies," "big ass" pretzels, and cast iron-seared burgers.
Spoken English: Upon first encountering the entrance of this Tachinomiya-style (standing-room) restaurant at The LINE hotel, you might be tempted to turn around, so certain will you be that you walked into the kitchen. Continue on—the Michelin Bib Gourmand-awarded restaurant serves delights like wagyu tartar, chicken skin dumplings, whole roast duck, and carrot curry.
Maydan: Located on U Street Corridor, Maydan serves up takes on Middle-Eastern dishes, ranging from fresh bread and spreads to wood-fired meats and kebabs and so many condiments. You would be best bringing a group here and trying it all.
Fancy Radish: Vegans (and meat-lovers, too) will love this vegetable-forward restaurant that puts out a seasonal menu that can produce a vegetable "charcuterie" board, sunchoke ramen, and stuffed avocado on the table on any given night. Don't overlook the extensive list of natural wines.
Where to Drink
Coconut Club: An unabashedly Instagrammable bar and restaurant, whose centerpiece includes a bold teal-, pink-, and-blue leaf mural created by local artist Meg Biram, Coconut Club offers island spins on classics like the old fashioned with coco-spam infused bourbon and pineapple gomme, as well as frozen and blended tiki drinks.
A Baked Joint: The sister store to Baked & Wired, A Baked Joint offers great coffee, matcha, and chai. It also makes its own bread (which you can get in a sandwich or as toast with peanut butter, sriracha drizzle, and cilantro; or, Nutella, butter, bananas, and Maldon salt, among other flavors) and pizzas. Stop by on Thursday night for movie screenings or Friday night for live jazz.
A Rake's Bar: Situated on the second level of the LINE, seasonal restaurant A Rake's Progress' bar, A Rake's Bar, also changes the cocktail menu, created by Corey Polyoka and Morgan Stana, on the regular, and carries private barrel spirits exclusive to the bar. Spring highlights included private barrel gin topped with tonic and a variety of herbs, fruit, and flowers, and seasonal spritzes. For lovers of rum and bourbon, there is a sipping rum service, where you can pair rum with pressed-to-order sorghum, and "improved" old-fashioned in blackberry sage, peach spicebush, or smoked cherry flavors, respectively. While you're ordering through the entire cocktail menu (because you will undoubtedly want to), do yourself a favor and order some bites, like a plate of the buttered radishes that go perfectly with the cocktails.
Morris: If you're a fan of the Wes Anderson aesthetic, you will love this cocktail bar that looks straight out of the world of The Grand Budapest Hotel. Outfitted in shades of baby blue and featuring a slightly retro decor, Morris changes drinks on a monthly basis with concoctions that range from classics like a spritz to more complex ones. While it's first come, first serve, know that there's no standing room.
Elle: While this '20s-themed bakery/restaurant in Mount Pleasant is more known for its pastries, sandwiches, and baked goods, you would be remiss to ignore its coffee by day and cocktails by night.
JRINK: Since the first location of this juicery opened almost four years ago, the shop has expanded to open more locations. The menu includes a variety of green and fruit juices and nut milks, as well as three-to-five-day "reboot" bundles.
Where to Shop
Steadfast Supply: Located in a warehouse space at The Yards, this retailer aims to highlight independent brands and designers from around the country. Some of the local favorites include Steadfast Supply owner Virginia Arrisueño's DeNada knits, Shrub District shrubs, and Tin Tin ceramics.
She Loves Me: A flower and gift store, She Loves Me offers bouquets (which you can also get with a subscription on a reoccurring basis), houseplants, jewelry, and home decor. Head up the stairs to Lemon Collective, a workshop space that offers classes ranging from flower-arranging to food styling, leather sewing, and macrame.
Ivy Wild: This clean beauty store, located off 14th Street, offers some of our favorite non-toxic skin-care and makeup brands like Ursa Major, Ritual de Fille, and Grown Alchemist.
Shopkeepers: A boutique, that also doubles as a cafe (and a gallery and an events space), Shopkeepers carries cool-girl brands like 7115 By Szeki and Black Crane, as well as Inua Naturals skin and body care, Kicheko Goods jewelry, Yield candles, and Postalco notebooks.
Take Care Shop: Destination for natural skin care and wellness goods, this shop carries our favorites like Vitruvi essential oils, Moon Juice dusts, Golde tonic blends, crystal facial rollers, and Herbivore Botanicals skin care. The store also offers consultations and classes with wellness practitioners.
Little Leaf: The owners behind one of my favorite D.C. home stores, Salt & Sundry, more recently opened up this millennial-approved shop that sells air plants, houseplants, planters, and watering accessories.
Shelter: For one-of-a-kind jewelry, check out local designer Mallory Shelter's custom pieces that are sold at her store that also stocks other jewelry designers, accessories, and home goods by independent designers.