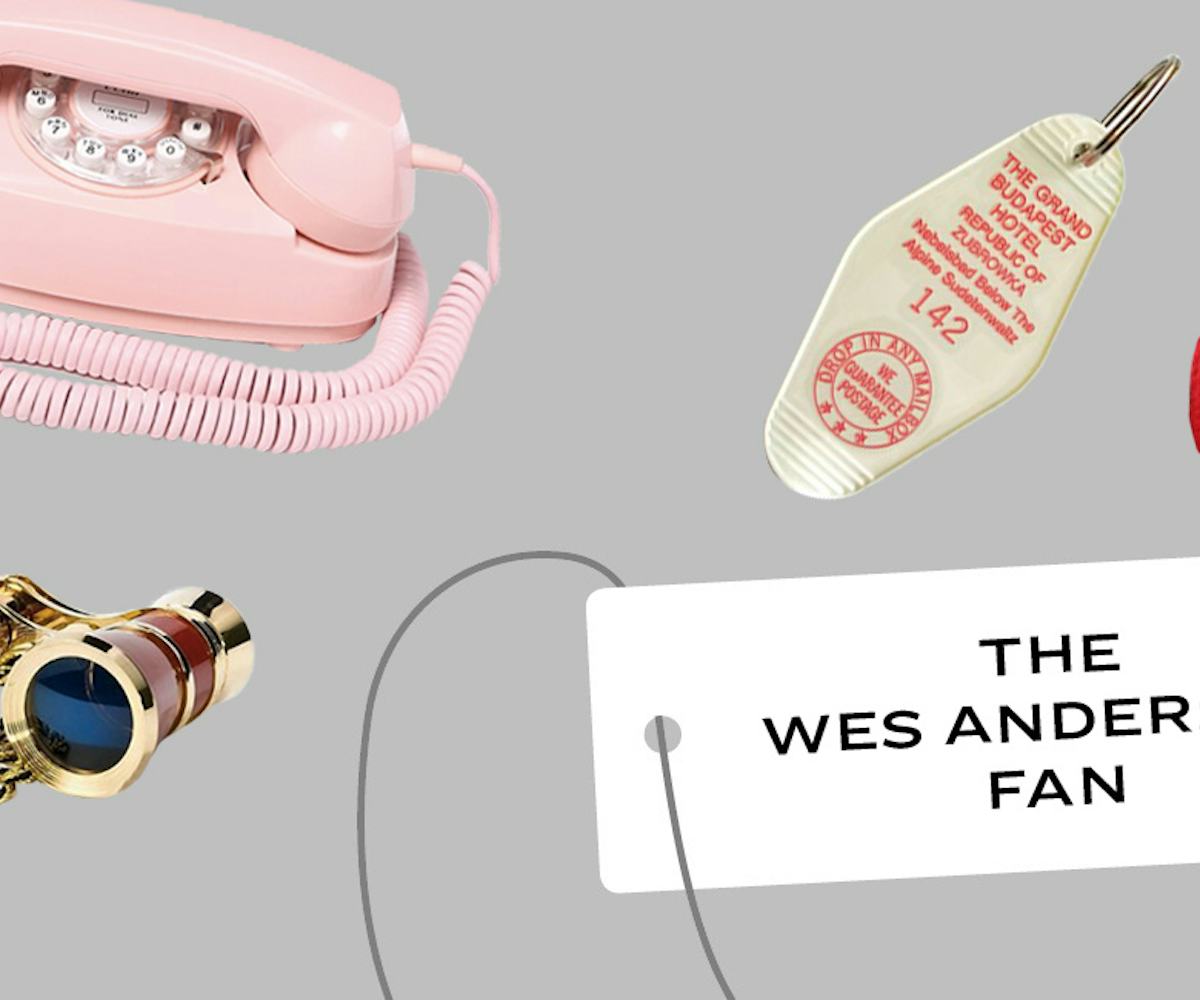 Unwrapped: For The Die-Hard Wes Anderson Fan
The friend filled with endless wonder
Tis officially the season for gift-giving. For us, that's a full month in which we'll be providing gift ideas for everyone on your list with our Unwrapped holiday gift guides. So make your holiday shopping a breeze this season, and let us help you find gifts for all the people in your life.
There's a Wes Anderson fan in every friend group. They're easy enough to identify. Just count how many times they use the word "aesthetic" in casual conversation. They're in touch with nature, but still wear a fur coat (vintage, of course). You know who they are.
In honor of this eccentric bunch, we've gathered some Anderson-inspired gift ideas. But really the items are for anyone who appreciates the director's quirky films and the dreamy Technicolor worlds he dreams up.
The Singing Spaniel, The Grand Budapest Hotel Room, $8.99, available at Amazon.
Remember when hotel key cards were a thing of the past? No? Well, refresh your friend's memory with this keychain. We can't promise it will gain you access to The Grand Budapest Hotel, but we guess you can try.
UncommonGoods, National Parks Explorer Map, $40, available at UncommonGoods.
For really serious explorers who know how to pitch a tent.
Best Made, The Lumberlander Camp Blanket, $148, available at Best Made.
This can help keep them cozy while they're off bonding with nature.
ButObviously.com, Chalamet and Chill Tee, $30, available at ButObviously.com.
Wear in anticipation of Timothée Chalamet's forthcoming bound-to-be-iconic Wes Anderson film role.
Anthropologie, Foxglove Passport Holder, $28, available at Anthropologie.
It might not be personalized with your friend's initials, but it can help inspire a Darjeeling Limited-typeadventure.
The Wes Anderson Collection, $24.49, available at Amazon.
This book grants access to behind the scenes of Anderson's films, with photos, original artwork, and interviews with the director. It's a creative tour worth exploring for any cinephile.
ArielArtsKnits, Zissou-Inspired Beanie Red Knit Hat, $12, available at Etsy.
Let your friend know you want them on Team Zissou.
BaxterandTheBear, The Films of Wes Anderson poster, $25, available at Etsy.
All their favorite characters in one charming illustration.
Crosley, Princess Phone, $49.95, available at Wayfair.
For Princess Margot Tenenbaum vibes and decorating purposes only.
Barska, Blueline Opera Glasses, $44.99, available at Bed Bath & Beyond.
These are technically meant for the opera, but you can gift them to the friend in need of a little perspective. As Suzy from Moonrise Kingdom says, it helps people see things closer, even if they're not very far away.
Wes Anderson Film-Themed Century Home, $117/night, available at Airbnb.
For the friend you really, really love, book them a couple of nights in this Wes Anderson-themed Airbnb in Ontario, Canada (aptly named Mr. Anderson's House). Each room pays homage to a different film and is filled with the director's signature charm.
NYLON uses affiliate links and may earn a commission if you purchase something through those links, but every product chosen is selected independently.