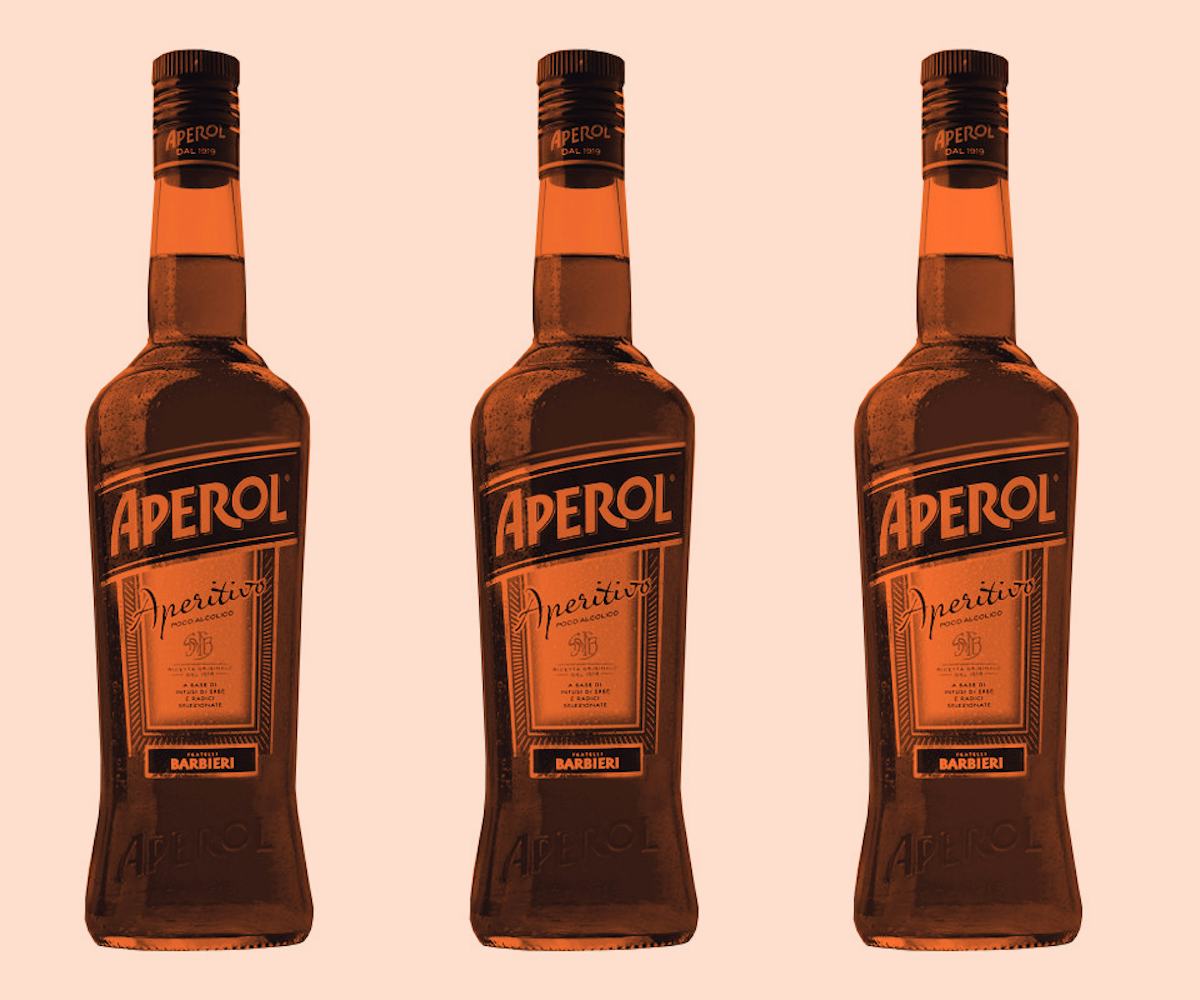 Photo courtesy of Campari Group
WTF Is Aperol And Why Is It Everywhere?
The true story behind the drink of the summer
If you've been outside in the summer, or, hell, even opened up Instagram in the summer months (no leaving the AC necessary), you're likely very aware of Aperol—specifically, its signature Aperol Spritz drink. But even though everyone and their mother seems to know about it, or drink it on the regular, it feels like hardly anyone knows what it actually is and how it got so popular?
Andrea Neri, Aperol owner Campari Group's managing director, says that this confusion is a blessing and a curse for the brand. "[It's] a weakness because sometimes it's difficult, when we approach new geographies, to re-explain what it is. So sometimes it's hard to be appreciated as what we are," says Neri. "At the same time, I think the beauty of that is that we are very much unique, and once we are appreciated for what we are, we are very hardly replaced by others." Mysterious, but approachable and unique? This is how I want people to talk about me.
On its surface, Aperol can seem kind of confusing and intimidating (also like me), but it's actually pretty easy to get to know, once you stop trying to put so many labels on it and project your own shit onto it. According to Neri, the most important part of the drink is not that you know what it is, though, but that you've tasted it. Once you've tried it, Neri says, you forget everything but its distinctive taste.
But, if you'd rather just know what the hell it is you're drinking, let's answer this burning question, once and for all: Aperol is a type of aperitif, meant to be served before a meal to stimulate the appetite. Aperol is usually served with light bites, or when you're just hanging out with friends. Barely anyone knows the true recipe, but it's remained unchanged since it was first concocted in 1919, and includes a balance of ingredients like bitter and sweet oranges, rhubarb, and various herbs and roots. It has an 11 percent ABV, which makes it less alcoholic than hard liquor, but much more potent than, say, a beer.
If you're going for an Aperol Spritz, which you probably are, you're going to mix equal parts Aperol and Prosecco and add a splash of soda water, then mix it all together by sliding in a slice of orange as a garnish, per the official recipe. Since Aperol's creation, it's been a "symbol of leisure time," says Neri. And, that makes sense; its vivid coral hue just screams "summer on the Italian Riviera." And yet, you're not supposed to get super drunk off Aperol; you wouldn't drink it in the club. Instead, you're meant to drink it when you're feeling relaxed and winding down—not when you're turning up. It's perfectly bitter-sweet, like a relaxing summer Sunday afternoon, where you're having a great time, but know you have to go back to work the next day.
Though it was created exactly 100 years ago, and is pretty much everywhere in its origin country of Italy, Aperol has only reached ubiquity in the U.S. in recent years, namely about 12 years ago, when, according to Neri, the Campari group picked out key cities like New York, Los Angeles, Miami, and Las Vegas to start selling and educating bartenders about the Spritz. And one can even point to a campaign push from Campari Group as the reason why the drink went viral. You can't point to that for its staying power, though. Aperol Spritzes were unofficially dubbed the drink of summer 2017 (by its parent brand, so), but they haven't declined in popularity in the summers since then, whether you like it or not.
Neri thinks its popularity is all "thanks to the color which is so unique and so unmistakably Aperol, and thanks to the very elegant serve of the Aperol Spritz in a premium wine glass, which makes it pretty recognizable." Plus, seeing as we're still living in the age of Instagram, anything that looks photographable will probably reign supreme, in any category.
Still though, it's not all that hard to know which came first in the case of this viral cocktail. This is not a chicken or egg scenario. What came first was the concerted brand push. However, Neri says, defensively, "Sometimes people think that we are overly pushing. But what is happening is pretty much driven by consumers who are adopting the brand spontaneously and becoming so much in love with it that they are the first ambassadors of the brand itself, which is a fantastic situation."
Fantastic, indeed—and, you know, super Instagrammable.