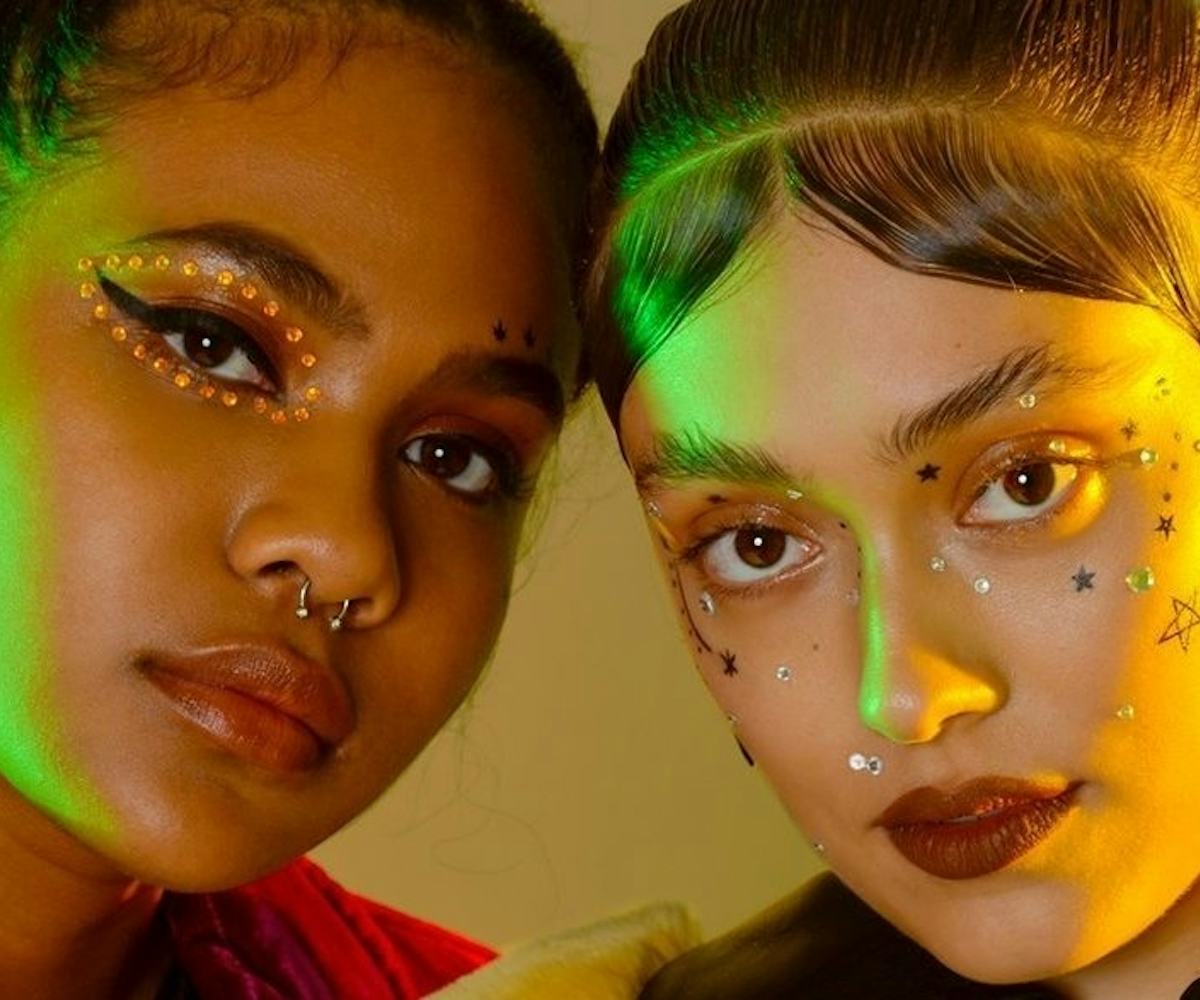 Photo by Cholas x Chulas
7 Best Places To Buy Pearls, Rhinestones, And Stickers For Your Face
Shine bright you little diamond
We're living in a time when wearing winged liner made of pearls and rhinestones underneath your eyes is more cute than daring or avant-garde. Some might credit Euphoria with taking face gems mainstream, while others will say we've been working up to this makeup moment all along. Either way, it's here, and we're living for it. Better yet, it's a trend just about anyone can try—given they have the right materials and a good pair of tweezers.
Finding the right face embellishments can prove tricky if you don't know where to look, which is why, ahead, we've rounded up our favorite spots to shop for face appliqués, from stick-on stars that double as acne patches to sparkly gems available in an assortment of hues.
If you need sheets upon sheets of rhinestones or carnival-level gems, we recommend turning to Amazon. Some of the best options are available via Prime (hello, quick shipping) and are super cheap. Amazon gems are also a favorite of Euphoria makeup artist Kirin Rider, and if they're good enough for her, consider us fans.
Himoc, Self-Adhesive Rhinestone Stickers, $8.99, available at Amazon.com.
Your Local Beauty Supply Store
Before Amazon, there was the beauty supply store, home to just about anything you might need to successfully execute a beauty look. While this option does require leaving the comfort of your own home, it's the easiest easy way to nail down exactly what you want. It's a favorite haunt for eye makeup enthusiast and Dating in NYC podcast host Jourdan Ash, who swears by her Harlem BSS for all things sparkly.
Cute acne patches are a thing now and are a much better alternative to sticking unknown craft adhesive on your skin. Squish Beauty is home to some of the best, offering small jeweled flowers you'll never want to leave home without—pimples or not.
Squish Beauty, Flower Power Acne Patches, $14, available at SquishBeauty.com.
Dolls Kill stocks some of the most over-the-top rave-level stickers, as well as more subtle options. The glitter teardrops and baby butterflies are among our faves.
Doll's Kill, Teardrop Body N' Face Stickers, $15, available at DollsKill.com.
These star-shaped acne patches shield your blemishes from outside bacteria. They're also a great accent for the outer corner of your eye, or to stick all over your face.
Starface, Hydro-Stars, $22, available at Starface.world.
This Latinx-owned beauty brand knows a thing or two about gems—they sell face sparkles in every shade imaginable and are a favorite of the Instagram makeup artist set. There are candy-colored hearts and pearls, and gold bullet-colored rhinestones. Turn here when you're looking for something next-level.
Cholas x Chulas, Chain Metal Bullets, available at cholasxchulas.com.
Claire's is low-key the spot for face gems, stocking everything from iridescent pastel stick-ons to star-shaped rhinestones and every sparkly thing in between. Although Claire's has an online shop, we recommend going in person (you know, for the ~vibe~), and picking up an Auntie Anne's pretzel while you're at it.
Claire's, Iridescent Star Mini Skin Jewels, $4.99, available at Claires.com.
NYLON uses affiliate links and may earn a commission if you purchase something through those links, but every product chosen is selected independently.