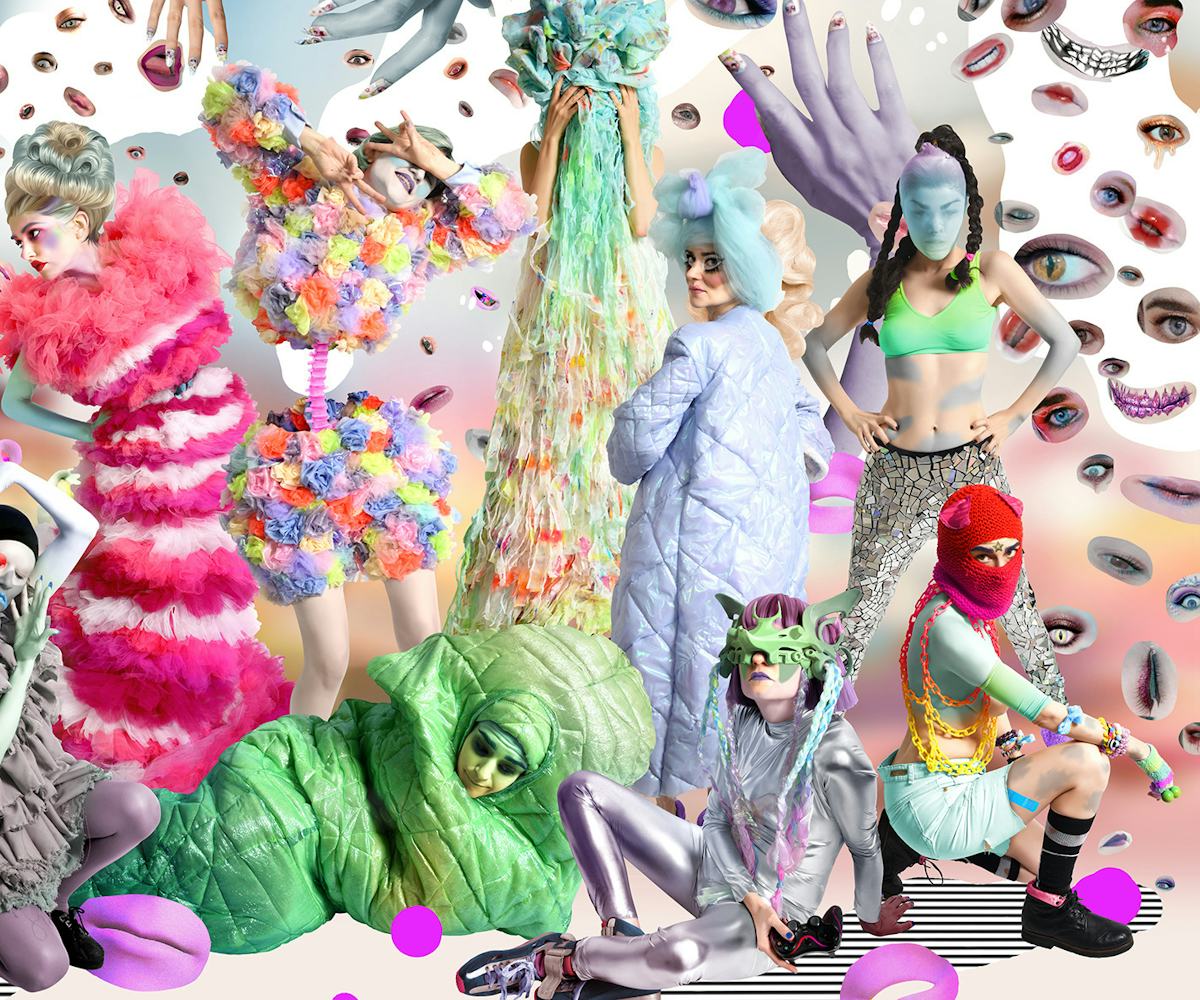 "¿Quién es esta chica?" (2019)
Who Is Flavia Da Rin?
The Argentine artist really is *that* girl, and she has some advice for aspiring artists
The artist Flavia da Rin wants to know whether I tried maté when I was in Argentina, visiting Buenos Aires and her retrospective at the city's Museo de Arte Moderno. I didn't, but she tells me how much better it is than coffee for when you're working for long stretches. She says, when you first start drinking it, add honey or sugar: The flavor, for those new to drinking the herb, can be bitter. This is not out of the ordinary for da Rin, to be so curious and caring, even about someone she's only briefly met. Interacting with her, even virtually, explains much about how, in her work, she's capable of embodying an incredible number of characters—with humor, with truth, with a thorough understanding of the humanity of even the most outlandish expression of personal identity.
That da Rin's career retrospective has come only 20 years into her career and at the age of 40 comes as no surprise while walking through the exhibit, titled "¿Quién es esta chica?" ("Who is this girl?") which is bold and bright, featuring works large and small curated by Laura Hakel. The title, itself a Madonna reference, cheekily acknowledges the distortion of self through the filters of pop culture and femininity that is to come. Da Rin uses photography, Photoshop, and costuming to becoming some cross between Amy Sedaris and Cindy Sherman, though completely singular—putting the pop culture signifiers of globally dominating U.S. culture through a distinctly Argentine prism. Da Rin becomes anime characters, dead little boys, angels, dancers. She hides her face with her own children in a black-and-white series on the changes and difficulties of motherhood as an artist. There is no image in which she is not the subject.
Considering how deeply the image is tied to the medium in her work, it's interesting to learn that, when she entered art school, she intended to be a painter. But it wasn't allowing her to get the visuals she wanted. A young teacher suggested photography.
"I started taking pictures with my dad's analogue camera of very small scenes and scapes I made with Barbie dolls and Chinese toys—we are in the mid-'90s," she says, "then scanning and digitally manipulating them with a very early Photoshop-like software. I just added some designs and writings."
Once she could buy her first digital camera and didn't have to worry about the price of film, she was more free, even though that camera (a Canon Ps20 with only 3.1 megapixels) doesn't come close to the kind of equipment she works with now. She became her own subject out of necessity—and politeness. "I didn't want to put anyone in that trouble," she says, "so I started taking pictures of myself, and that's how everything started!"
Her relative youth makes the exhibit feel alive, evolving as one walks through it. The final room is a recreation of places she worked as a young artist, both at an artist residence and her parents' home, and one walks through purple beads to enter. A massive desktop computer from the late '90s sits on a desk playing tracks da Rin chose from old burned CDs.
"The playlist was very genuine and organic," da Rin tells me. "You can hear Le Tigre, Chicks on Speed, Peaches, Stacey Orrico, Fanny Pack, Britney [Spears], Christina Aguilera, Missy Elliott, Kelis, Lil Kim, Madonna, Audio Bullys, Nas, Argentine pop band Miranda!, cumbia group Rafaga, or our cumbia singer/deity GILDA."
The walls are covered in her early work—photographs, drawings, and mixed media—made between 2000 and 2004; a glittery blow-up chair sits in a corner, recognizable to anyone who might have ordered one from a Delia*s catalogue. Coming last in the exhibit, after one has experienced a long look at what she's done in her career, feels like a way to legitimize the adolescent female as an artist. This was the space in which her vision was birthed, and it looks quite a bit like any teenager's room. Any young person or teenager, the room implies, can be an artist.
"I was talking with a female writer of my generation, late '70s, the other day," da Rin says, "and she was saying, 'Now it is very easy to say, "This elder female artist is so amazing, she is the best,"' but it is so rare and almost never happens to say the same about a young female artist, as it is actually said about really young male artists." Her retrospective and the bedroom within it are pushing against that trend.
As is how open she is about motherhood, both in her work and in discussing its impact on her life. "I was very moved by the experience of motherhood. Its intensity, the way it changes you—especially in the first years—how it affects other parts of your life your relation with others, with the mental idea you have of yourself, the relation with your own body—your body is not only yours anymore," she says, "and also the relation with your work, especially if you have a job like a creative job, that demands also attention, time, and care."
Because of all of that and because she is her own subject, whether it would become part of the work was not a question. "At one moment I thought I had to speak about my motherhood in my work, include it in my practice somehow, or motherhood would phagocytize it," she says. "I could not keep those two worlds separated anymore. Being (my work) as emotionally linked to me as it is, it was an attempt to make those worlds live in some sort of harmony, or at least not to deny one another."
And she is also providing an alternative to more common depictions. "I needed to portray 'my motherhood' in the way I was going through it, that was not an ideal diapers ad and was not a Renaissance image painted by a man," da Rin says. "It was intense, naked, raw, full of love, despair, conflict, confusion, strength, and vulnerability."
Though her age comes up in discussions of her work often, she believes this was the right time for a retrospective, because many of these pieces hadn't been seen in her home city or were only on display briefly at art fairs.
"As a viewer, I always like to see a retrospective," she says. "I believe is a good way to really deeply know an artist, it adds 'thickness'; you are able to understand how did she/he get to some results, ideas, ways of working. I like to follow the path of an artist in order to understand it better, so a retrospective is always a door to new knowledge, for the artist and the viewer."
For curator Laura Hakel, this was the right time for a retrospective for two significant reasons. "Firstly, the themes, politics and conceptual aspects that Flavia's work engages resonate strongly with current discussion within feminist thoughts regarding both art and history," she says. "The way she brings to light issues related to the consumption stereotypes, the sensibility associated to success and the place of women in art are all topics that are being highly debated in our society and artistic medium. On the second place, when one observes the moment when Flavia started developing her work, many aspects of it seems premonitory. I'm talking about the first few years of the 2000s when much of how we project and construct our identity started to be reconfigured into the more fluid and mobile manner in which we experience it today."
And da Rin's work is uniquely suited to a chronological conversation. "You may say I've always looked back on my work," da Rin says. "As in my first early 2000s pieces, I dialogue with many of 'myselves,' my works are also in constant dialogue between one another. You could say every series answers to an aspect of previous ones. They seem to be chatting all the time."
That chatter, as one experiences the exhibit, becomes loud but never overpowering. The experience feels like getting to know the many faces of a friend as you spend more time together, ending in the intimacy of their bedroom, where all that's been experienced beyond those walls comes into focus, where sense can be made. "¿Quién es esta chica?" comes together like a new way to know an artist, and the only way to know the many faces and selves of Flavia da Rin.
Flavia da Rin's Advice for Artists
Endurance is fundamental. There will be times when you feel it's all wrong, and there is no point doing what you are doing. Try not to give up; it happens to all of us artists many, many times. This is a lifetime thing; it ends when you die.
You will doubt your work. It's okay. If anyone says they don't doubt their work, they're a liar or a robot.
Stay close to the things you like (as silly as they may seem).
Anyone is entitled to not like what you do, and it's okay. Don't let it stop you.
Your art is bigger than the sum of your works. Try to see the job that you do to make a living also as a part of your practice; it influences it too.
It is always clarifying to think of what kind of artist you want to be. There are endless artist profiles; if you don't find and existing profile that suits you, even better: Invent one!
Make friends with your art colleagues. It is a lonely practice sometimes; you'll need to share with people that understand.
More is more.
Do not restrain yourself, try everything. (In terms of art. Can't help it! I'm a mother, so do not try "everything" carelessly.)