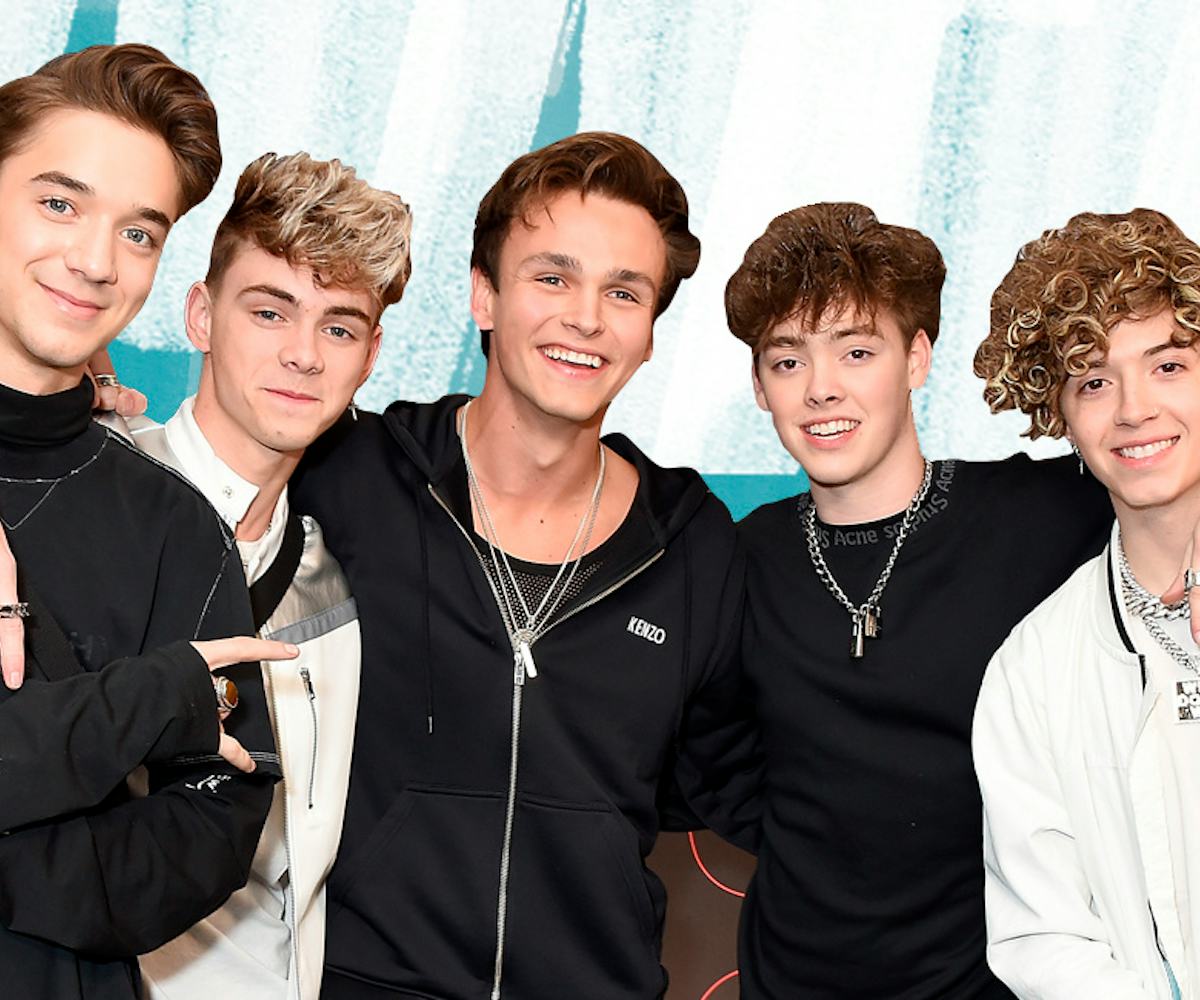 Getty Photos
Meet Why Don't We, The Next Boy Band Taking Over The World
They talk about becoming a "man band," how Selena Gomez *maybe* inspired the name of their album, and the one thing fans don't know about them
For the members of Why Don't We, 2018 was a groundbreaking year. The Los Angeles boy band—comprised of Corbyn Besson, Daniel Seavey, Jack Avery, Jonah Marais, and Zach Herron—dropped its highly anticipated full-length debut album 8 Letters, which hit top 10 on the Billboard 200, and wrapped up its international Invitation Tour. Why Don't We also released their first autobiography, In the Limelight, which features a chapter written by every member of the band alongside never-before-seen photos and a behind-the-scenes look at the rising group's journey to fame. It didn't hurt that they also released five EPs in just one year and have acquired a social media fan base that boasts more than 3 million followers on Instagram.
Ahead of their show at Radio City Music Hall this Friday, we caught up with Why Don't We to talk about their rise to fame, debut album, and boy band competition.
How have your lives changed since becoming a boy band?
Corbyn: Since we became a man band? Honestly, our lives have changed in every way you can think possible besides the fact that we still eat, sleep, and breathe. We have become nomadic people, so we don't have any specific address to send our Amazon packages anymore, so you have to send it a hotel a few days in advance and hope it gets there in time. We've been having the most fun we've ever had in our entire lives.
What was the process for making 8 Letters?
Jonah: It was a long one. For the first five EPs we did, we literally had our producer and a writer come over, and we'd all sit down and record an EP in a week. It was a pretty fast thing. Come the first of the year, we were like, I think it's time to do an album, so we would go into a real studio and took a good six or seven months and perfected it and made it everything we wanted our debut album to be. And we really like the results.
How did you come up with the title "8 Letters?"
Jack: Basically I was dreaming about Selena Gomez, and then I was like, Wow, I love you, and then I was like, Oh, that's eight letters. Then that was it.
Jonah: No we kind of just wanted to have it be a thank you to fans. We love to say I love you to the fans. I love you and thanks for getting us here.
What's the craziest fan experience you've ever had?
Daniel: One time a girl stole my slipper when I was walking. That was in South Korea. Never got it back. But that night in front of the hotel I looked out my hotel room, and she was out there holding my slipper just waiting for me to come and retrieve it from her. There's a lot of bras that get thrown on stage.
Jonah: There was one time fans booked hotel rooms all around us on our hotel floor. That was a little strange.
Why did it take so long for the record to come out?
Corbyn: We really took the time with this record to make sure everything was perfect. We recorded upwards of 60 to 70 songs, and we had a big arsenal of music, so a lot of that process was picking the final eight. When we made "8 Letters," we were like, This is such an awesome song that every song on this album has to be as good or better than this song. It's a process of creating the music and falling in love with it and putting out the best that we could.
Tell me about your autobiography, what will it detail?
Corbyn: It's just a good time. It's a lot of fun in the form of paper. It's just the story of Why Don't We thus far. There are baby pictures in there.
Jonah: And we talked about stuff we haven't talked about before: our lives leading up to the band, our first impressions of each other, our friends before this, our first year of hard work to try and make it in this industry—the good things that come with that and the harder things.
Did you all get along at first?
Corbyn: Yeah! We were all friends before we were in the band, it was our decision to form the band and do this. It wasn't just like we were thrown together. Now we're a band, we're brothers, and we're all from different mothers.
Would you guys ever go solo?
Jonah: Right now we're just really focused on the band.
Corbyn: We're a band, we're doing band things, and if we could be a band in 40 years, that would be sick. If The Beatles could do it, we could do it.
When it comes to pop, there can be competition between boy bands, do you feel like there's competition between you and boy bands?
Corbyn: Honestly, for us, we're doing our thing, and we're staying on the path we want to stay on. We don't look at it as anything weird or negative. It's the music industry: We're just making music, and we're going to keep making music we love, and if people fall in love with that music, then that's amazing. That's the ultimate goal.
Jonah: We just started this band to spread positivity and do what we love and make the music we love. Nothing more than that. There are people doing other things, but we're kind of doing our thing.
Who would you love to collaborate with?
Daniel: Fergie.
Jonah: Post Malone.
Jack: Jayden Smith.
Corbyn: Julia Michaels.
Jonah: Lauv, LANY… It would be cool to do a rap feature at some point with Rae Sremmurd or Migos.
What's something your fans don't know about you?
Corbyn: Our home addresses.
Daniel: Honestly that's the one thing I can think of that point. I'll go online and find baby pictures I didn't know existed from fans.
Jonah: And everything else, you should just buy the book because [those photos are] in there.
Does that stuff scare you?
Jack: It's pretty horrifying.
Corbyn: We're super-open people, but that's part of the reason why this is working so well. We're "people" people, and we like sharing these parts of our lives and being an influence on people. Once people find my house address, then that will be a little more horrifying. But it's all fun; if we can be a positive light in someone's world, then we love that.
How do you guys deal with conflict?
Jonah: Honestly, we don't really have that much conflict, but we're basically like brothers; we have little skirmishes here and there but nothing we can't figure out. We're all good friends.
Zach: We'll usually figure it out within a 10-mile radius.
What would you consider your big break?
Corbyn: Probably when my first YouTube video hit 1,000 views [and] when we played Madison Square Garden.
Jonah: Signing with Atlantic Records was a big one as well.
What's your goal as a band?
Jonah: To affect as many people's lives in a positive way as possible
Corbyn: And make some dank tunes as well.
Is there anything you guys miss about flying under the radar?
Jonah: I kind of miss walking through airports without craziness.
Daniel: Now we kind of have a formation. We form an arrow with our bodies, and the rest of our team acts as a blockade to try to block off other humans that run into you.
Corbyn: Airports are a giant game of rugby essentially.
How did you guys end up collaborating with Macklemore on "I Don't Belong In This Club"?
Corbyn: Our label came to us with the song and we loved it the first time we heard it. Ben (Macklemore) is good friends with Jason Koenig, a good friend of ours who has directed a couple of videos for us now, so that mutual friendship helped bring us together on the song. It turned out alright I'd say!
What's the story behind the song?
Daniel: The song itself is pretty self-explanatory. Clubs aren't all that. Unless you lived in the '70s.
Is this previewing more music to come?
Daniel: We don't stop making music, so keep your ears peeled.