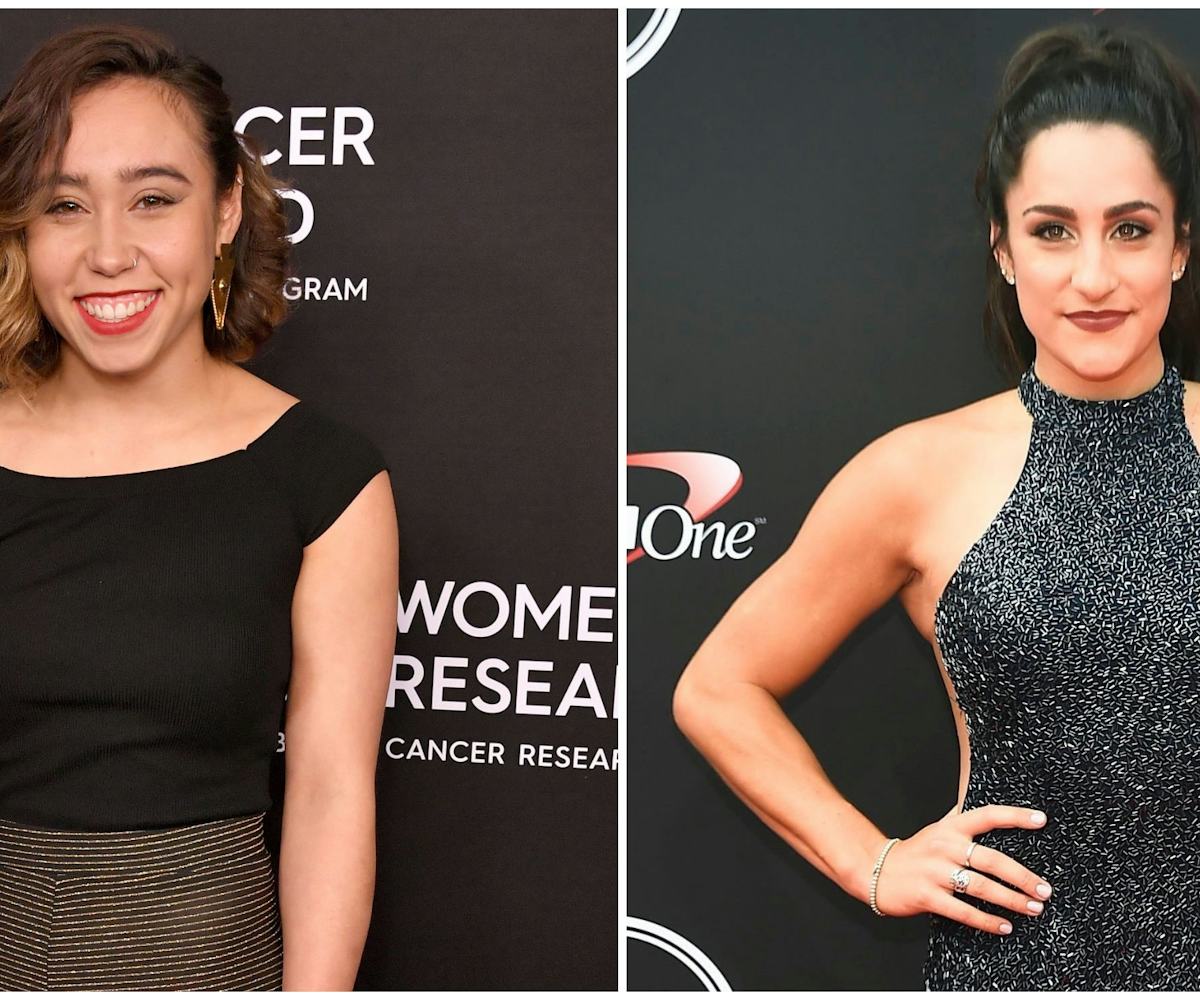 Photos via Rob Latour/Shutterstock, Michael Buckner/Variety/Shutterstock
Katelyn Ohashi And Jordyn Wieber Explain Why Abuse In Gymnastics Goes Way Beyond Larry Nassar
It's a systemic problem that still needs fixing
When news first broke about former USA Gymnastics doctor Larry Nassar's sexual abuse of over 300 gymnasts (he's since been sentenced to over 100 years of prison), the public was horrified, and grateful that this despicable man wouldn't be able to hurt anyone again. But, according to gymnasts Katelyn Ohashi and Jordyn Wieber, and UCLA head coach Valorie Kondos Field, the cycle of abuse within gymnastics did not begin with Nassar—and it certainly hasn't ended simply because he's in prison.
On Bustle, Wieber interviewed both Ohashi and Kondos Field about the systemic problems within the sport, and, Ohashi points out that, in her experience, various types of abuse were "normalized" within gymnastics, and she was taught from a young age to stay silent about being hurt. "I wasn't ever like, 'Oh that's abusive,' because we didn't know what abuse was... I was slapped when I was 4 in gymnastics," Ohashi revealed. She praised the Nassar accusers for their bravery, and called them "the forerunners of the #MeToo movement."
Both Wieber and Ohashi have trained with Kondos Field, and Wieber says that the coach encouraged her to come forward with her own allegation against Nassar. "I'll never forget sitting in your office and contemplating whether or not to read my victim impact statement at Nassar's sentencing, and you helped me understand what it could mean," Wieber told her coach in the interview. Kondos Field responded in kind: "I was so proud that they—you—were able to take everything that you learned in this beautiful sport and put it to good use in the most terrifying moment of your life thus far, and stand up there and speak with confidence, and grit, and poise."
For Ohashi, who was not one of Nassar's victims, seeing how powerful women's voices can be when they're joined together, the experience of seeing Nassar's victims get justice was inspiration for her to start a blog "in which I wrote about the body shaming that I had experienced throughout my elite career."
Ohashi also talked about the lack of care with which injuries are treated. "When I was an elite gymnast, you couldn't say anything until you physically could not walk," she said. "I was told at 16 that I might not ever do gymnastics again, and my back will never be the same, because no one would listen to me before it got that bad. I want to make sure no one else has to go through that."