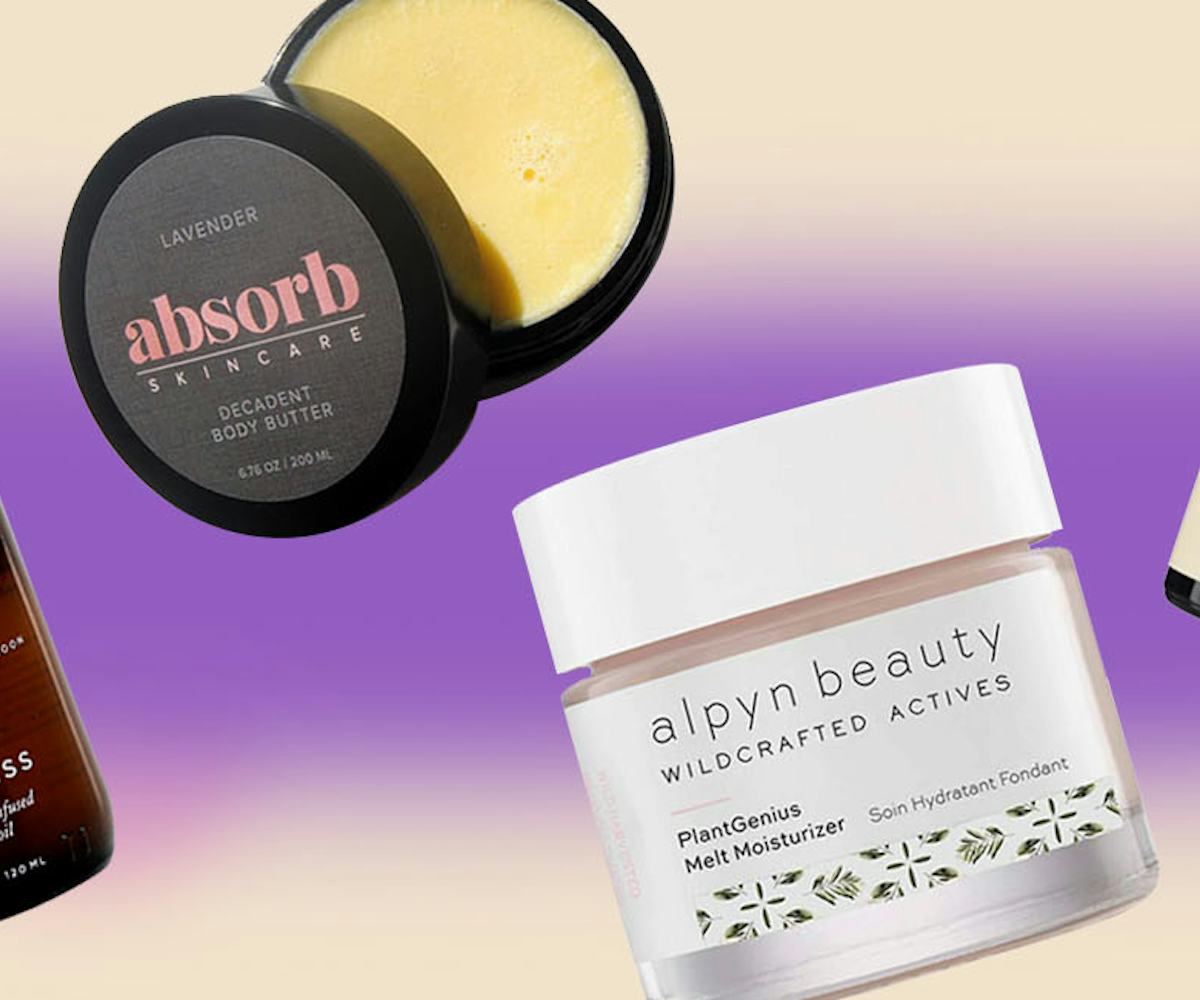 7 Wildcrafted Beauty Brands To Get To Know
And their sustainably foraged products you need to try
As clean and natural beauty continues to rise in popularity, it seems that there's a new buzzy, trending ingredient popping up every month. But one trend that seems to be sticking around—and one that's allegedly better than opting for organic ingredients—is using ingredients that are wildcrafted.
Also known as foraging, wildcrafting is the act of harvesting plants from their natural and wild habitat. And why should we be interested in wildcrafted ingredients over farmed ingredients? Wildcrafting advocates say these plants are stronger, more resilient, and more potent than their counterparts. They claim this is because wildcrafted plants have had to fight hard to survive against the elements in their natural habitats, whether it's the variations in sunlight and water availability or competing plants and insects. They're also de facto organic, having grown in nature, sans pesticides and other chemicals.
Of course, this doesn't just mean you should go out and pick plants at random to include in your beauty routines. In fact, while wildcrafting seems like it's inherently environmentally attuned, there are many alleged wildcrafters who don't worry about the environmental impact of wildcrafting, and sometimes their foraging can lead to damaged plants and ecosystems. This is why it's important to ensure that a brand is wildcrafting in a sustainable and ethical way (or only sources from suppliers that use sustainable and ethical practices) in order to protect and preserve nature.
Below, we rounded up seven brands that use ethical and sustainable wildcrafted ingredients to get to know and their star products to try out.
NYLON uses affiliate links and may earn a commission if you purchase something through those links, but every product chosen is selected independently.
Every Natural Science Beauty product is handcrafted in founder Kelly Casey's Portland, Oregon-based studio. What started as a passion product, when Casey began experimenting with creating her own natural products for herself and friends while studying aromatherapy and herbalism, soon grew into a full-time gig celebrating both self-care and a love for nature.
Casey sources only the best ingredients for her products, opting for organic, wildcrafted, raw (when applicable) ingredients and unrefined and cold-pressed oils from ethical U.S.-based suppliers and organic farmers. The wildcrafted sandalwood powder featured in the brand's Daydream Body Scrub is sourced from Gabon, Africa.
Natural Science Beauty, Daydream Body Scrub, $40, available at Natural Science Beauty.
If there's any line of products to get us out of this cold weather slump, it's Miami-based Lilfox. Launched by certified aromatherapist and essential oil educator Alexis Rose, this tropical-inspired line pulls inspiration from the nature that surrounds the southern Florida peninsula. Infused with wildcrafted and organic essential oils, hydrosols (instead of water), botanical extracts, exotic virgin oils, unrefined plant butters, mineral-rich clays, and crystals, Lilfox brings a beachy, sensory experience to its users, no matter where they may be.
Lilfox, Moon Blossom No. 1 Perfume Oil, $95, available at Lilfox.
Flynn & King is a small, Brooklyn-based beauty brand creating all-natural products for the face and body using wildcrafted, organic, and natural ingredients meticulously sourced from all over the world.
The brand works with a number of suppliers that specialize in the best ingredients, ensuring that they're not only up to its wildcrafted and organic standards, but also that they're sourced correctly and ethically—keeping what we put on our bodies and how it affects the planet in mind.
Rather than palm oil, which has been linked to deforestation, many of its soaps contain babassu oil sourced from Brazil and the Netherlands; it's similar to coconut oil in consistency, but less clogging for acne-prone skin. The brand's facial serums and cleansers also contain organic rosehip oil wildcrafted from the U.S., Bulgaria, Poland, and Chile.
Flynn & King, Lunar 13 Restorative Oil Elixir, $65, available at Flynn & King.
Eir is a Brooklyn-based skin-care line born out of a need for natural products for those living an active lifestyle. Founder Jun Lee—who has been active in various sports her whole life, from swimming to boxing—is an avid surfer, and first began whipping up her own formulations while searching for a natural pain management remedy while recovering from a surfing injury.
Eir offers a variety of clean, minimal impact products for the face and body including sun care and recovery. Inspired by her family and traditional Korean cooking, products are formulated with wildcrafted healing herbs and essential oils. All ingredients are food-grade and safe to use in a commercial kitchen.
Eir, Active Body Wash, $24, available at Eir.
The fragrance industry doesn't have the best reputation, as many fragrances and perfumes available today are synthetic and full of toxic and irritating ingredients. That's where Smoke Perfume & Co. comes in, offering natural fragrances and body products with therapeutic benefits in mind.
Founder Kathleen Currie started her business with a single scent and has since moved on to expand the brand into other categories, such as body oils and smoking blends. The Full Moon Rose Body, Herbal Smoking Blend, and Rose Glycerite all feature wildcrafted rose petals from a local rose grower who hand-harvests organic petals specifically for these products. For its New Moon Cypress Body Oil, Currie forages local cypress leaves in the New Orleans area every new moon.
Smoke Perfume & Co. New Moon Cypress Body Oil $48, available at Smoke Perfume & Co.
Inspired by alpenglow, the dreamy pinkish light cast over mountains at sunrise and sunset, Alpyn Beauty is a skin-care brand formulated with a wildcrafted and hand-cultivated ingredients ethically sourced from the mountains of Jackson Hole, Wyoming.
Wildcrafted arnica and chamomile are foraged from an altitude of 6,237 feet in natural fungi- and bacteria-rich soil, where the plants work harder for survival, thus resulting in more potent and powerful ingredients (and more effective products). In addition to wildcrafting, the brand also hand-cultivates borage, sage, and calendula, which means the plants are raised individually by hand and sustainably used for their ingredients.
Alpyn Beauty, PlantGenius Melt Moisturizer, $60, available at Alpyn Beauty.
Licensed esthetician Kelly Gray has a passion for plants, which is why she founded her own clean, plant-based beauty brand Absorb Skincare. The Austin, Texas-based brand offers products for the face and body formulated with wildcrafted and organic plant essential oils and unrefined plant butters and oils.
Gray sources her ethical and sustainable ingredients from all over the world. Absorb's nourishing Balm contains shea butter from Togo, West Africa, from a fair trade organization that provides a source of income to local communities through various programs, such as women's co-ops, while its balm contains cocoa butter sourced from roasted cacao tree seeds in Ecuador. Additionally, the brand supports Freeset, a fair-trade business that helps women who have been victims of sex-trafficking gain economic freedom.
Absorb Skincare, Decadent Body Butter, $45, available at Absorb Skincare.