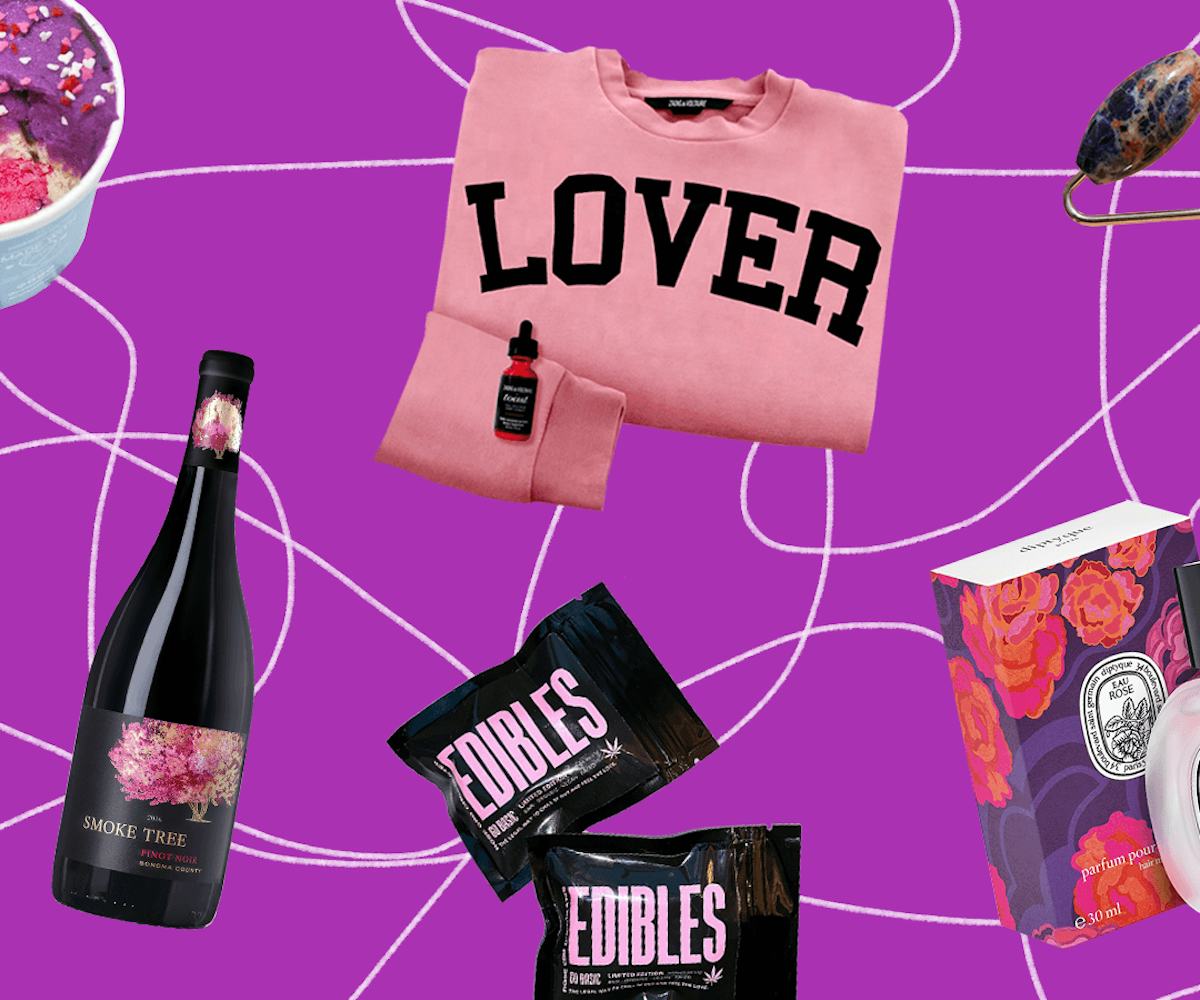 The Best Gifts To Give Women On Valentine's Day
"It's always Galentine's Day when you're a literal lesbian"—Gabrielle Korn
While we're not ones to bash Valentine's Day, we don't love how it's limited to romantic love. Why not celebrate romantic and platonic love? And why not just celebrate women, both romantically and platonically? Galentine's Day shouldn't just be limited to BFFS, even if it should include them. So, with this in mind, we present the gifts to have the best Galentine's Day ever, with picks ranging from sweet treats and face masks for the ladies in your life, no matter who they are.
Get your astrology sisters—and yourself!—a zodiac stud from our favorite ethical jewelry brand.
AUrate, Zodiac Stud Earrings, from $35, available at AUrate.
Houseplant lovers (aka millennials) and those looking for a sustainable alternative to cutting flowers will love this online plant shop that delivers ready-to-go potted indoor plants, provides customers with care instructions, and offers support through its Plant Mom program where you can chat the founder's actual mom with photos of the problem with the plant and she will offer advice on how to revive it.
Bloomscape, Stromanthe Triostar, $150, available at bloomscape.
If you or your friends do like freshly cut flowers though, as well as Queer Eye (which, like, who doesn't?), interior design guru Bobby Berk has partnered with The Bouqs Co. on a collection of bouquets with flowers sourced from sustainable farms.
The Bouqs Co. x Bobby Berk, Beauty-Full bouquet, from $58, available at The Bouqs Co.
This card is for those who grew up in the late '90s/early '00s and looking for an explanation for not having a Valentine this year... again.
Paper Rebel, Chain Letter Friendship Card, $5.95, available at Paper Rebel.
This might be our favorite self-care bundle yet, featuring everything we need for a night in: our favorite rosé Champagne, a candle expressing everything we feel about men, and a "Smile Makers" vibrator.
Saucey, Self-Love Bundle, $99, available ay Saucey.
Speaking of vibrators... if you're in the business of buying your first one, read this. Then, get this cute number that can double as decor (sure, why not?) and will provide hours of fun.
Evine, Rianne S Heart Vibe, $38.50, available at Evine.
And then there's butt stuff. By featuring butts of various sizes and shapes, B-Vibe's new campaign, Every Body Has a Butt, attempts to destigmatize and highlight the inclusive nature of anal play, so that everyone can experience more pleasure.
B-Vibe, Snug Plug 1, $45, available at b-Vibe.
One of our favorite fitness instructors and "cake makers," Bec Donlan, has put out yet another flavor (rose) of her CBD-infused chocolates that are also raw, organic, vegan, paleo, and, just plain delicious.
Go Basic, Rose Edibles, $5, available at Sweat With Bec.
Sure a bouquet of roses is lovely but how about a hair mist that will leave its wearer smelling like roses?
Diptyque, Eau Rose Hair Mist, $52, available at diptyque.
No night with the girls is complete without wine fueling it. This Sonoma County pinot noir is perfect when paired with a cheese plate and exudes aromas of berries and plums, making it an all-around pleaser no matter the crowd.
Smoke Tree, Pinot Noir 2016, $24.99, more information at Smoke Tree.
As a big proponent of Shhhowercap shower caps, I consider this the greatest gift I can give.
Shhhowercap, The Minx leopard-print shower cap, $43, available at Net-A-Porter.
Girl Meets Farm's Molly Yeh has partnered with New York's favorite cookie dough company DŌ to create a new flavor. Inspired by Yeh's favorite rainbow cookies, it features rainbow cookie dough with dark chocolate and heart-shaped sprinkles. What's more, 10 percent of proceeds go toward Emma's Torch, a nonprofit that empowers refugees through culinary education.
DŌ x Molly Yeh, Vday with Yeh Pack, $30, available at Cookie DŌ.
The bedding company responsible for our favorite sheets, Brooklinen, has teamed up with Fresh to provide the recipe for the best night's sleep: embroidered luxe pillowcases and a "Dream" night cream. This is for all our fellow sleep lovers.
Fresh x Brooklinen, Sleep Box, $98, available at Brooklinen.
We are still not over canned wines, especially when they come in a bundle this cute (and are actually good!).
WineSociety, Little Black Box, $49 per box, available at WineSociety.
Popular vegan eatery By Chloe. has partnered up with Brooklyn's craft artisan chocolate makers Fine & Raw to create this incredibly rich coconut and cacao truffle infused with CBD.
By Chloe. x Fine & Raw, Coconutty Cacao, $10, available at By Chloe.
For when wine doesn't cut it, there's tequila. This small-batch, triple-distilled version, available in Blanco and Reposado, is great on its own or for making margaritas during rewatches of Sex and the City.
Jaja, Reposado tequila, from $42.99, available at Drizly.
Skin-care brand Sunday Riley kills it again with its subscription box, curated by The Sunday Edit. This one features our new favorite natural deodorant from Corpus, scalp leave-in treatment from Oribe, and, most notably, the not-yet-released Sunday Riley C.E.O Glow Vitamin C + Turmeric Face Oil.
Sunday Riley, Love subscription box, $95, available at Sunday Riley.
If you live in New York City, you've got to hit Chillhouse, a self-care mecca for manicures with intricate nail art, CBD massages, and ginger lattes. If you live elsewhere, try to recreate the experience at home with a night of DIY manicures, face masks, and face-rolling.
Skin Gym, Blue Soladite facial roller, $32, available at Chillhouse.
If you want to take it a step further from going to a spa/beauty salon, consider a staycation. Start the day with a workout or a pampering session, get brunch, and then spend the rest of the day lounging in a hotel bed, getting room service, and streaming reality TV. (And, hey, if it's a romantic staycation, maybe try out that new vibrator?)
NYC's 11 Howard is offering a complimentary HigherDOSE infrared sauna (our favorite!) session—that helps detox the body, promote better sleep, and get glowing skin (also our favorites!)—Prosecco and chocolate upon arrival, and breakfast in bed, until February 18.
11 Howard, Heat up with Howard, package starting at $329.
Popular cool girl French label Zadig & Voltaire, responsible for some of our favorite cashmere sweaters, is making its cold-weather essentials even cozier with its partnership with Toast. This box bundles together a sweatshirt in the most perfect shade of pink and a bottle of full spectrum hemp extract with CBD for the chillest night ever.
Zadig & Voltaire x Toast, MG CBD oil and "Lover" sweatshirt, $250, available at Zadig & Voltaire.