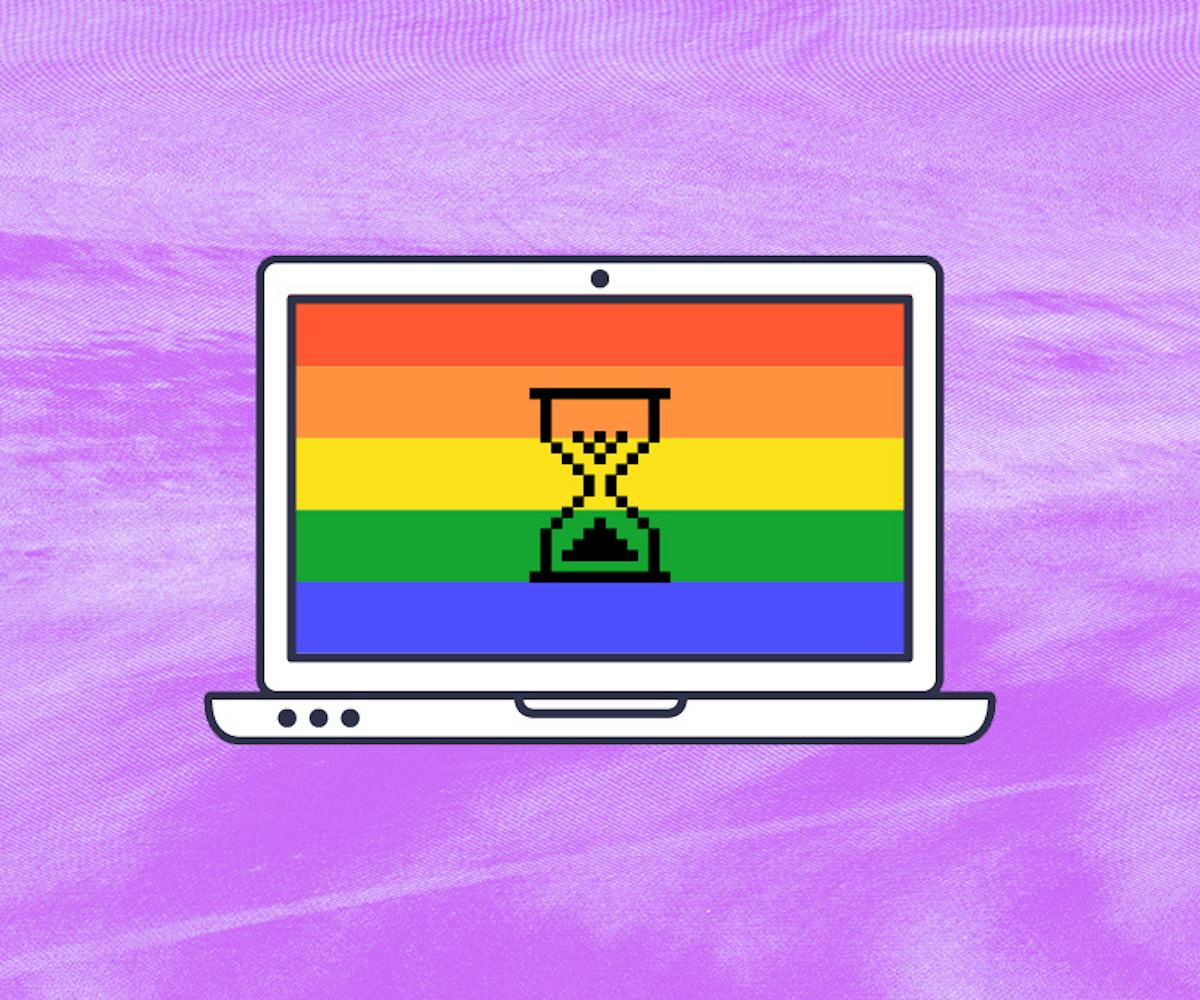 What We Don't Talk About When We Talk About Women's Media
What does it mean that LGBTQ publications are left out of the conversation?
The lesbians running independent queer media companies have one thing in common: They are tired. Riese Bernard, co-founder, along with Alexandra Vega, and editor-in-chief of Autostraddle, is tired. Eboné F. Bell, founder and editor-in-chief of Tagg Magazine, is tired. Anita Dolce Vita, owner and editor-in-chief of dapperQ, is tired. And who could blame them? Not only do they each run a popular digital magazine for queers by queers, but they have successfully and organically built the oft-sought-after reader engagement so many mainstream media companies strive, but often fail, to obtain. Of course, they're exhausted.
And yet, while the work is certainly tiring, the depletion Bernard, Bell, and Dolce Vita feel is compounded by the fact that their work is often ignored or erased from the larger discourse on women's media. Working 80-hour weeks for a community you love and call your own is one thing, but it's untenable to do so without any accompanying external recognition—or remuneration. At a time when mainstream publications with much larger budgets are laying off whole teams, being acquired, or folding entirely, each of these independent publications is succeeding in a variety of ways, and continue to grow and produce important work that is not exactly replicated elsewhere, even as queer media edges into the mainstream in ways both small and large. So why are these publications constantly left out of the conversations we have about women's—and even mainstream queer—media?
***
Women's media has never gotten much respect. And yet, the stories women tell, whether hard news or personal essay, have never had trouble finding an audience. The version of digital women's magazines we have online today are born partly from old print media and partly from the feminist blogosphere that began in the early aughts and exploded by the next decade.
As a 30-year-old, I grew up with sites like Feministing, Jezebel, The Hairpin, The Toast, and Rookie. I loved all these blogs, learned to read and think and write critically thanks to many of them, and mourned each one that closed. But one thing puzzled me: In all the excitement and chatter and even criticism of the feminist blogosphere, queer-oriented sites are never mentioned. As a gay woman, a queer dyke who came out in 2010, I grew up as much with Autostraddle as I did those other sites. (Full disclosure: I was hired to write for Autostraddle in 2012, and I have worked for the company in various capacities over the years; I am currently the community editor.)
But Autostraddle is not part of the feminist blogosphere discourse. Neither are Tagg and dapperQ; both are run by women of color, another element that factors into whose work is valued, promoted, and celebrated.
***
For a certain kind of queer woman and nonbinary person (of which I am one), Autostraddle is the cool queer older sister who helped us grow up. Founded in 2009, it began as an offshoot of Bernard's personal blog and the recaps she was writing about The L Word. Autostraddle's beginning was informed by the publications Bernard loved: The Awl, Nerve, Jezebel, Bitch, Bust, and the already-defunct Jane and Sassy.
Though Autostraddle was immediately recognized by some, even earning the moniker "Lezebel," it was notably left out of the conversation about feminist blogs that was taking place around it. In 2011, New York Magazine published "The Rebirth of the Feminist Manifesto," a deep dive into the new "version of consciousness-raising groups" online. At the end of the article is "an abridged list" of "The Lady Blogosphere." Autostraddle did not make the cut.
In some ways, the exclusion was the beginning of a trend that would extend throughout the years. The New York Magazine article was written by Emily Nussbaum (now the television critic at The New Yorker), a writer the Autostraddle staff admired, and no one on staff felt that the other publications on the list didn't deserve their spot. Many of them were blogs that the Autostraddle staff read and linked to regularly. And yet.
"We were left off 100 percent because we're gay, so people didn't really think we counted as a feminist blog even though we explicitly said we were," Bernard said. It's a shitty feeling to be told you are not part of the conversation, when you've very clearly been engaged in the discourse—you just didn't realize it was a monologue. But Bernard and her staff just kept doing their work. They couldn't worry about these things; they were busy covering the stories that no one else was at the time, stories that directly affected the queer community, often in painful ways, like the rash of LGBT youth suicides that Autostraddle spent a year covering between 2010 and 2011. The stories were important and needed a voice; Autostraddle's staff felt a duty to tell them.
Eventually, mainstream media titles took notice—not because they suddenly realized that queer-encompassing stories were important, but because it became clear these stories could be profitable.
An important thing to note here is that, when thinking about the way media functions, and what we're all doing when we read and write online, it's impossible to discuss anything without admitting that the current landscape is kind of bleak—financially speaking. Many of the writers and editors, both freelancers and staffers, that I spoke to for this piece repeated over and over that it is not a particularly great time to be in any media, mainstream or otherwise, and that they did not have a lot of hope for creating sustainable publication models in the future. Last year was reported to be the worst year for media layoffs since 2009, with almost 12,000 people laid off from news organizations, including major publications like BuzzFeed, Vice, and HuffPost. A combination of failing ad revenue models, misguided pivots to video, low and unreliable wages, and a reliance on and frequent exploitation of freelancers often makes job security feel like an impossible dream to those of us who work in media. One freelance writer I spoke to said that amongst her peers, no one was surprised by the huge uptick in recent layoffs and had, in fact, been speculating about when, not if, they would happen.
"We were left off 100 percent because we're gay"
Once mainstream media realized, though, that they could tap new audiences, aka revenue streams, by being LGBTQ-encompassing, they started incorporating more queer stories. As a queer person, I would never argue against mainstream publications picking up LGBTQ beats, amplifying marginalized voices, and paying my queer peers good money. But as we've seen in recent years, when online queer publications such as AfterEllen and Into relied on corporations run by straight people to provide financial backing for queer stories, the results were disastrous.
And, I would be lying if I didn't admit that it's hurtful to see LGBTQ verticals at places like BuzzFeed or brand-new publications like Conde Nast's Them receive accolades for revolutionizing queer media when Autostraddle, Tagg, and dapperQ have been here for years, quietly and dutifully doing the work. It's hard not to think of all that would be possible at these publications, or other sites with the same ethos, run independently by queers for queers, if they had that financial backing, too.
***
Founded in 2009, the same year as Autostraddle, dapperQ began as a style blog for masculine-of-center women and trans individuals. When Dolce Vita took it over one year later, she immediately began expanding the vision and the scope of the publication, and she now calls it "a queer fashion revolution, one of the most stylish forms of protest of our generation."
Something that separates dapperQ from the other two lesbian-owned publications discussed in this piece is that it is not run for profit. Dolce Vita works a full-time day job, and everyone who contributes to the site does so on a volunteer basis. Though tired and often frustrated at being left out of the conversation—in 2016 when AfterEllen shut down, Dolce Vita wrote an article for Huffington Post specifically listing publications owned by queer women of color—Dolce Vita has no plans to stop her work with dapperQ; and by many metrics of the word "success," dapperQ is highly successful. A reader engaging with dapperQ's content on their website, or on Instagram, or on Pinterest—which Dolce Vita says has been a surprisingly important platform for her company—might not guess that dapperQ is helmed by a team that does not make a profit from their work.
Tagg Magazine faces similar erasure in the conversation about women's media, and while it is not quite as old as Autostraddle and dapperQ—Bell founded the magazine in 2012—it succeeds in some of the same and some different ways as the other two publications. Tagg publishes a bimonthly print publication in Washington, D.C., and survives from multiple revenue streams: advertising, events, subscriptions, and merchandise.
When I asked Bell why she thought Tagg is often left out of the conversation, she cited race as the number one reason. Discussing one particular article that didn't include Tagg, Bell shared her thought process: " Was this on purpose? Or was this just another example of our white liberal allies completely leaving us out of the narrative? Was it something like, oh, Tagg doesn't count? I really don't know. And the sad part is, you just get used to it. And I hate that. I hate that I have to get used to being left out of the conversation."
***
In December 2018, a few weeks after Tavi Gevinson, founder and editor in chief of Rookie, announced that the online magazine was closing, Soraya Roberts wrote an essay for Longreads, titled " My So-Called Media: How the Publishing Industry Sells Out Young Women." In it, Roberts cites multiple women's websites that built thriving communities but ultimately shut down, including Rookie, The Hairpin, The Toast, and Lenny Letter. The central question of the piece is spelled out explicitly in the subhead: "How do you survive a system set up for you to fail?"
But Autostraddle is not mentioned once; Tagg is not mentioned once; dapperQ is not mentioned once. A 2,554-word essay that aims to explore how to survive a patriarchal capitalist system that forces publications run by young(ish) women—even seemingly wildly successful ones, with robust communities that mourn these losses loudly and vocally—to shut down in spite of their popularity, completely ignored three publications that might have, each in their own way, answered a piece of the thesis question. This article was not the first to completely ignore lesbian and queer women's media when pondering women's websites; it was one in a large compilation of disappointments, as yet another feminist writer I admire did not acknowledge the work queer women's websites do.
About a month later, Into magazine abruptly closed when Grindr, the corporation financially supporting the editorial venture launched in August 2017, laid off the entire staff. Multiple hot takes swirled in the wake of this news, and Slate published " The Lesson Of Into," concluding that "as long as queer media depends on corporate support, it will always be conflicted and precarious." Which is definitely true! But curiously, this deep dive chose not to delve into multiple queer media publications—all run by women—that were launched years before Into ever entered the scene… and which are still hanging on today, however precariously, without any corporate support at all.
"People didn't really think we counted as a feminist blog, even though we explicitly said we were"
The Slate piece does suggest an alternative to corporate funding models, referencing Efniks, an independent outlet founded in 2016 that centers queer and trans people of color and relies on donations and volunteers. I was pleased to see a small independent queer publication mentioned in an article aiming to find a solution to long-term sustainability for queer media at large, but it seemed strange to highlight a project launched in 2016 and completely ignore multiple other publications launched years earlier.
The overlap in this Venn diagram is so obvious it's almost boring to spell it out. In one circle, conversations about women's media. In the other circle, conversations about queer media. In the center: conversations about queer women's media, or queer media run by women. While it would make sense to include the center overlap in both conversations—especially because the publications that sit there are still alive and doing the work!—the default instead seems to be to leave it out altogether. Why?
***
One potential reason why media folks might be leaving the independent women-owned queer publications out of their conversations about women's media is because queer individuals, some of whom started out working for small independent queer publications, have brought queer stories to mainstream media. And that's a good thing, mostly.
An example of this is NYLON's former editor-in-chief, Gabrielle Korn. While Korn stepped down from her position after five years this past summer (reporting a story about the media landscape in 2019 is truly wild because the environment changes on a literal daily basis!) she was still leading the publication in February 2019, when I first interviewed her for this piece.
Korn and I met in 2009 as baby dykes studying gender and sexuality at New York University, and were hired to write for Autostraddle at the same time in 2012. Korn left Autostraddle for Refinery29, and then went to NYLON. She is one of many talented writers and editors Autostraddle has lost over the years, many of whom simply could not afford to work for the low rates Autostraddle is able to pay.
Korn's lesbian sensibility became a hallmark of her tenure at NYLON, and extended into the ways traditional topics in women's media were covered at the magazine. "I was really interested in marginalized voices," Korn said, "in stories that weren't being told elsewhere." This has manifested in ways both subtle and overt; the magazine marked June as its Pride Month but prioritizes queer-encompassing content (like this!) year-round. One of the advantages of queer people heading up not explicitly queer publications is that they are able to lift up other members of their community with them. NYLON has consistently supported independent queer publications, paid queer writers, and highlighted queer stories.
BuzzFeed's LGBT editor, Shannon Keating, also spoke with me about her role as a lesbian working for a major mainstream media company. "I'm very aware that LGBT coverage at bigger sites has the power to drown out the crucial work that these indie sites are doing on an increasingly crowded internet," she wrote to me over Gchat. "Which is why I try to link to them in our work as often as possible, [and] share their work. I'm also an A+ member at Autostraddle and encourage others to do the same!"
Keating brought up the history of queer media, and how it was originally created by and for queer people out of necessity, a far cry from the millions of views from queer and straight readers alike that the stories that mainstream media companies like BuzzFeed and NYLON publish today. "Nobody else was going to do it for us [then]," Keating wrote. "And I think it's our responsibility, as a community, to support indie queer media made by us and for us."
Voices like Korn's and Keating's, lesbian voices from inside the queer community, seem to innately understand why it is important to raise the profiles of independent queer publications, not simply bring queer stories to their more mainstream publications. But when media consumers look for queer stories in 2019, they are not necessarily invested in whether the source is a large financially secure company owned by a cis straight man or whether the source is a small independent company owned by a lesbian. And I guess, no matter how pleased I am that more outlets are interested in more queer voices, I wish that people cared about the source, though I understand why they don't.
Dolce Vita put it best when she acknowledged during our phone call that it can feel very exciting, as a queer media consumer and as a queer writer or editor, to have a large company invest in your identity, even if that investment comes at a cost. "When you never see yourself represented in anything, and you have to go underground or independent, there's something to be said about Conde Nast backing a queer website," she said. "That's groundbreaking." She continued: "I do hope that people… remember and support the people who have been running queer media this entire time, [who have been] continuing our narratives through our voices and capturing our experiences through our lenses, and not through the gaze of heteronormativity and also not through what content is being solely advertisement driven."
"It's our responsibility, as a community, to support indie queer media made by us and for us"
Because the truth is, independent queer media can offer something that mainstream media telling queer stories cannot offer its readers, in some ways simply by being beholden to the community and not to advertisers.
While working on this piece, my editor, in an attempt to help me clarify my thesis argument, pointed out that the loss of independent queer media would be akin to the loss of a local newspaper. A large corporate glossy simply does not have the resources to cover every small town in the United States with depth, nuance, and devotion, but every small town deserves that level of care. The queer community deserves that level of care, too, and queer independent media is the tool that is able to provide it.
***
At the end of January 2019, BuzzFeed published " Does LGBT Media Have A Future?" by Trish Bendix, who had previously worked at, and been laid off by both AfterEllen and Into, that asked "what value does our community place on content by and for queer audiences?" and concluded that "we're the only ones who can keep ourselves alive." The problem is, in order to continue to exist in the modern media landscape (where we as dykes are not running small print presses out of our basements to be read only by other dykes), it is not enough for only queer women to care about the publications created by and for queer women. We desperately need straight cis people to include the work queer women's publications are doing and have been doing for more than a decade in the conversation about the future of media. These publications and their readers benefit from the work independent queer women's publications produce, work that includes education and resources, a constant push forward on the entertainment industry for representation and accountability, and context and data for many of the conversations that moved out of queer spaces and onto mainstream pages—not to mention providing a space for many new writers to develop and hone their skills and voices. When I asked Korn what she took from her time at Autostraddle and brought to NYLON, she responded easily: "I learned how to listen to readers at Autostraddle. I think on the internet there's a general feeling of like, you shouldn't read the comments, but I learned the most from reading what people had to say about my writing and about other people's writing. If you're making things that no one likes, there's no point, and that's something I always carry with me." There is much to be lost for everyone if the work from independent queer women's publications were to cease to exist.
Yes, supporting one another is our lifeblood. Lesbian communities are small, and we have always taken care of our own. While chatting with me for this article and joking that the material I was gathering could fill an entire book, Bell teased me: "Write it! Tagg will absolutely promote the hell out of it!" We were kidding around, but I knew she was serious. In mainstream publications, queer women like Korn and Keating go out of their way to elevate the voices of smaller queer women's publications in a way that I do not see from most straight women or men in positions of power. But while heartwarming and extremely inspiring, that's not enough.
"I'm very aware that LGBT coverage at bigger sites has the power to drown out the crucial work that these indie sites are doing"
While the entire media industry grapples with the question of its future, it's easy to want to wonder about the future of LGBTQ media, too. However, in some ways, that question is too ambitious for our current reality, which is that, in 2019, queer women's media is still not getting enough credit for the ways in which it has functioned in the past and in the present. It's impossible to meaningfully engage with a plan for the future when these publications are still othered and ignored in conversations about women's media happening right now.
***
This story changed a lot while I was writing it. I originally pitched the idea in January of this year, which feels like four thousand years ago, but, in reality, it has only been eight months since that fateful day. At the time, Grindr had just abruptly announced that it would no longer be funding Into, AfterEllen had solidified its shape as an anti-trans shell of its (honestly often problematic) former self, Korn was the first openly lesbian editor-in-chief at a major women's publication (this very one!), and it seemed like in all the commotion and conversation about the future of queer media, the sustainability of the journalism industry as a whole, and what we talk about when we talk about women's media, no one was talking about the lesbians and other queer women and non-binary folks who were diligently continuing to do the work they'd been committed to for a very long time.
I wanted to talk about why that was happening.
Why is queer media not part of the conversations we have when we talk about women's media? Why is queer media run by women and non-binary folks not part of the conversations we have when we talk about groundbreaking queer media? I knew the answers were simple—sexism! Lesbian-phobia!—but I wanted to go deeper and really understand why. As I conclude this piece, I'm not sure there is a deeper answer to the question of why. I've begun to think that maybe the key is asking a slightly different question. Maybe the most important question is not: Why don't we talk about lesbian-owned independent queer publications when we talk about women's media? Because a lot of us are talking about it. Maybe the most important question is: How come even when we do talk about lesbian-owned independent queer publications—even when we talk about the ways in which, in an industry in trouble, they continue to exist and sometimes, against all odds, even thrive!—the people in power in this industry still don't seem to care?
Eight months (four thousand years?) later, almost everything is different. On August 20, Grindr removed the INTO archives from the internet without warning, effectively erasing a year's worth of queer international journalism and hard work (and then reinstated the archive hours later, after a rightfully indignant outrage buzzed through Twitter). AfterEllen has doubled down on its anti-trans stance. At the end of July, Korn announced that after five years she would be stepping down as editor in chief of Nylon, which was recently purchased by Bustle Digital Group. In a follow-up conversation I had with Korn this month, she said that since stepping outside of a singular publication, she notices now that the news cycle seems so fast. "A great piece of content that clearly took a lot of hard work is relevant for maybe an hour before the next thing comes," she wrote me. "I do not think that is the future of media… I don't think it's sustainable. I feel like at a certain point soon we will hit a peak and then people will want to return to fewer stories of a higher quality."
***
The reporting I did on this story in February seems quaint in some ways, now. But the answers I started with when I began asking my question—where was the recognition for queer media run by and for lesbians and other queer women and non-binary folks in larger conversations about women's media and queer media—have only become more clear and more obvious. Publications like Autostraddle, Tagg Magazine, and dapperQ continue to be left out of the conversations because of sexism, a refusal to see lesbians as an important part of the demographic of "women" or "queers," and in the cases of Tagg Magazine and dapperQ, racism.
The irony, of course, is that the work queer women's media puts into the world is not only beneficial to queer women—we all cannot afford to lose the work these publications have been doing for the past decade. The stories they tell and voices they amplify are too important to continue to leave out of the conversation, because they are the conversation. The health of media is only as robust as the health of its smallest outlets. And if we look toward queer media as a canary in the coal mine, its voice is getting weaker. It's tired.