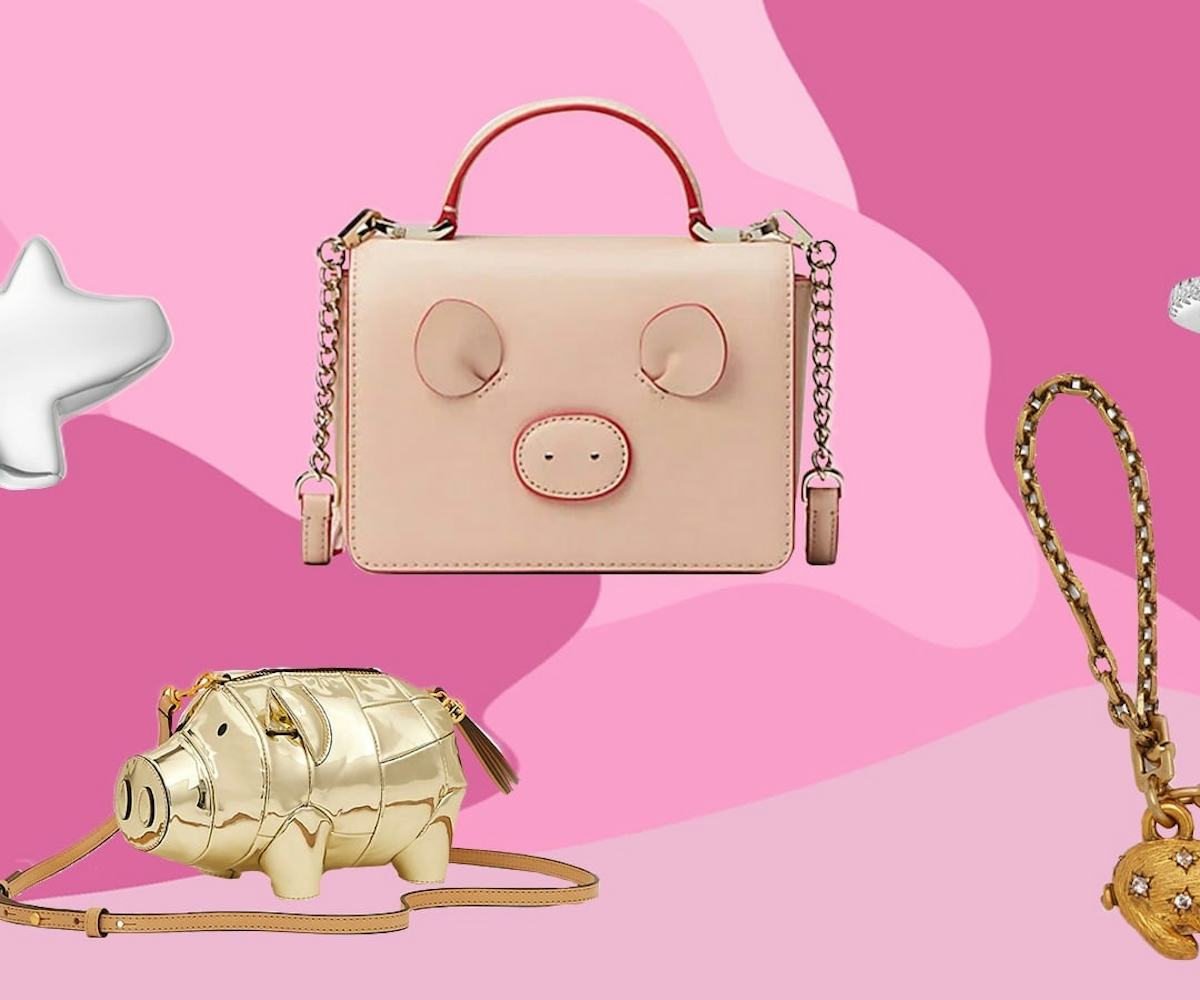 Celebrate The Year Of The Pig With These Perfectly Piggy Pieces
The cutest merch to ring in the Lunar New Year
Today, February 5, marks the Lunar New Year, the beginning of a whole new year according to the traditional Chinese calendar. Each year is represented by an animal from the Chinese zodiac, and, this time around, we're kicking off the Year of the Pig, an animal that symbolizes wealth and good fortune in Chinese culture.
Wealth and good fortune are great and all, but the important thing here is that pigs are, simply put, really freaking cute—just look at Gucci's latest campaign if you need further proof. So when our favorite labels hop on board with the celebrations and launch special collections and merch circling the holiday (and, thus, pigs), we can't help but squeal with delight (no pun intended).
From luxury brands like Emporio Armani and Vetements to cult-favorite indie labels like Cult Gaia and Verameat, 2019 brings us everything from snout-adorned handbags and shoes to pig-silhouetted crewnecks and charms. I don't know about you, but that sounds like good fortune to us.
Below, we rounded up some of our favorite swine-themed pieces to help ring in the new year. Act fast, because once the limited-edition pieces are gone, it'll be 12 more years before we'll be celebrating this perfect creature once again. (But don't worry, we also sprinkled in some of our favorite year-round pig gear, too.)
Missoma, Limited Edition Year Of The Pig Necklace, $136, available at Missoma.
Charles & Keith, Zodiac Pig Sandals, $49, available at Charles & Keith.
Vivienne Westwood, Lady Pig Earrings, $397, available at Vivienne Westwood.
Aldo, Baffa, $50, available at Aldo.
JW Anderson, Pig Bag Charm, $250, available at Farfetch.
Emporio Armani, Pig Logo Print Jumper, $407, available at Farfetch.
Coach, Jeweled Pig Bag Charm, $85, available at Coach.
Kate Spade, Year Of The Pig Maisie, $299, available at Kate Spade.
Verameat, Bitty Piglet Got Lucky, $34, available at Verameat.
Monica Vinader, Chinese Zodiac Bessie The Pig Pendant Charm, $95, available at Monica Vinader.
ASOS, Pig Socks, $5, available at ASOS.
Miansai, The Little Piggy Pendant Necklace, $185, available at Miansai.
Tory Burch, Peggy The Pig Metallic Mini Bag, $328, available at Tory Burch.
Gucci, Piglet Wool Hat, $340, available at Gucci.
H&M, Long Sweatshirt, $29.99, available at H&M.
APM Monaco, L'Aviateur Ring, $160, available at APM Monaco.
Vetements, White Pig Chinese Zodiac T-Shirt, $250, available at Ssense.
Cult Gaia, The Babe, $148, available at Cult Gaia.
NYLON uses affiliate links and may earn a commission if you purchase something through those links, but every product chosen is selected independently.