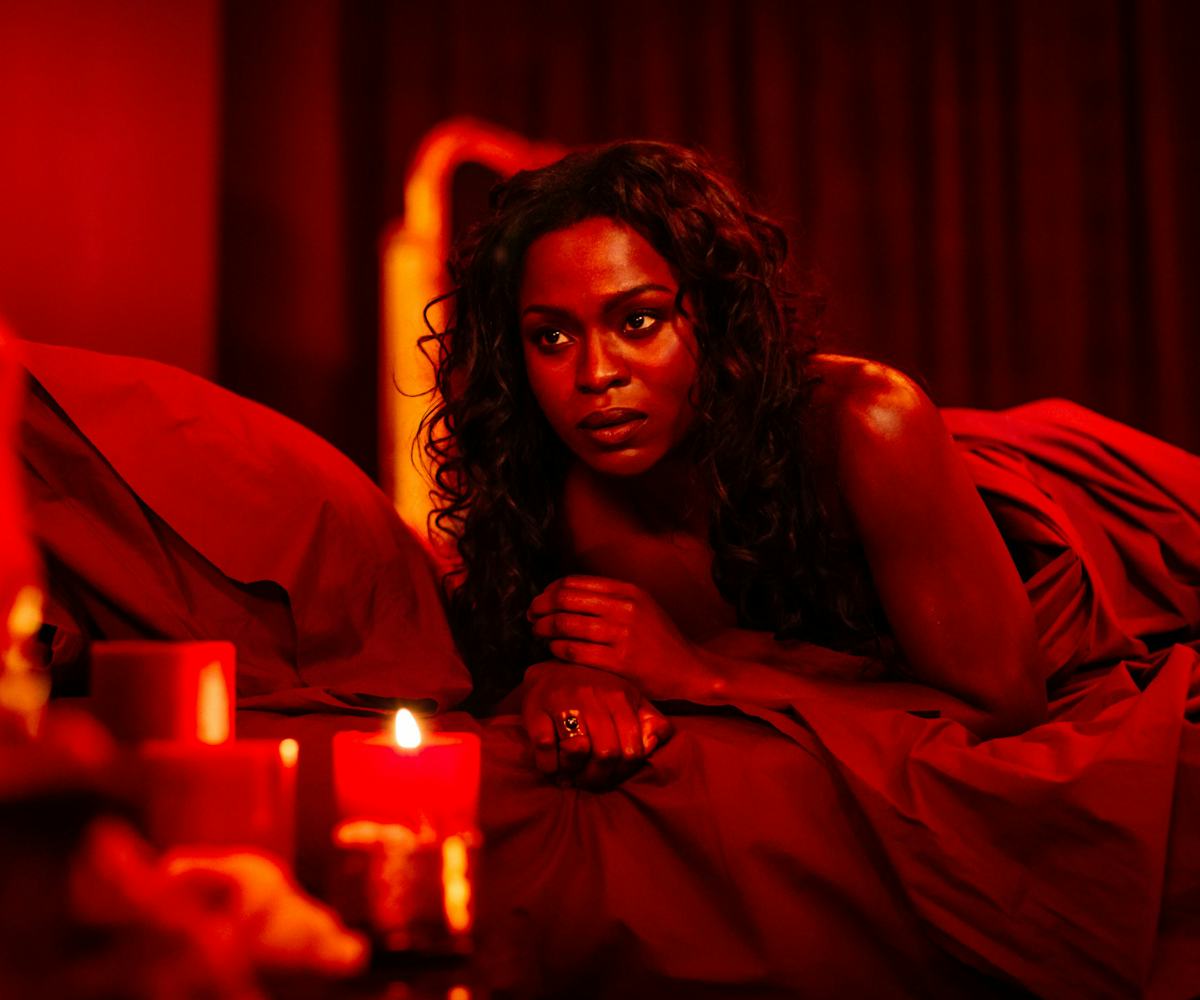 Photo courtesy of Starz.
This Is Why Yetide Badaki Does Those Wild Nudes Scenes In 'American Gods'
Her character is a goddess with a man-eating vagina
Yetide Badaki has the most beautiful skin I've ever seen, and I've seen just about every inch of it. Perhaps you have, too. The Nigerian-born actress plays Bilquis on the Starz adaptation of Neil Gaiman's novel, American Gods. Also known as Queen of Sheba or the goddess of love, Bilquis is an ancient god who gets her power and sustenance from her lovers' self-sacrifice, meaning: She absorbs their entire beings during what appears to be the best sex of their lives, completely enveloping them with her vagina.
American Gods first aired in 2017, just a couple months after the inauguration of Donald Trump, who was infamously recorded bragging to Billy Bush about grabbing women "by the pussy." My obsession with Bilquis had me thinking, If only he had tried that with her. And because my love for Bilquis has not waned in the two years since first being introduced to her, I was thrilled when I got the opportunity to speak with Badaki at the SCAD aTVFest in Atlanta last month, where she and the rest of the cast were promoting the upcoming second season of the show. She was just as anxious as I was to talk about Black women and power and bearing all the bullshit of this world in the service of prioritizing both.
"I think we're living in a time where it feels like these mountainous women that had been pushed into a corner are starting to unfurl," Badaki reflected on the state of women in America. The rise of women's marches and the mainstream surge of the #MeToo movement have activated women to fight sexism with a renewed sense of fervor. "It feels like all these sleeping giants are rising and it's a powerful, powerful time," she said. Badaki identifies as one of these giants, too. On the show, Bilquis has been reduced to homelessness and despair in the new world. When we left her in Season 1, she'd just been introduced to dating apps, which gave her a fresh supply of worshippers to rejuvenate her. Badaki says that in Season 2, Bilquis steps fully into her identity as a queen after being pushed to the margins of society, and she resonated with that as an actor. "I really started to find my voice through it," she said. "And all of that is starting to manifest in my life, as well."
Unbeknownst to the public, Badaki was a victim of an attempted blackmail scheme where someone emailed her threatening to release intimate photos to her family and friends if she didn't send them a certain amount of cryptocurrency. She was able to laugh at the very notion thanks to the pride she's gained while playing Bilquis. For her, stripping down in this role is about her character "showing no shame and owning a part of herself," which is a dangerous form of control according to Badaki. "So much happens in silence, so much happens in shame. There are activities or behaviors that continue because people have been silenced by shame, especially women." This is why it's so important for her to dictate the conditions under which she does nude scenes.
"Sometimes you find yourself as an actor having to continue to clarify: 'This one I want to do, and this one I will not do,'" Badaki said about nude scenes. After all, there is definitely a difference between getting naked just to compliment the sexuality of some man versus doing it because it's the preferred form of worship of a goddess whose literal power is love. This made all the difference in the world for Badaki, who insists that the set of American Gods is a great space to be in; one that makes her feel safe to artistically explore. In fact, it is she who had to insist on doing some nude scenes this season in the face of producers who were being "wonderfully careful."
In this moment, where calls to trust, protect, and celebrate Black women are ringing louder than ever, Bilquis is the character I identify with the most. She takes her lovers to their highest heights and then sucks them in. Her unique method of destruction is a great allegory for what feels like a cultural obsession and loathing of Black happening at the same time. Badaki feels it, too. "People are afraid of Black women—they're afraid of the power that exists," she admitted. If Bilquis shows us anything, it's that the things we can fear can take us out, or make us better depending on how we treat them. I agree with the woman that plays her when she says, "There's a lot of power there, and it's time that we just take it."