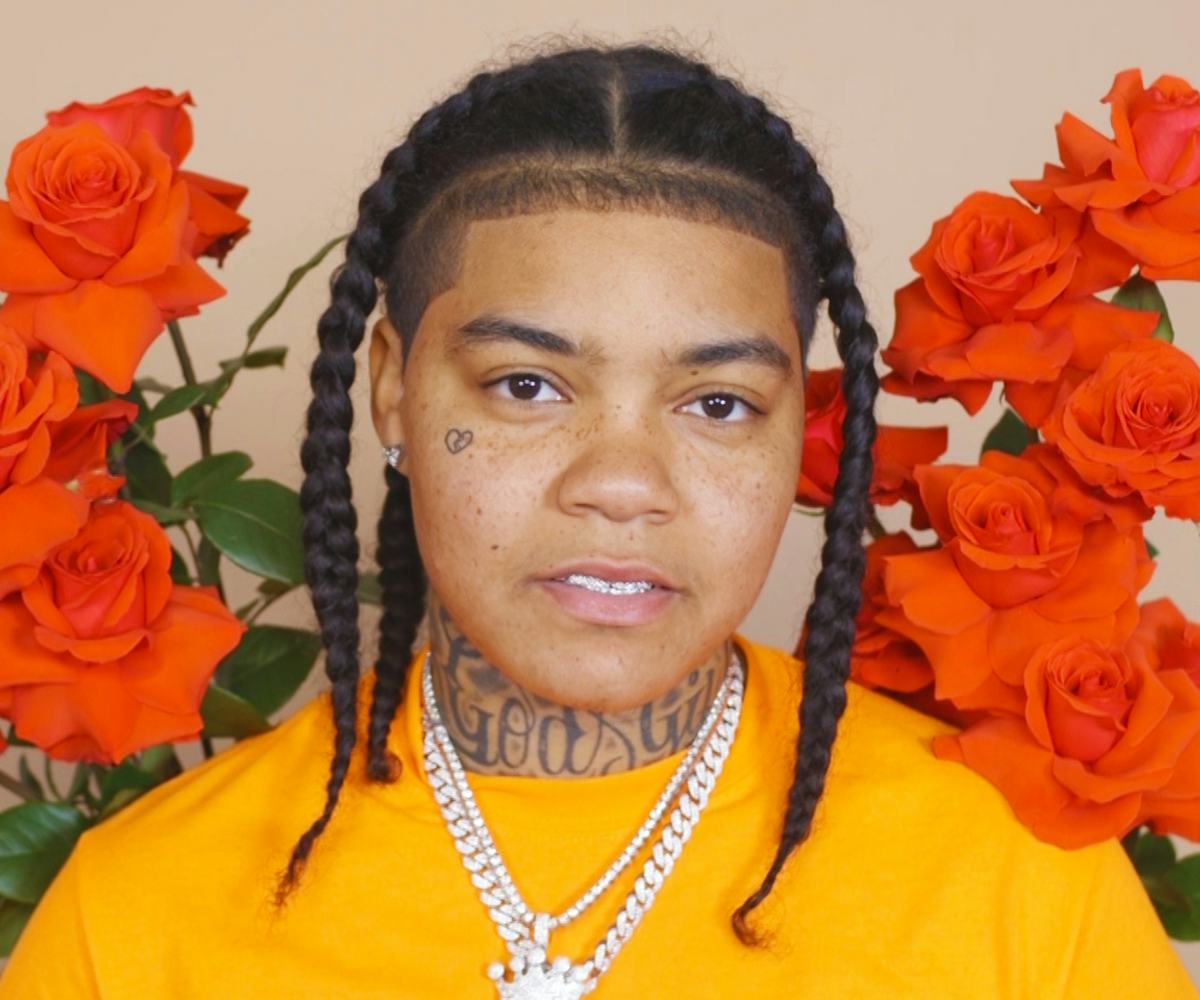 The Softer Sides Of Young M.A
The rapper talks family, love, and minding her business
Don't call Young M.A (which is pronounced "Young Em Aye," not "Young Ma") a lesbian rapper. Since her 2016 single "OOOUUU" blew up, M.A has made it clear that she rejects any descriptive titles that would limit her artistry. When we chatted in NYLON's SoHo offices, she reminded me of her stance, "I don't have to be a female artist. I'm just an artist." Fighting against these kinds of qualifiers has clearly become one of the necessary evils of rap stardom; part of the game M.A would rather do without. "That's just something in hip-hop, and in the world in general, that I feel is unnecessary," she lamented. "I just wish that we can be seen as human beings, because at the end of the day, we all die."
This is the Young M.A that the world knows: the tattooed emcee from Brooklyn who uses her raspy voice to throw gritty reality—like the fact that we all die—right in your face. Here's an example of this from her single "Bleed" that dropped late last year: "I'm the big goon, I'll send my goonies to your crib and you can die inside your living room." M.A's ability to talk about violence and sex with the same lyrical aptitude as her male peers is part of the reason why she's been so successful over the past few years. It's earned her respect in an industry where grown men have perished, and women have struggled just to get a foot in the game. "I had to keep up this demeanor about me that I'm coming in this game serious. Don't take me for a joke. I mean what I say and I mean what I do," she said.
For better or worse, it's been an effective strategy for Young M.A She told me, "People always say, 'I'd be so afraid to approach you because you're so serious.'" I wasn't scared of M.A before meeting her, but I knew that I was taking a risk when I proposed that we capture her with flowers for a softer background aesthetic. Like other successful Black women before her, Young M.A has found power in curating her specific image, and she's made it clear that there's hardly anything soft about her. "But, at the same time, we all have a vulnerable side to us," she said when agreeing to the shoot's look. During the time we spent on set, in her barber's chair, and on our reception area's sofa taking iPhone pictures, I witnessed that vulnerable side—and some other ones—that the rest of the world might be surprised to see.
As I mentioned before, Young M.A is not a lesbian rapper, but she's not at all shy about being a woman who is attracted to women, in her music and in real life. Her girlfriend was a beautiful, low-key presence for the duration of my time interviewing M.A. She defended M.A's skills in the kitchen (it turns out cooking is a skill the rapper picked up from her mother and grandmother—"the generations," she called them—and is her favorite thing to do when she's at home); and before they left for the day, the couple knew the sun and moon signs of every single person on set, including the florist. (If you're curious, M.A is a proud Aries sun and moon.) Ad: "I'm really a lover," M.A said, dispelling another popular misconception on social media that she's a girlfriend thief, taking advantage of all the available fish in the sea. "I'm really a one woman type of person."
For M.A, online fodder has shown her the best and worst side effects of fame. She's seen her supporters—she prefers this terminology over the word "fans"—go to bat for her in the comment section. "[They] will literally go back-and-forth with people. These are people I've never seen before in my life. They just support me on the outside. I get a sense of family from them," she said. On the flip side, the internet is often the place where she's dragged right back toward those labels that she tries so hard to avoid; whether it's trolls accusing her of "trying to be a boy," or fellow male rappers sexualizing her in really creepy ways. She's managed to avoid any major fallouts in either case, not by being combative or playing activist, but by allowing a simple rule: minding her business. "I don't put myself in positions that'll have me looking crazy on social media or the industry in general," she said. "I'm so private. As soon as something is said about Young M.A, they're going to blow it up because they don't get that out of me. I'm not a clout-chaser. I'm not that type of person."
In fact, if Young M.A could trade in the clout that she's rightfully earned, she might do just that, given her sense of responsibility to her family. "The number one thing I think about is being able to provide financially. Fuck the fame," she said when I asked her about her family. "I gotta get my money and make sure this thing is secure." M.A's entire goal is to make sure her loved ones never have to suffer; especially her protective mom and her younger high school sister, who could care less about her big sis being a fAmOuS rApPeR. Discussing the changing family dynamics now that she's head provider, the newly established boundaries that her family must respect in order to protect her brand, and the precious moments that she sometimes has to miss out on is when M.A is most passionate.
Seeing this intensity made me all the more confident that we'd surrounded M.A with flowers, an earthy tribute to her for constantly affirming her humanity, the one thing that is so often denied to Black women who dare to defy gender, sexuality, and even the rap game.
producer: Alexandra Hsie
art direction: Charlotte Prager + Dani Okon
creative direction: Sesali Bowen
floral design: fleurotica, @fleurotica
production assistant: Rebecca Williams