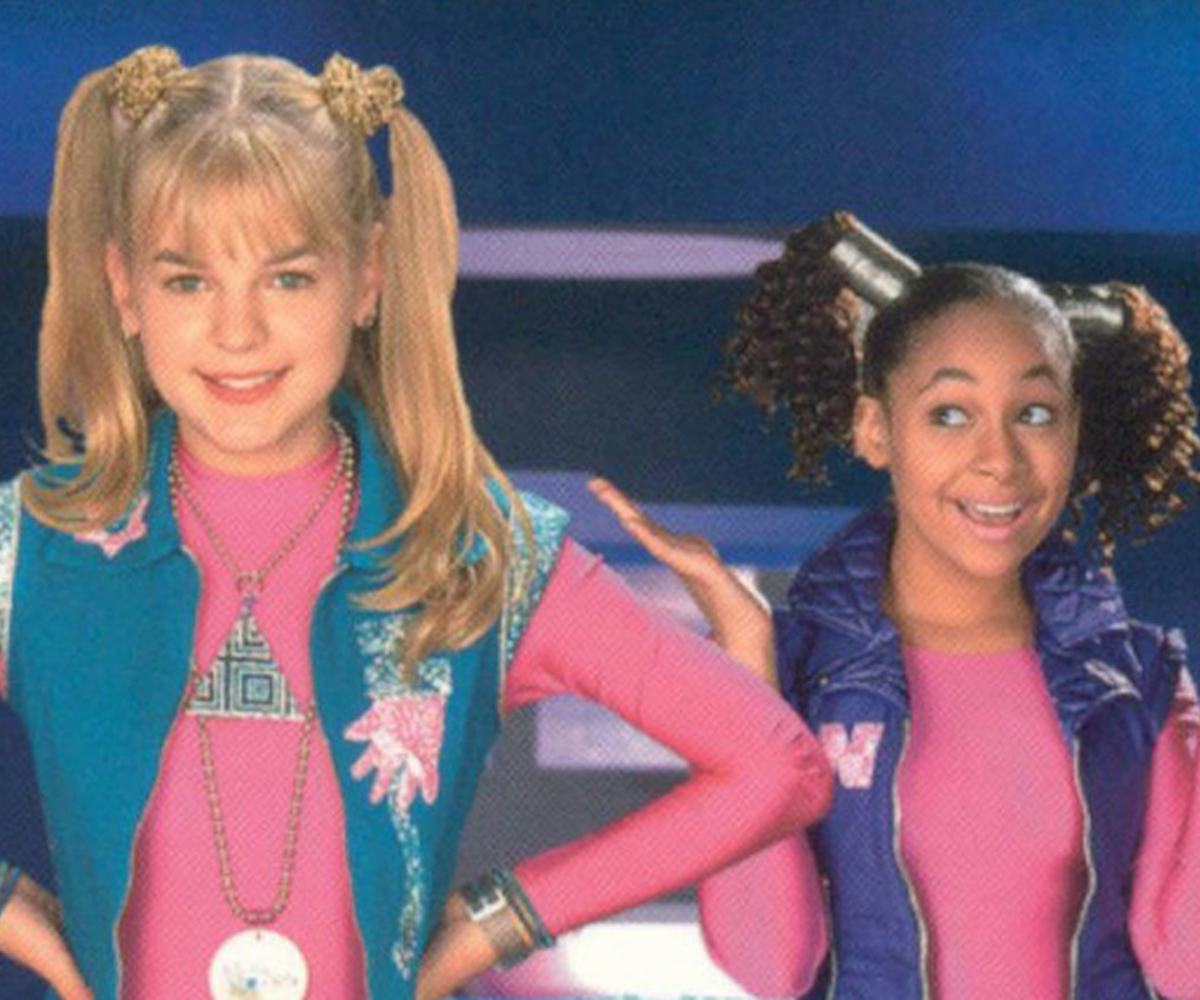 Photo courtesy of Disney Channel
'Zenon: Girl Of The 21st Century' Low-Key Predicted All Our Current Fashion Trends
Zetus Lapetus, '90s-meets-futurism is so in
In Look Back at It, we revisit pop culture gems of the past and see if they're still relevant and worthy of their designated icon status in our now wildly different world.
Before revisiting it again this month, pretty much the only thing I remembered about Zenon: Girl of the 21st Century was that the fashion was absurd. Now, all I can think about is how to recreate looks filled with clashing neons and head-to-toe bodysuits.
Set in 2049, the movie centers around Zenon Kar, a 13-year-old girl living in a spaceship with her scientist parents who uses recycled materials to make accessories. She's very DIY. There's a bunch of drama having to do with an evil guy trying to cash in on insurance money, but the real focus of this movie is really the fashion sported by Zenon and her best friend, Nebula, who really tie this film together with their holographic accessories and scrunchied ponytails.
It's not just nostalgia that has me admiring these looks, it's more that these are clothes that actually feel current today. It's futuristic fashion mixed with '90s trends, and the end result is a mashup that wouldn't look out of place on a Chromat runway.
Beyond the bodysuits, loads of scrunchies, and mismatched earrings, there are multiple neon miniskirts that I actually really want. But more than that, Zenon and Nebula's commitment to repurposing everything around them into new accessories feels very prescient of the sustainability movement. Zenon regularly looks through the recycling for junk to turn into her newest accessory, which is a huge mood. If there was thrifting on that space ship, I know she would take full advantage.
To be honest, my rewatch of Zenon has now put me in a bit of a trend-forecasting mood, so I'm going to call it now: Next up on the runways, look for more monogramming, since Zenon has her first initial on pretty much every shirt she owns. Also expect to see some lopsided pigtails, a la Nebula. And while I'm not quite sure we're ready for the mini-vests that Zenon and her crew wear throughout the film, I'm sure they'll have their time soon. It's going to be 2049 before we know it.