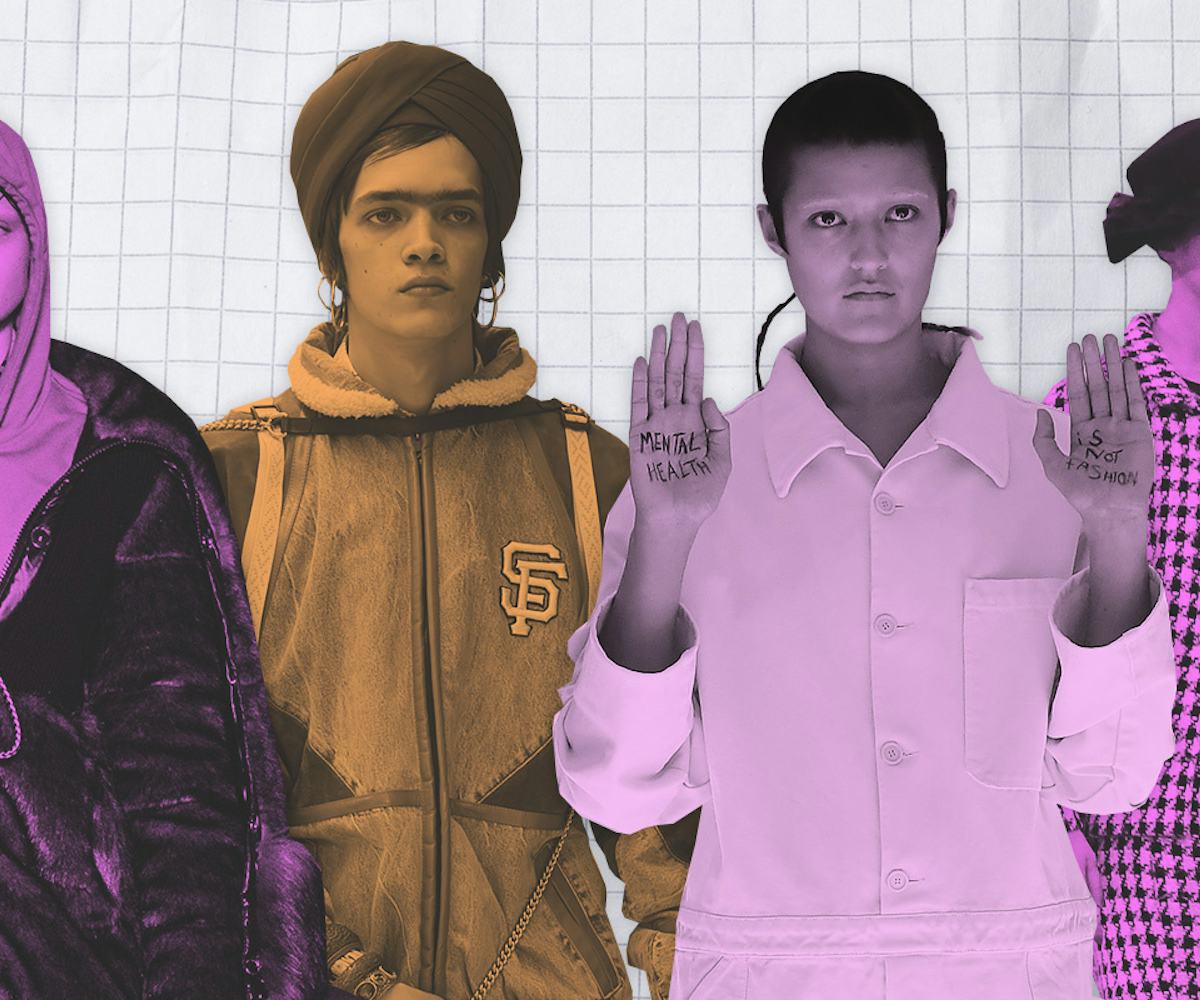 The 15 Most Talked-About Fashion Controversies of 2019
For starters, Fashion Month boasted plenty of missteps
And just like that, 2019 is coming to a close. So let's take a look back at the past 12 months, shall we? We'd be remiss not to point out some of the controversies in fashion throughout the year, in hopes that this might lead to a better, more inclusive, less morally ambiguous new year. There were plenty of missteps during Fashion Month Spring 2020 alone, where we witnessed a model protest on the runway, a prankster crash the runway, and a brand showcase hoodies inspired by gun violence on the runway.
Below, read our timeline of some of the biggest fashion controversies of 2019. (And spoiler alert, it's kind of a bummer.) But here's to being a little more optimistic for 2020.
January: Vogue misIdentified Noor Tagouri
In Vogue's February 2019 issue, journalist and activist Noor Tagouri was mistakenly identified as Noor Bukhari — a Pakistani actor, director, and model — in the fashion publication's print issue. The realization was captured on camera as Tagouri was going through the magazine at the JFK airport in January, which she posted on social media. Vogue later issued an apology, saying that "there is a larger issue of misidentification in media — especially among nonwhite subjects."
February: Gucci faced backlash over "Blackface" sweater
Gucci apologized for and removed one of its sweaters resembling "Blackface" in February. The luxury brand faced backlash over the $890 design, which features a turtleneck silhouette that covers one half of the wearer's face with red lips, including criticism, boycotts, and call-outs from high-profile celebrities and collaborator Dapper Dan. "There is no excuse nor apology that can erase this kind of insult," he wrote on Instagram. While Gucci did issue an apology, the fashion house also implemented immediate actions and long-term initiatives towards diversity and inclusivity.
February: Burberry came under fire over "noose" hoodie
Back in February, during London Fashion Week, Burberry sent what quickly became dubbed a "noose" hoodie down the runway Model Liz Kennedy, who walked in the show, took to Instagram to call out the British brand (she later deleted the post): "Suicide is not fashion. It is beyond me how you could let a look resembling a noose hanging from a neck out on the runway." Burberry eventually issued a statement to apologize for the hoodie and removed it entirely from the collection.
March: Louis Vuitton criticized for Michael Jackson menswear collection
Another removal from the runway includes Louis Vuitton's Fall 2019 menswear pieces inspired by Michael Jackson. (The pop star has long faced sexual abuse allegations, which culminated with the HBO documentary Leaving Neverland.) Louis Vuitton withheld designs that heavily featured elements of Jackson from retailers, and Artistic Director Virgil Abloh issued a statement to WWD: "I am aware that in light of this documentary the show has caused emotional reactions. I strictly condemn any form of child abuse, violence or infringement against any human rights."
May: Virgil Abloh recieved scrutiny for his alleged not-so-diverse Off-White staff
After posting Instagram Stories from an Off-White team party in May, Virgil Abloh was called out for having a seemingly not-so-diverse team behind his luxury brand. The public expressed their dismay via social media, with one user commenting on one of Abloh's Instagram posts, "So you clearly don't believe in diversity." The designer provided a statement to Hypebeast: "My design team is diverse as the world is big. The video shown was an Off-White ™ dinner at the headquarters in the city of Milan, Italy. This party was to celebrate the hard work of the local Italian team."
May: Gucci faced backlash a second time for its "Indy Full Turban"
Though the luxury brand made sure to take progressive action earlier in 2019, Gucci faced criticism yet again for its "Indy Full Turban," which resembles the traditional turban worn by Sikhs. The $790 accessory was pulled from retail shelves, including Nordstrom, in May. Though the department store issued a statement on Twitter, Gucci has not acknowledged the matter, according to CNN.
May: Calvin Klein's ad with Bella Hadid and Lil Miquela raised a lot of questions
When Calvin Klein released a video ad featuring Bella Hadid and Lil Miquela in May, we had a lot of questions. The campaign, which features Hadid and the AI-influencer kissing, was called out by Dazed for "borrowing sexuality for clickbait." Shortly after, Calvin Klein released a statement apologizing for the video: "We understand and acknowledge how featuring someone who identifies as heterosexual in a same-sex kiss could be perceived as queerbaiting. As a company with a longstanding tradition of advocating for LGBTQ+ rights, it was certainly not our intention to misrepresent the LGBTQ+ community. We sincerely regret any offense we caused."
June: Kim Kardashian accused of cultural appropriation over "Kimono" brand
Before Skims, Kim Kardashian originally had plans to release her "solution wear" line under the name Kimono, for which the celebrity mogul was accused of cultural appropriation. She responded to the criticism with a statement, saying, "I understand and have deep respect for the significance of the kimono in Japanese culture." In August, she announced the rebranding of her shapewear line as Skims, which officially launched in September.
August: Versace, Gucci, and Coach apologized to China over sovereignty error
Three luxury brands — Versace, Gucci, and Coach — released apologies for designs that disregarded Beijing's territorial claims. (All of the apparel featured graphic prints that identified the semi-autonomous regions of Hong Kong and Macau as countries.) Each fashion house tried to soothe angry consumers by issuing statements on Chinese social media and chat platforms. Donatella Versace herself even posted an apology on Instagram: "Never have I wanted to disrespect China's National Sovereignty and this is why I wanted to personally apologize for such inaccuracy and for any distress that it might have caused."
September: Bstroy's hoodies, inspired by school shootings, sparked outrage online
Streetwear brand Bstroy debuted hoodies inspired by school shootings at a small presentation during New York Fashion Week in September, which later sparked outrage online — especially among survivors of, and families affected by, gun violence. In a past interview with The New York Times, designer Duey Catorze, who runs the label alongside Brick Owens, is well-aware of their controversial practices, saying: "We are making violent statements. That's for you to know who we are, so we can have a voice in the market. But eventually that voice will say things that everyone can wear."
September: A Gucci runway model staged a protest during Milan Fashion Week
At Milan Fashion Week in September, Gucci faced backlash for the third time this year after one of its models staged a protest during its Spring 2020 runway show. Ayesha Tan Jones, who walked during the collection's first segment wearing a look that resembled asylum clothing, had "mental health is not fashion" written across their hands.
October: A French prankster crashed the Chanel Spring 2020 runway
Marie Benoliel, a 28-year-old comedic stuntwomen known as Marie S'Infiltre, crashed Chanel's Spring 2020 runway show during Paris Fashion Week in October. Upon the collection's finale, Benoliel ran through the audience and hopped on the venue's stage (makeshift French rooftops) only to be confronted by model-turned-bouncer Gigi Hadid and escorted off the runway. Chanel later released a statement: "This person is a comedian known for this type of prank. She had crashed another runway recently. Her presence on the catwalk was not planned."
October: Elle Germany's November 2019 issue included a "Black Is Back" editorial
In an attempt to highlight Black models in the fashion industry, Elle Germany released a "Black Is Back" editorial in its November 2019 issue that was both tone-deaf and unsuccessful. For starters, models of color were misidentified in the magazine; meanwhile, the cover featured a white model. "It's another case of the how-did-multiple-people-see-this-and-think-it-was-ok mystery," wrote Fashionista. "And another step backward for genuine inclusivity in the industry."
November: Barneys New York's filed bankruptcy and had a long-winded bidding saga
Barneys New York filed for bankruptcy in August, followed by a long-winded bidding saga that finally came to a close in November. As Barneys shut down locations — and while customers were patiently waiting for its inevitable "all-must-go" clearance sale — a few suitors came into the mix to help save the retailer, with Authentic Brands Group eventually acquiring control over the famous department store.
December: The New York Times published an investigation on underpaid workers of factories associated with Fashion Nova
Fast fashion is only getting faster these days, and one of its stand-out businesses is Instagram giant Fashion Nova. However, the e-commerce site faced criticism earlier in December after The New York Times published a report claiming that a U.S. Department of Labor investigation found its factory vendors were underpaying their employees. The online retailer was quick to disprove those claims in a public statement.