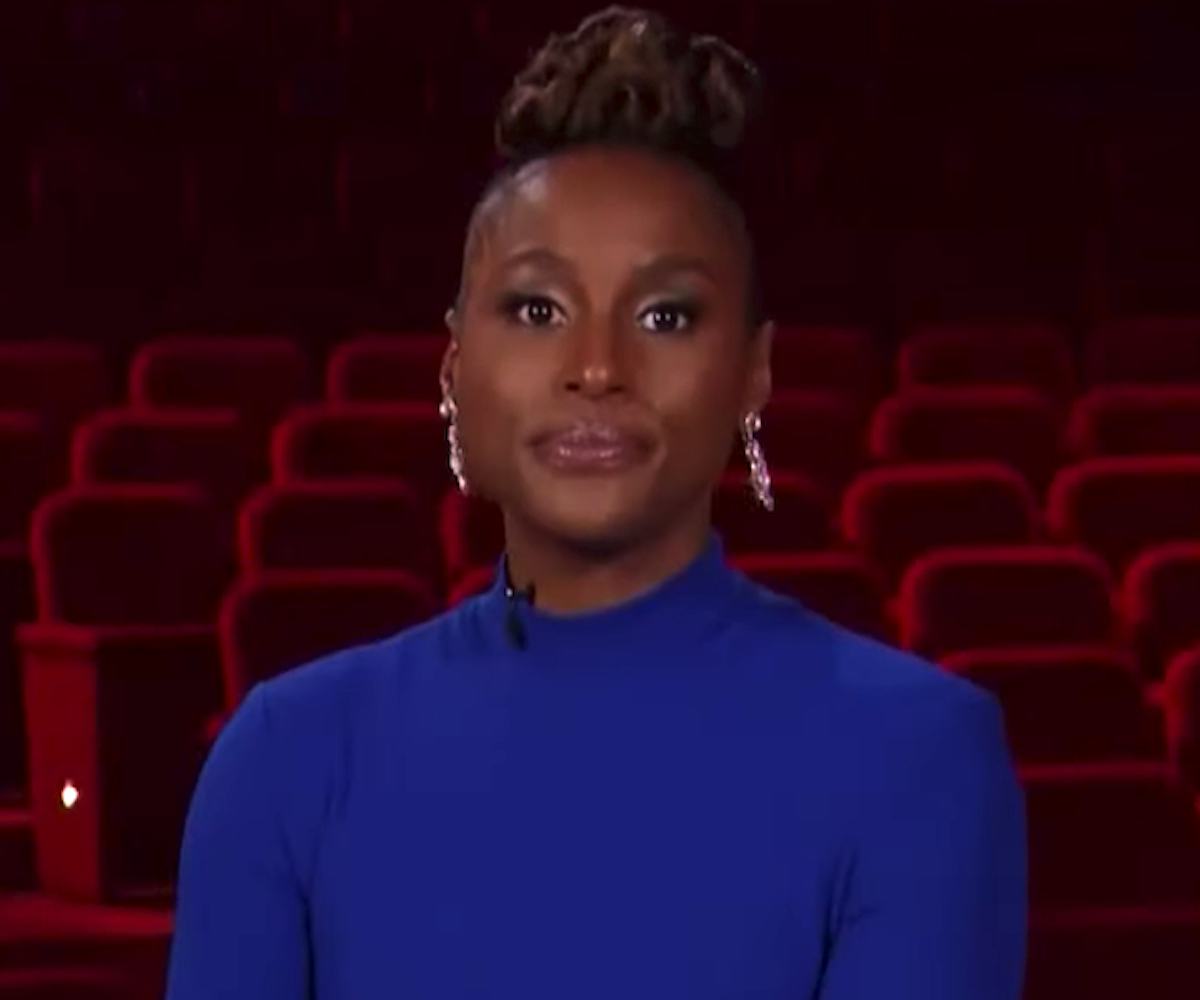 Screenshot via YouTube
All The Best Memes To Come Out Of The 2020 Oscar Noms
"Congratulations to those men"
After hearing the Academy recognize, for the most part, its usual cast of characters for the 2020 Oscar nominations, the only thing left to do is wash away the pain with memes. The internet was on fire with quips about The Joker somehow snagging 11 nominations, as well as the return of #OscarsSoWhite, as only one person of color was nominated for an acting award — and it's Cynthia Erivo for her portrayal of Harriet Tubman, a move by the Academy described by Vulture writer E. Alex Jung as having "extreme white gatekeeper energy." Where was all the love for the Parasite cast, or Jennifer Lopez's iconic Hustlers performance? Online, and very much absent from the Academy, apparently.
Issa Rae basically handed the internet a fresh meme on a silver platter when she announced the nominees for Best Director during the live telecast. Hearing Rae cooly say, "Congratulations to those men" after reading off the list of men — the Academy having snubbed Greta Gerwig for Little Women, Lulu Wang for The Farewell, and literally all women directors from the past year — was satisfying. Realistically, it's the only all-encompassing GIF needed to white-knuckle through the current awards season.
Process the very bad Oscar nominations with all the best memes to come out of it below.
The moderator behind @nocontextroyco has perfect timing.
#OscarsSoWhite unfortunately remains relevant.
Instead of remembering all those who have passed, the In Memoriam should just be for all the good movies that were snubbed.
Justice for Uncut Gems.
There's really no good excuse for not nominating this movie.
Maybe the Academy has a bigger, better award it's creating for the real best movies of the year?
Gosh, one of us ladies really should have tried harder this year.
Just close your eyes and pretend.
This photo summarizes all the feelings that occurred in response to JLo's acting snub.
Probably no one would complain if Parasite hijacked the entire awards show.
If the Academy wanted to just slip Park So-Dam a nomination for her Parasite performance a few hours late, no one would mind.
The jokes that can be made about Scarlett Johansson's nominations in another year of #OscarsSoWhite are almost too easy at this point.
What year is this?!
"Congratulations to those men" is the next "Sorry to this man."
These Oscars nominations are a better Joker origin story than the actual Joker origin story.
This reaction image is also appropriate if you substitute Pain & Glory director Pedro Almodovar with literally any other snubbed director.
Yes, the movie the internet loved to despise walked away with 11 nominations. You hate to see it!
If you think the nominations are bad, just wait until the actual awards show arrives.
Is anybody else suddenly feeling the urge to re-watch Hustlers?
This movie would also be better than Joker.