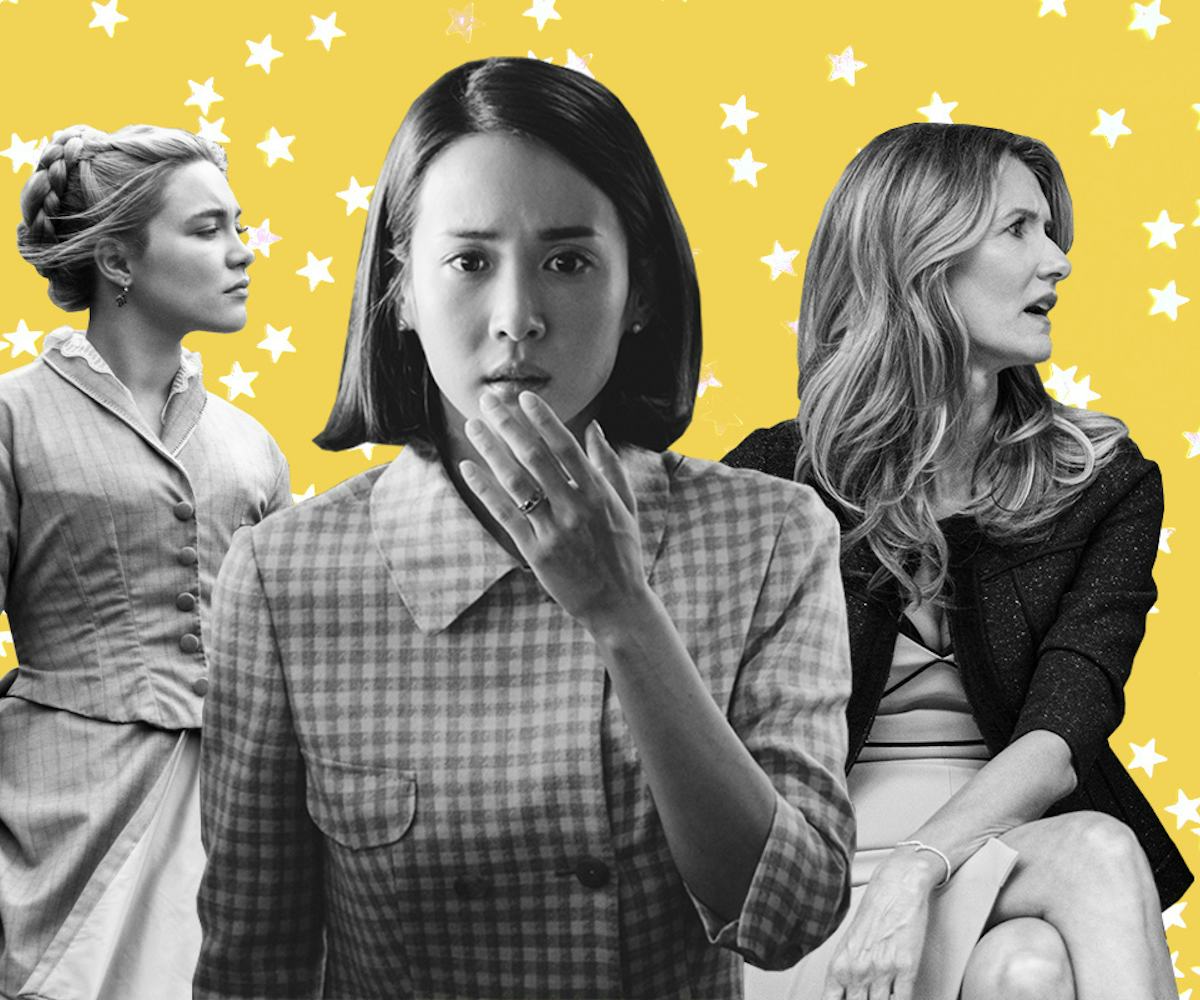 Photos by Wilson Webb and NEON
This Is Who Will Win The Oscars—And Who Should
Because the two aren't always aligned
Members of the Academy of Motion Picture Arts and Sciences have officially submitted their final ballots for the 92nd Annual Academy Awards, airing Sunday. With nominations for a variety of films — from the heartfelt (Little Women) to the crowdpleasing (Once Upon a Time… In Hollywood) to the slightly inexplicable (Jojo Rabbit) — there is plenty to look forward to. Plus, this year has blessed up with some really exciting narratives to sink our teeth into: Who else is excited to watch Greta Gerwig go head-to-head with her partner Noah Baumbach for Best Picture? Or are you more excited to see Bong Joon-ho finally get his due with some wins for Parasite?
Regardless, below, you can find our predictions for who will walk away from Los Angeles' Dolby Theatre with an Oscar in their hand, as well as our choices for who should be walking home with those awards. Sometimes, these two align (as is the case for any category in which Parasite is expected to win). Other times, they don't. Either way, we will know soon enough.
Below, NYLON's top predictions for the big night:
Best Picture
Who Will Win: Parasite
Who Should Win: Parasite
In recent years, the Best Picture race has been more unpredictable than ever. One year, a beloved indie film about Black queer love, Moonlight, can triumph over a big-budget musical like La La Land, only to have a retrograde film based on a less-than-true story, about a racist Italian driver learning to respect the Black pianist he's been hired to chauffeur around (Green Book), win the same award two years later. While this year's Best Picture race is far less politically volatile, we still have seen a similar battle arise: Parasite vs. 1917. Though 1917 is a great World War I film, it's still just that — a war film, the type of which we get at least once every couple of years. Comparatively, Parasite feels like something new entirely; it's a film that defies easy categorization, showing a long-working director at the tippy-top of his game. A crowdpleaser that isn't afraid to address some very real societal issues (in this case, the neverending war between classes), Parasite feels like the cinematic masterpiece that can do what Roma couldn't last year — become the first foreign language film to eke out a Best Picture win. Let's hope The Academy gives it that chance.
Best Actor
Who Will Win: Joaquin Phoenix for Joker
Who Should Win: Antonio Banderas for Pain and Glory
Going into the night, Joker's Joaquin Phoenix will serve as the de facto face of the movie with the most nominations — and, if the universe isn't trying to play a cruel trick on me, he will leave with one of the film's only two wins. And while I'm not exactly mad about an inevitable win for Phoenix — who was, for all intents and purposes, very good in Joker — I am upset with how his dominance over the past few months has proven that, in Hollywood, one form of acting is significantly valued over another. In Joker, Phoenix's performance is decidedly one-note. He's great at playing crazed, but in the end, it feels more physical than emotional, defined by his jerky movements and sinister gaze. Compare that to Antonio Banderas' visceral performance in Pain and Glory. He makes us feel every development — from learning of his sickness to falling into the satisfying high he gets after trying heroin for the first time. The scene in which Banderas' character reconnects with his first (and possibly only) real love has been stuck in my mind for months. This is the kind of performance that the AMPAS should value, but knowing them, they're probably patting themselves on the back for even nominating a Spanish-language performance in the first place. My only hope is that, when Phoenix wins, he gives a speech similar to the one he gave at BAFTAs, where he called out the British Academy for not nominating actors of color.
Best Actress
Who Will Win: Renée Zellweger for Judy
Who Should Win: Renée Zellweger for Judy
Renée Zellweger did not give my favorite lead performance of the year. That honor goes to Lupita Nyong'o for pulling double-duty in Jordan Peele's Us, with Elisabeth Moss coming in a close second for giving her best Courtney Love impression in the anxiety-inducing Her Smell. However, with both of these talented women left completely out of the running, I can't think of anyone more deserving of the win than Renée, whose portrayal of Judy Garland as a long-suffering, pill-popping alcoholic nearing the end of her rope was nothing short of transcendent. Sure, Charlize Theron's version of Megyn Kelly was unsettlingly uncanny, and the verve Saoirse Ronan brought to Jo March in Little Women was inspirational, but few can compete with Zellweger's Judy Garland. As a film, Judy, like Bombshell, is merely average — but when watching it, it's impossible to take your eyes off Zellweger, who somehow manages to embody Garland without losing sight of herself in the process. She has rightfully swept this category all awards season, and I can't imagine a world where she doesn't do so again on Sunday.
Best Supporting Actor
Who Will Win: Brad Pitt for Once Upon a Time… In Hollywood
Who Should Win: Brad Pitt for Once Upon a Time… In Hollywood
It's true that Tom Hanks' portrayal of Mister Rogers in A Beautiful Day In the Neighborhood was the only performance in this category to actually bring me to tears. But when all is said and done, are my tears more important than a big smile? Because the latter is what I got from watching Brad Pitt in Once Upon a Time… In Hollywood. It was impossible not to break out in a grin as he whipped up a pot of Kraft mac-and-cheese, or as he took off his shirt to fix a TV antenna on the roof, or as he sicked his obedient dog on a group of murderous members of the Manson Family. This performance was peak movie star charisma, and Tarantino's (possibly penultimate) film was all the better for it. I loved Al Pacino and Joe Pesci in The Irishman, as I did Anthony Hopkins in The Two Popes. But nothing compares to Brad Pitt saying, "Hey, you're Rick fucking Dalton. Don't you forget it." Besides, who can resist listening to Brad Pitt make yet anotherjoke about being recently single and using dating apps? (You're lying if you say you can.)
Best Supporting Actress
Who Will Win: Laura Dern for Marriage Story
Who Should Win: Florence Pugh for Little Women
When Jennifer Lopez climbed onto a pole during her excellent halftime show performance at Sunday's Super Bowl, I (along with millions of others) couldn't help but yell in excited glee. Of course she was going to show off this skill. I mean...have you seen her pole routine to Fiona Apple's "Criminal" in Lorene Scafaria's Hustlers? In many ways, this moment would have served as the perfect lead-in to a possible win at Sunday's Oscars. But because The Academy is blind or racist (or, more likely, both), the longtime movie star didn't even nab a nomination. I'm upset, naturally, but her exclusion from the ballot does make my job of settling on a single choice for who I want to win slightly easier. For months, I've been torn between Marriage Story's Laura Dern and Little Women's Florence Pugh, but in the end, Pugh gets the slight edge. Her ability to turn someone as historically unlikable as Amy March into a sympathetic character you want to root for is certainly worthy of recognition. Nevertheless, I don't envision Pugh standing a chance against Dern, who has won this award at every major ceremony so far and has the advantage of being nominated twice before without ever securing a win. Plus, I love Laura Dern! So I'm fine with that.
Best Director
Who Will Win: Sam Mendes for 1917
Who Should Win: Bong Joon-ho for Parasite
As we've entered the final leg of awards season, many pundits have begun to predict a split between the winner for Best Picture and Best Director, with one going to Parasite while the other goes to 1917. If that's the case, I imagine (read: hope) that Best Picture goes to Parasite while Mendes secures the Best Director win for 1917. Though I'd prefer Bong Joon-ho to win it all, I can concede that 1917 is the more "technically precise" member of the group — and given The Academy's historical understanding of "good directing" in the past, technical feats seem to be what AMPAS voters want to reward. Parasite is a much better film overall, so if I have to choose, I'd much rather see it take home the night's top prize. Here's to hoping.
Best Animated Film
Who Will Win: Toy Story 4
Who Should Win: I Lost My Body
As history would have it, if a Pixar film is in contention, it will win Best Animated Film. In fact, the only films that could give a Pixar release a real run for its money are box office-shattering releases from Disney's main studio — which is why one could easily assume that this year's race would come down to a battle between Toy Story 4 and Frozen II. Yet so far, neither film has picked up any awards. At the Golden Globes, the prize surprisingly went to Laika Studios' quirky Missing Link, while Netflix's Santa Claus original story Klaus secured the win at Sunday's BAFTAs. With The Academy overlooking Frozen II entirely, I still have a feeling that Toy Story 4 may get its first win on Sunday. But if we want to reward the best nominee, the only option is I Lost My Body. Another release by Netflix, this French film follows a dismembered hand trying to find its way back to its owner. Poignantly dark, I Lost My Body is the rare Animated Film nominee that should be kept away from children, but its adult themes are precisely what makes it so great.