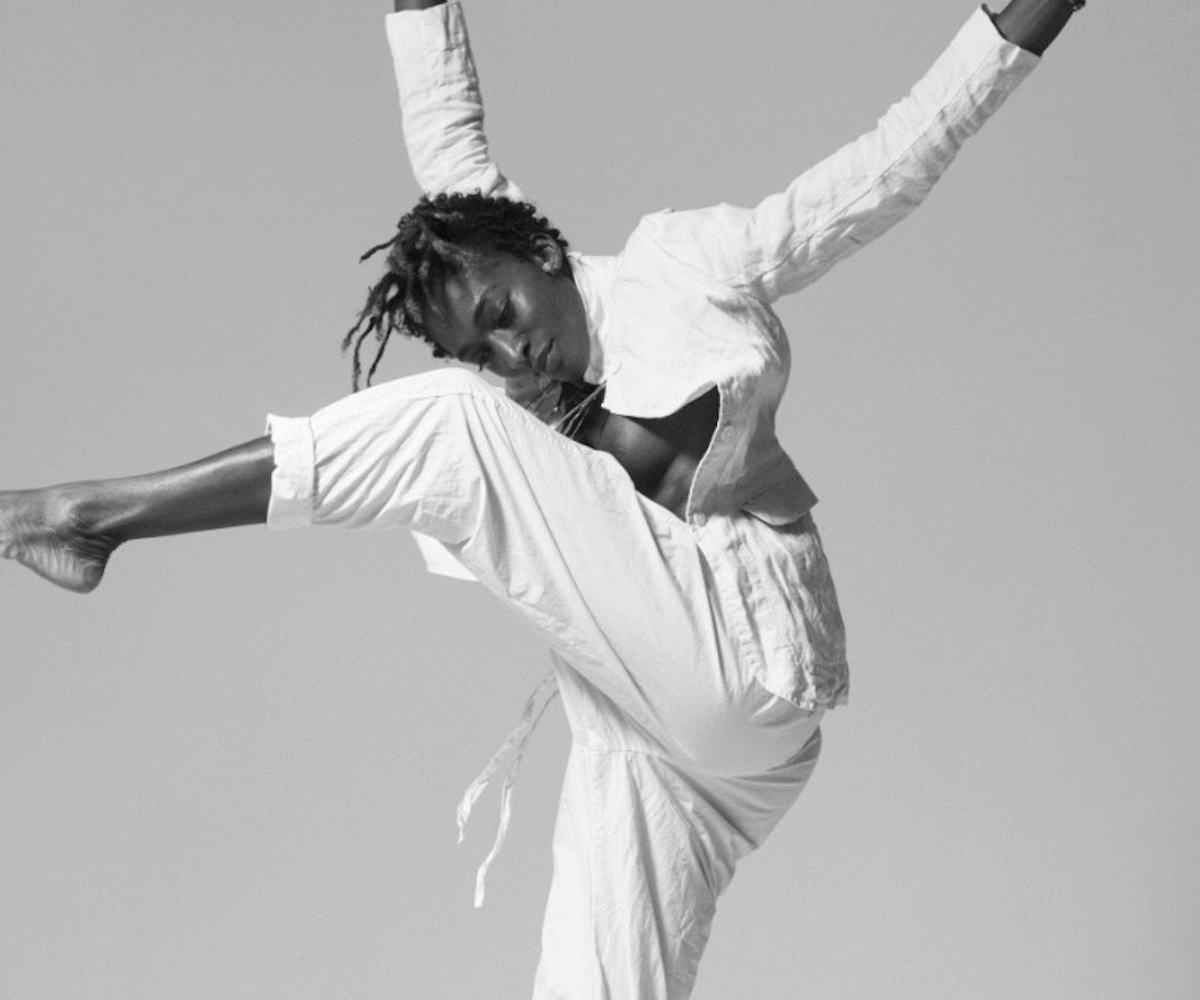 Courtesy of the artist
Premiere: ALA.NI's "PAPA" Invokes The Healing Power Of Chants
An interview with the Paris-based musician on making music with only her voice
London-born, Paris-based musician ALA.NI makes music that sounds rooted to the Earth. On her debut record You & I, that took the shape of delicate jazzy songs that wouldn't sound out of place coming through the cavernous mouth of a victrola. Her voice, which stretched sweetly around her lyrics like bubblegum, was compared to Billie Holiday and Judy Garland, but on her upcoming second album, ACCA, ALA.NI sends her vocals flying in a wildly different direction. ACCA is completely sung a capella: beatboxing provides the backbone, choral ad-libbing fills it out, and ALA.NI's voice, a raw-er iteration, occupies the forefront.
Today, NYLON is exclusively premiering the video for the single "PAPA," a percussive, chant-like track that orbits around a hypnotic central line: "Papa didn't love me." Initially conceived as a poem written for a friend who was going through recurring dramas with men, "PAPA" eventually took the form of a song when ALA.NI realized how universally applicable the message was. "Daddy issues..." she explained via email. "Oh, the healing powers of music." Fittingly, the Martina Amati and Tania Feghali co-directed video finds her running through forests, and quietly submerged in water, motifs of renewal, and scenes that required spending a year and a half in various pools around the world to train for.
Having formally studied at London's prestigious Sylvia Young Theatre School, which counts Amy Winehouse and Dua Lipa as alumni, ALA.NI approaches her music like one would a religious discipline: all or nothing, and constantly pushing her bodily limitations. Even "PAPA" required some physical expenditure: "Studio walls were banged, chests, faces tapped and slapped and also a Cuban butt, all to create the percussion," she wrote. Below, read on for the lessons ALA.NI learned when it came to making music with only her body, how she incorporates movement into her creative process, and what she had to unlearn after leaving performance arts school.
Your first record is very jazzy, and nostalgic-sounding. What inspired you to go completely a capella for your new project?
Ninety-nine percent of my writing starts with the voice. I wrote the first record You & I in the same a capella way, then decided to add instruments to support. With the new ACCA album, I just developed and focused on the core, the voice.
What did you discover from working only with vocals and sounds made from the body, that you didn't from working with instrumentals?
That slapping your cheek continuously for three minutes and 32 seconds repeatedly is going to leave you red and sore. But the sound I got was great! I learned that having hundreds of tracks of just my voice was not going to work. The songs all had a similar frequency blend as it was all coming from the same source, me, so I took some advice from my mentor to not make it the ALA.NI show and added some other layers. Beatboxer, males bass vocal, female alto. I did sprinkle in some light touches of strings, accordion, clarinet and bass to support and fill in the low end. There was a lot of sound balancing required. [There are] 300 or more tracks of just my voice sometimes on one song… Ahhhhh… Grey hair!
You went to a well-known performance art school in London. What did you learn there that has stuck with you?
"Politeness and punctuality." This was posted all over the school. I learned a certain kind of artistic discipline from the very young age of five and this has seen me through. You must practice!
Did you have to unlearn anything?
Fuck yeah. Technique. It sounds weird, but it took me a while to let go of taught perfections and learn to just be. Live in my mistakes, smile at them and just go on. I had to learn to trust in my abilities and become more instinctive. The technique will never fall me, only support. Being a football fan helped me mentally too in this process. If you miss that goal, you can't spend the whole game remorseful on that missed moment. You must continue and strike again! I am happy I got there with my voice, so now I am trying to dance in this spirit too. Lose the form and just dance, bitch, dance! (I've been watching way too much Dave Chapelle. I can hear him in my head!)
I read in an interview that you dancing in tap shoes created some of the beats on this album, and the cover art for the recent singles seem to show you in the middle dancing. How does movement inform your song-making process?
It's funny, I use my body a lot more than I realize. During the studio session with the beatboxer for the ACCA album, I just danced in front of the studio booth window to the music and he knew exactly what to do with his mouth. I conducted him with my entire body. We had, on first meeting, spent a cocktail-driven night crazy dancing in the middle of a field in the French countryside, so we knew each other's body language. It felt so great to direct music this way.