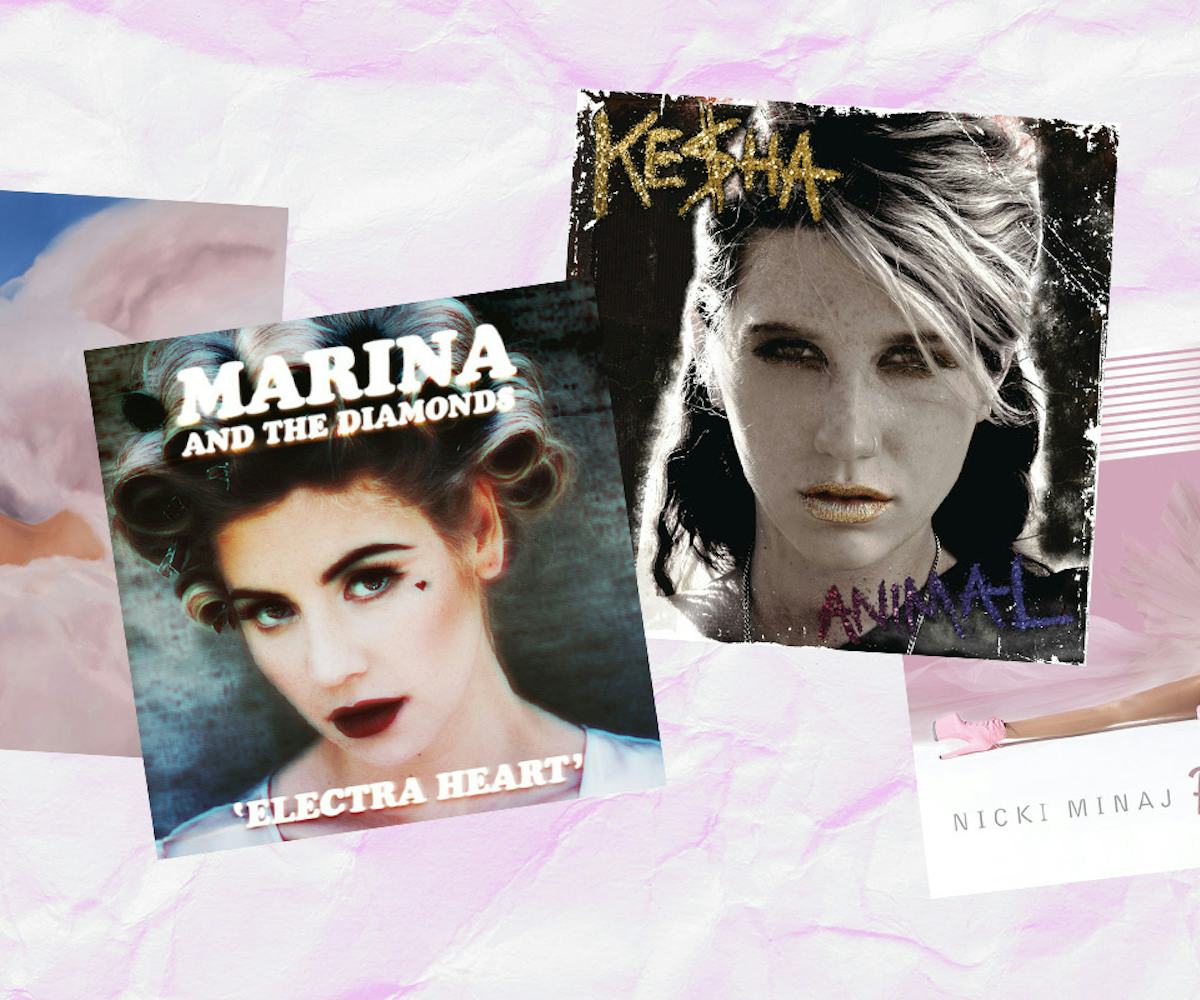 14 Influential Albums We Can't Believe Came Out This Decade
How old were you when "Love On Top" was released and cemented itself as one of the greatest karaoke bops of all time? You were just eight years younger than you are right now. Yes, you read that correctly. Beyoncé's 4 was somehow only released in 2011, making any general understanding of the passage of time feel like a total sham. Weren't we singing it in the womb? Or, at least in 2004? No?
As the 2010s come to a close, it's time we take a look at the past decade in music and realize that we have no grasp on time — whether it be in regard to how long we've been waiting for Sky Ferreira's sophomore album to drop or how recently we thought Maroon 5 was actually kind of cool.
Below, we've rounded up 14 albums that we can't believe are less than a decade old. Apologies in advance for any personal crises that may occur due to reading this information.
Electra Heart - Marina & The Diamonds
Now porn-free and riddled with stale memes, Tumblr (and anything related to its content or aesthetic) feels like something from a bygone era. Believe it or not, sad teens were melodramatically covering "Teen Idle" and re-blogging "edgy" photoshopped artwork using Marina's lyrics well within the past decade, even if it feels like another lifetime. Though The Family Jewels could just as easily find its home on this list, the teens of TikTok turning the chorus of "Oh No!" into a self-deprecating viral moment have made this album's relevancy resurge, so much so that it feels more recent than Electra Heart despite being its predecessor, and Marina's debut album.
Vices & Virtues - Panic! At The Disco
I would like to take this opportunity to apologize to anyone who has heard me refer to "Mona Lisa Smile" and "Sarah Smiles" as old P!ATD songs, when they did, in fact, come into the world in the same decade that brought us "Death of a Bachelor" and "High Hopes."
Pink Friday - Nicki Minaj
With its many re-releases, versions of Pink Friday could be used as timestamps for the decade rather than actual years. It's the album that spontaneously reproduces; in 2030, we will find Pink Friday: Roman Reloaded The Re-Up (Deluxe Edition) (Remixed) has unceremoniously dropped, with "Super Bass" being rediscovered on whatever app takes TikTok's place in the zeitgeist.
Night Time, My Time - Sky Ferreira
No, you have not been waiting a decade for Sky Ferreira's sophomore album. It's only been six (6) years of her second project being placed on the list of most anticipated releases, year after year. That won't hold us back from using the GIF of the old lady from the Titanic when Ferreira finally decides to end our suffering, though.
Teenage Dream - Katy Perry
Katy Perry's lollipop-tits era is very much a part of the pop star's origin story, but her rise into the public eye didn't happen as long ago as one may think. Perhaps it's the complicated legacy of her breakout hit "I Kissed A Girl" — which only came out two years prior to Teenage Dream — that make it seem like Perry's rise must have started years earlier. Memories of scandalized reactions to Perry's hyper-sexualized schtick, too, only show how vastly the world has changed in such a short amount of time.
Body Talk- Robyn
"Dancing On My Own" was both released 50 years ago and just yesterday; it's free of the bounds of space and time. Baby gays everywhere are born knowing all the words. But, if we're being real, this now-anthem was released in 2010 along with Robyn's very good Body Talk.
Animal - Kesha
As we watch Kesha's rebirth in her High Road era, it's hard to believe that she was brushing her teeth with a bottle of Jack at the top of the decade.
4 - Beyoncé
Despite it feeling like you've heard an infinite number of strangers nail or butcher the ending to "Love On Top" at karaoke bars everywhere, it's only been eight years of immediately queuing up the song the moment someone passes you the mic. But, of course, Beyoncé had her foot firmly pressed to our necks for all of the 2010s; from "***Flawless" to Lemonade to Beychella, it's all been squeezed into a single span of 10 years. Hopefully, 2020s bless Beyoncé with some well-deserved rest.
Up All Night - One Direction
If you didn't audibly gasp when looking at these five baby faces and realize your fangirling over "What Makes You Beautiful" is not that distant of a memory, you're lying. Yes, the Harry Styles from the "Lights Up" video and the innocent boy band member are the same person from the same decade.
Bangerz - Miley Cyrus
Can you believe Miley Cyrus's masterwork of cultural appropriation dropped in 2013, and just six years ago she was swinging naked on a wrecking ball and twerking on Robin Thicke at the VMAs? Wow, we can't, either. Time flies!
LONG.LIVE.A$AP - A$AP ROCKY
Apparently, we've only been blessed by A$AP ROCKY being in our lives for six years now. Sounds fake, but okay!
Hands All Over - Maroon 5
We hate to be the ones to break it to you, but Maroon 5 *was* cool during a portion of this decade, even if for just a moment. You don't have to stan anything that came post-Hands All Over, but you do have to admit that you enjoyed "Misery" just as much as everyone else did in 2011.
Habits - Neon Trees
All of your favorite Neon Trees tracks, starting with "Animal" and onward through Picture Show's "Everybody Talks," were released this decade. Knowing the release date does not, however, explain why those songs take up the same corner of your brain as songs like Metro Station's "Shake It."
Scary Monsters and Nice Sprites - Skrillex
It feels as though Skrillex has been a household name for far longer than a decade, but truth be told, it's been less than 10 years since the dubstep artist first appeared on the collective radar and subsequently became an industry heavyweight, influencing popular music across many genres.