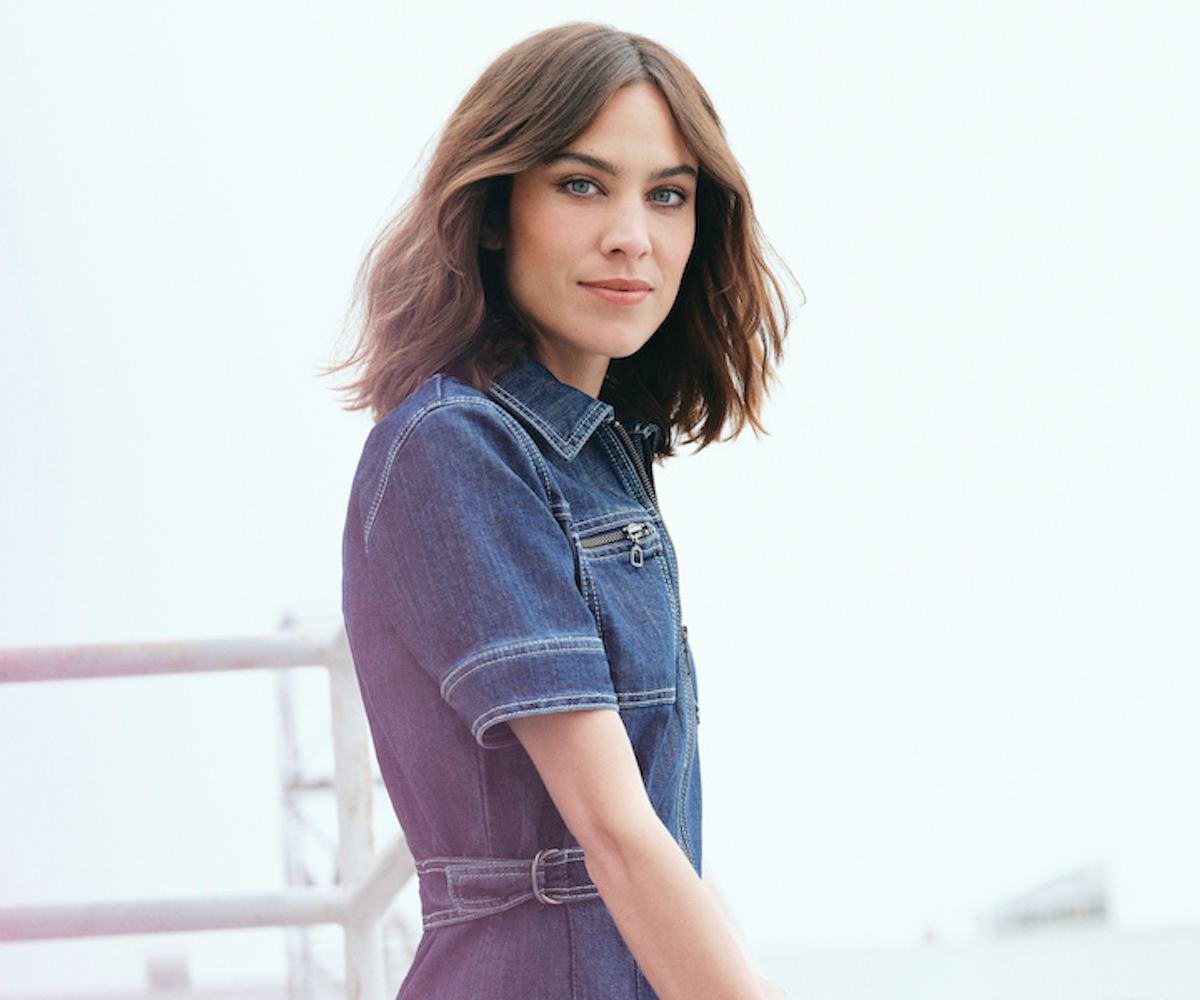 Photo courtesy of Netflix
Alexa Chung On Social Media, Kerby Jean-Raymond And Hosting 'Next In Fashion'
"This is the first thing I've ever done where people have been texting me as they're watching."
Early on during the first episode of Netflix's Next In Fashion, Alexa Chung looks over to her co-host, Queer Eye's Tan France, and says, "I always like when people are kind of pushing the envelope. I want to see something that's edgy, something where you look at it first and you're like, oooh, because it's risky. And then eventually, it becomes iconic." At the time, the pair were discussing what kind of looks they hoped to see on the runway for the reality fashion competition's first challenge. But in many ways, Chung's quote also serves as metaphor for the series as a whole. Indeed, making, basically, a remake of Project Runway while the Bravo classic is still airing is risky. But after a few episodes, it becomes increasingly clear that Next In Fashion has updated the familiar formula enough to stake its own claim in the reality competition genre. It's certainly edgy, and an "iconic" label isn't too far out of the question.
Thanks to her experience designing for her own namesake label, Chung brings a certain sensitivity and gentle understanding to the high-stress proceedings of Next In Fashion. Whether she's advising the contestants or inspiring them with her own on-theme fashion choices (during the aforementioned conversation, she wore Christopher Kane's newly iconic "Rubberist" minidress), the multi-hyphenate imbues the series with a much-needed dose of enthusiasm, which is more than welcomed in a competition with stakes this high. (The winner gets $250,000 to invest in their business and a chance to sell their designs through famed online retailer NET-A-PORTER.)
Several days after the show's Netflix premiere, NYLON hopped on the phone with Alexa Chung to talk about her experience working on it. As the busy business mogul rode from one appointment to the next, she opened up about making a show her friends actually watch, why she wouldn't want to work alongside anyone other than Tan France, and what was going through her head when Pyer Moss' Kerby Jean-Raymond spontaneously walked off set during a particularly heated moment.
(Warning: Spoilers for the show ahead.)
I would love to start by asking how you first got involved with Next in Fashion.
Alexa Chung: They kind of called out of the blue. This time last year, I met Tan at a party during fashion week and he mentioned to me that Netflix might call. I forgot, but a few weeks later, they called me and were like, "Will you do this thing?" They told me about it, and I spoke to the producers, and I thought it sounded really interesting. They were emphatic about the idea that it would be very seasoned designers of a high caliber, and that they wanted it to be tonally quite nurturing. I thought it sounded fun. Plus they were filming in L.A., and I thought, Wow, that would be great to go there for six weeks. So I said, "Yes, I want to see some palm trees. Let's do this."
It's funny that you and Tan randomly met at a party because on the show, the two of you have such good chemistry. Do you think you just lucked out with that pairing?
A.C.: I've been really lucky because, aside from doing my own show, I've always had a [good] co-host. Because of the situation, you tend to bond quite quickly with whoever it is. Actually, I've maintained friendships with all of my ex co-hosts. They're some of my closest friends. Working with Tan was particularly amazing because he has this energy that is very warm. He also has such clarity and he really just taught me a lot about life. I was genuinely thrilled to see him. I don't think I couldn't have done it with someone else. I mean, I obviously could have done it, but I wouldn't have enjoyed it nearly as much. I think it helped us both being British.
How do you think your experience as a designer helped you to serve as a judge for this competition?
A.C.: It definitely meant that I came with empathy for the designers because I know that it's really a difficult thing to do. Not only the design process, but the collaborative element. I think that's something the show got right: portraying how, in any creative industry, you're working alongside people towards a common goal and vision. Of course, you all have your own opinions and your own tastes, but much of creation comes out of either compromise or problem-solving — in terms of limitations on fabric or price-point or whatever. So I think it helped to understand that. But at the same time, my aesthetic is my aesthetic, and I'm only one opinion in the room. That's why there was a rotating cast of judges, to really help give a broader viewpoint.
It was nice to see Eva Chen [head of fashion at Instagram] as a judge, because so much of the fashion industry now is about making an impact through social media.
A.C.: Oh yeah. It's no joke. I think social media really does play such a huge part in a brand's marketing strategy. Even when you see how shows have changed over the years. It's been revolutionized by that social platform because it's a great way to bring in an audience outside of just the people in the room during a show in Paris or New York. It's a more democratic experience. That's often how people shop, as well. I definitely shop through Instagram. You're influenced by what you're seeing. People tag something, and you're like, "Oh, I never heard of that brand." I think we'd be remiss not to include that as an element of modern-day fashion.
"This is the first thing I've ever done where people have been texting me as they're watching."
You mentioned that Netflix sold you on the idea by mentioning that they were going to have a lot of seasoned designers, and there certainly were.
A.C.: Loads of them had been on Business of Fashion lists or studied at Central Saints Martins. For example, one of my best friends was a huge fan of MarcoMarco underwear. When I came back to England and explained who some of the contestants were, [my friend] was like, "You're f*cking kidding me. Marco Marco?" And I was like, "Wait, you know his stuff?" And he was like, "Yes! Those are the packages I make you bring me back from America!"
Let's talk about what happened in episode four with Kerby Jean-Raymond. Watching him walk off set, expressing discontent with the challenge results, was quite entertaining — albeit in a very unsettling way. What was going through your mind at that second?
A.C.: I don't know. I just was trying to listen and hear what he had to say, because obviously I hadn't had the same experience. I was just happy and impressed that he was being vocal about something he was unhappy about. That's why the episode really resolves the way it does. It's like, "Yeah, you're right. We can't make a decision about this. It's not fair." So that's why it becomes so emotional, especially for Tan when he comes out to tell them that we're going to keep everyone on for the next episode. At that point, we didn't really know what to do.
In the end, Minju wins the competition. What was it like for you, as a judge, to watch her journey?
A.C.: I was super proud of her. She runs this fashion line in Korea with her sister, and they have a really commercial, business mind. So it was fun for her to be able to just explore her creative realm on our show, and it really paid off. The more she leaned into doing whatever she wanted, the better her designs were getting. She's fantastic. I think it's towards the end of the episode, but she just says, "I'm just really proud of myself." I found that so moving because it's so not something I would ever say about myself. I was just like, "Oh God, brilliant." But honestly, if you told me on day one that that's who would win, I wouldn't have bet on that necessarily.
Are there any plans for a possible second season?
A.C.: I hope so. I'm going to have such an egg on my face. I keep saying that I wish they would do a second season, and now, if they don't, you'll know I'm disappointed. But it's in the hands of the Netflix overlords now. I think it's a great show. I've been doing TV since I was 22, but I don't think I've ever had friends of mine be like, "I love your show." This is the first thing I've ever done where people have been texting me as they're watching. They're like, "Oh my god. I need the inside scoop!" I just think it really captured the imagination and mood of the moment, which I'm really proud of. Wait, oh my god. I just said a Minju thing. I just said I was proud of it.
Your contestants' words are already rubbing off on you.
A.C.: Wow, this show is really working on me, guys!
This interview has been edited and condensed for clarity.
Next In Fashion is streaming on Netflix now.