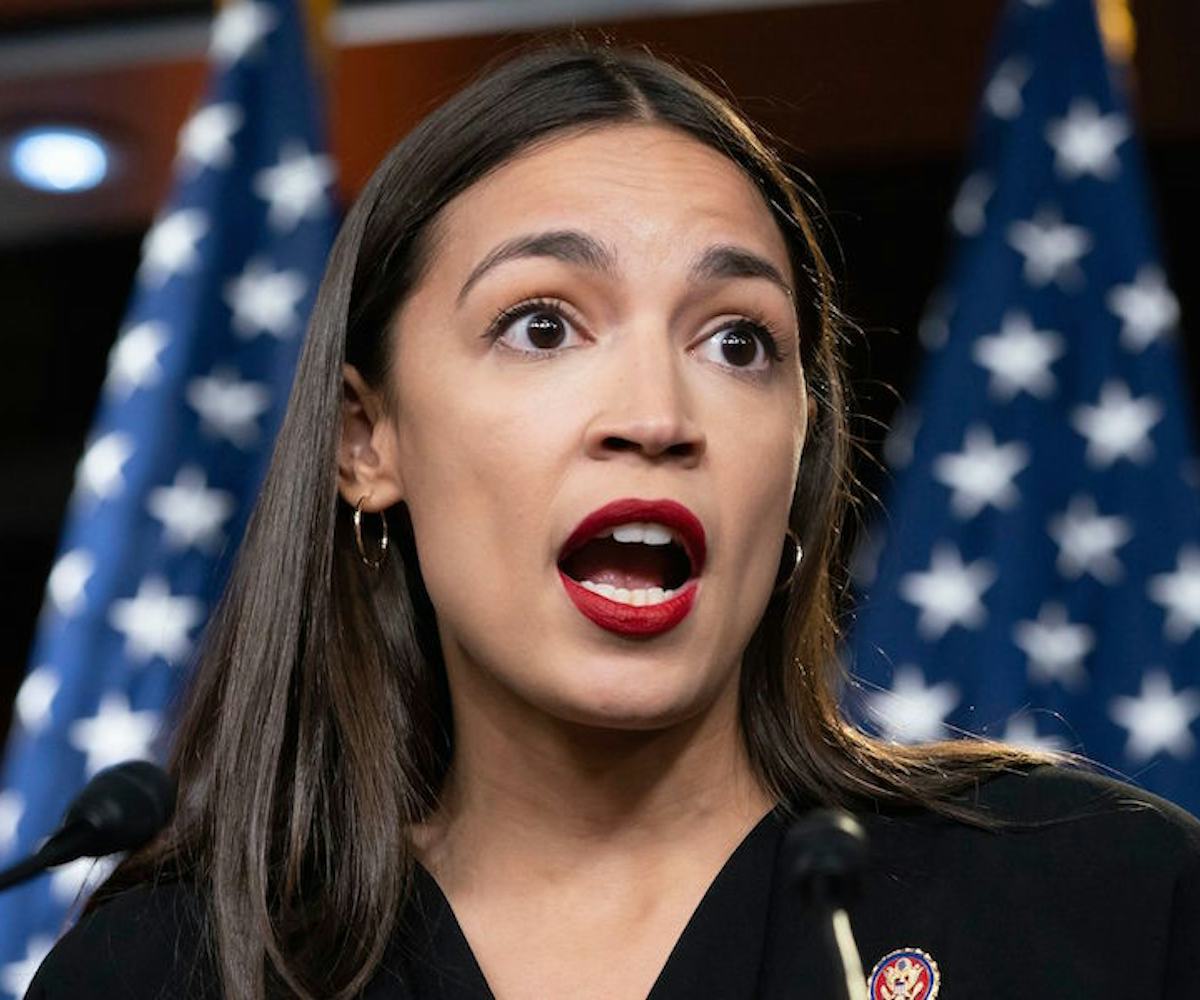 Photo by J Scott Applewhite/AP/Shutterstock
An Ad Showing AOC's Face On Fire Aired During The Democratic Debate
The congresswoman has since responded to the blatant attack
During last night's Democratic debate, the Republican New Faces PAC paid for an ad in which Alexandria Ocasio-Cortez's face is lit on fire. The ad also shows black-and-white images of skulls and features California Republican Elizabeth Heng, who lost a Congressional bid in 2018, talking about the plight of her father, who lived in Cambodia under "socialism."
"This is the face of socialism and ignorance," Heng narrates, while a photo of AOC is set on fire, and burns through only to reveal images from the Khmer Rouge genocide in Cambodia. Heng says: "Does Alexandria Ocasio-Cortez know the horror of socialism? My father was minutes from death in Cambodia before a forced marriage saved his life. That's socialism. Forced obedience. Starvation. Mine is a face of freedom. My skin is not white. I'm not outrageous, racist, or socialist. I'm a Republican."
AOC has responded to the situation on Twitter since the ad aired, writing, "Republicans are running TV ads setting pictures of me on fire to convince people they aren't racist. Life is weird!" She then added to her first response, pointing out that using a woman of color to speak following the image of her burning was just an ironic "pretense" for "the GOP's white supremacist case," and not actually an "ad for young conservatives of color" in any way.
Per Slate, Heng, who is also the person behind the PAC, is "a former staffer for Rep. Ed Royce, worked on Donald Trump's inaugural committee, and ran unsuccessfully in the 2018 election against Democratic incumbent Jim Costa in California's 16th Congressional district." Per The Cut, another ad shown that night was sponsored by an anti-immigration group whose president has ties to a white nationalist organization. Yet, the group Freedom For Religion Foundation—what The Cut describes as "a legal advocacy group that promotes separation of church and state"—says that the network declined to air its ads.
Many are now using the hashtag #BoycottABC to call out the network's biases, and for putting AOC in danger.