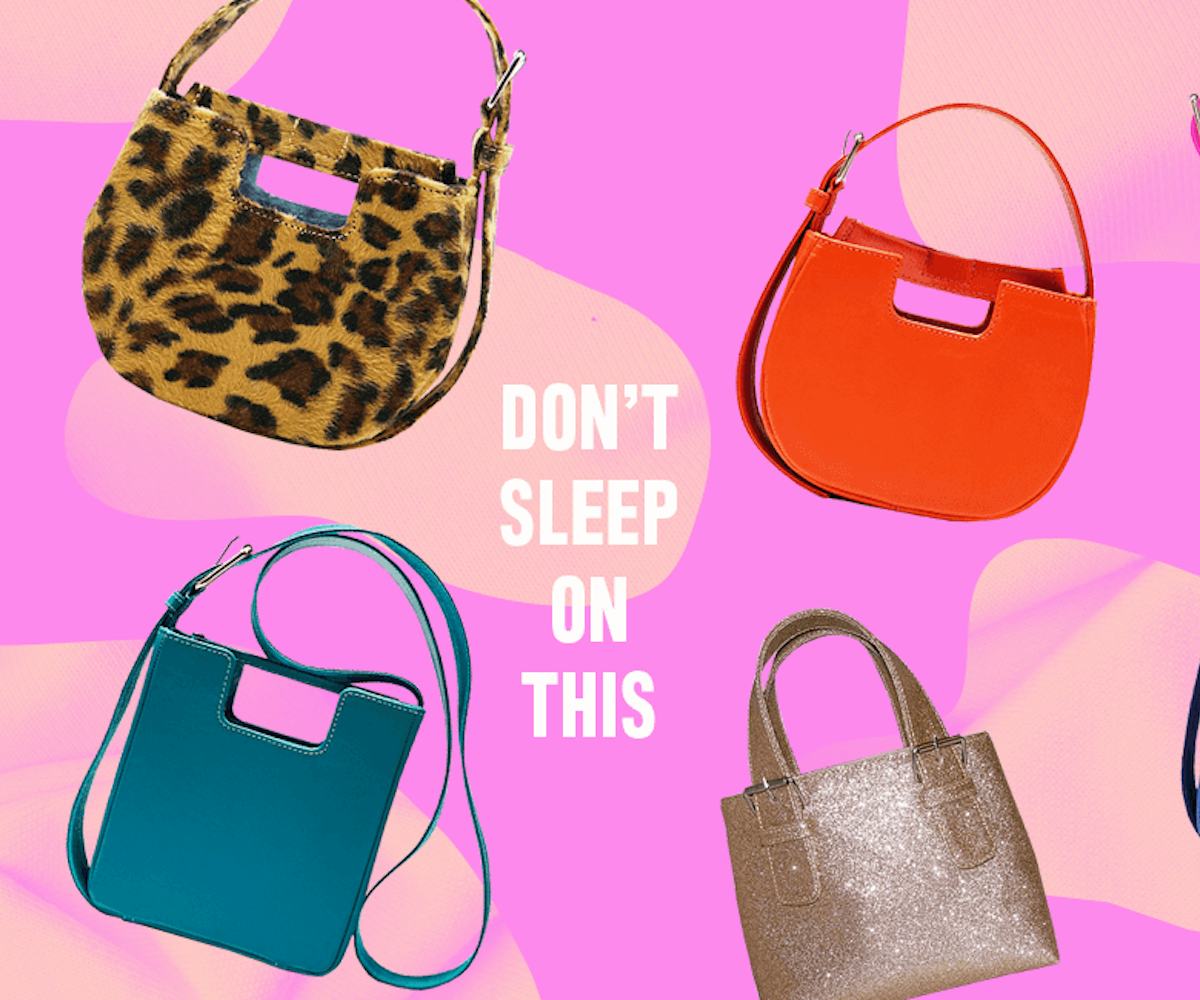 These Colorful, Poppy Handbags Are The New It Bags
Alfeya Valrina's bags were everywhere during Fashion Month
Friends don't let friends miss out on all the cool, under-the-radar things they know about, like which little-known beauty brand is low-key making the best highlighter around. And because we consider our readers to be like friends, we gather together all our best finds in our Don't Sleep On Thisseries. Check in every week to see what things we can't wait to share with you.
In our eyes, Fashion Month serves two purposes: one, to give us a peek into the next season's trends via the runway, and two, to show us what's hot right now, via the impeccable street style spotted outside of show venues.
Amidst the sea of stylish Fashion Month show-goers this season, in addition to one popular jacket, there was a very distinct trend seen in every city: poppy, candy-colored—sometimes hand-painted—mini bags, carried by the coolest of street style darlings. And all of them were the work of a fashion industry newcomer: Indonesian accessories designer Alfeya Valrina.
Alfeya Valrina got her start in fashion after moving to the U.S. to study at FIT in New York City and FIDM in Los Angeles. After graduating last year, the 24-year-old designer moved back to her home country and launched her namesake label—and it's taking off, fast.
The daughter of a fashion designer, she grew up obsessed with handbags. "When I was little, my mother used to travel a lot," she tells me. "She would bring home unique shapes of handbags that she found during her travels. I remember, as a child, going to school with a bright-colored backpack and lunchbox—that made me so happy." She went on to co-design a collection with her mother at the age of eight, modeling it with her friends at her birthday party.
While these childhood influences are apparent in Valrina's current collections, she didn't know that a line of her own would be in the cards. After a short stint in business school, she realized it was fashion that she wanted to study, "and the rest is history." Though she originally studied apparel design in college, she moved over to accessories after noticing the sculptural elements of her work. She also spent time working for Brooklyn-based jewelry designer Venessa Arizaga and even designed her own line while studying (which was once sold at NYLON's e-commerce store!).
Once she realized handbags were her calling, Alfeya Valrina, the label, was born. And the result? A colorful line of bags that, while minimalist in design, pack a serious punch. From hot pink leather to emerald green suede to plenty of neon PVC, Valrina's bags are for the girl that wants to be noticed.
However, there's more to admire about Valrina's bags than their style. Now that she's back based in her home country, she wanted to make sure that her brand was making a positive impact within her community. That's why she employs local artisans in Jakarta to create her handmade bags, not only providing jobs but also employing fair labor practices. She also makes sure her materials are both ethically sourced and local. She strives to keep her bags in an accessible price range. The majority of styles range from $200 to $250, with a handful of pieces available between $75 and $150.
Valrina plans to keep her focus on handbags but wants to hone her sustainable practices and source more conscious materials and packaging. She also hopes her business grows enough to allow her to work with artisans based in different parts of Indonesia. As she studied footwear design at FIT, she also hopes to, one day, expand into the footwear category (and, um, we're really excited for that).
Alfeya Valrina is currently carried at Theory of Gala and Sincerely, Tommy in New York City and Journal Standard Japan and Cityshop Tokyo in Japan—and soon, we're sure, many more boutiques. In the meantime, you can shop her full collection at AlfeyaValrina.com.