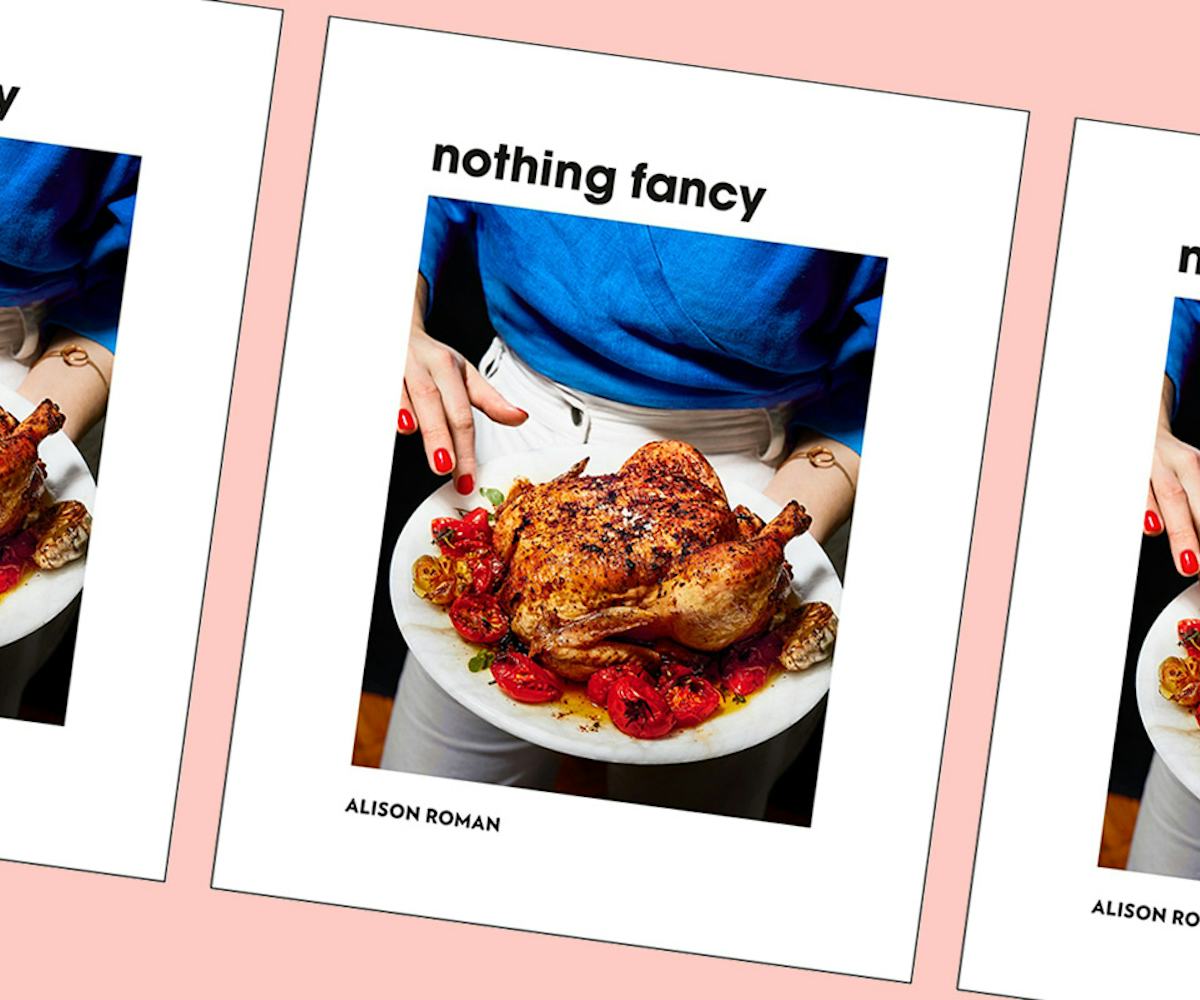 Photo Courtesy of Clarkson Potter
Alison Roman's New Book Sings The Praises Of "Unfussy" Food
The creator of #The Cookies and #TheStew drops 'Nothing Fancy' on Tuesday
It's surprising to hear Alison Roman, the creator of recipes that have gone viral to become simply known as "The Cookies" and "The Stew," say that she's "allergic" to the word "entertainment." Since the release of her popular first cookbook, Dining In, the New York Times and Bon Appetitcolumnist has been the subject of countless interviews and cooking videos in which she promises that even the most (at first glance) involved recipes, like a whole fish, are easy to pull off and serve to a table that's always full of friends.
Yet, in the introduction of Roman's new cookbook, Nothing Fancy, she makes one thing clear from the start: "This is not a book about entertaining." She explains that the word, to her, "implies there's a show, something performative at best and inauthentic at worst. But having people over? Well, that's just making dinner, but you know, with more people." Instead of dishing out hosting tips, Nothing Fancy encourages its readers to express love by feeding a whole roast chicken to the people they care about, rather than set ambient lighting or make a complicated dish that will take half a day to prepare.
When I speak with Roman on the phone, she doubles down on how the word "entertaining" puts an unnecessary pressure on people: to have the perfect meal in a perfect apartment with the perfect setting. By releasing Nothing Fancy, she hopes to remind readers that hosting is supposed to be fun, with "unfussy food, unfussy vibes and the permission to be imperfect, no occasion necessary."
Nothing Fancy is broken down by snacks (not to be confused with hors d'oeuvres or canapés) — "snacks are breezy, snacks are fun. Snacks are a delicious diversion, a class of foods to mitigate the stress of realizing at 7:30 your dinner won't be ready for another two hours" — salads, sides, mains, and after dinner sections. Roman weaves the chapters together with asides, expressing her unabashed love for sardines ("Sardines get such a bad reputation for being fishy and fatty, but that's exactly why I love them"), and demanding more respect for side dishes with a love letter to broccoli ("I prefer it blanched or steamed—even more so when it gets assaulted with an insane amount of fresh lemon juice, drizzled with a good amount of olive oil, and sprinkled with crunchy, flaky sea salt"). She also lays out some "unpopular" opinions — "Crispy-skinned chicken is a myth and a lie. Even when remotely crispy out of the oven, it will soften and deflate the second you slice into it" — sentiments that regular fans of Roman's columns and first book are familiar with.
"I feel like Dining In had you thinking about eating inside just for yourself, and getting into the kitchen, to begin with. Nothing Fancy is definitely more encouraging to invite people into your home and have them over and cook for people," Roman explains. "Recipe-wise, it's very familiar if you like Dining In, because my style of food is pretty much the same. In that, I love vegetables and really crunchy textures and lots of acidity, so, for me, it's more of a conceptual evolution."
From a slow-roasted chicken that Roman credits for inspiring Nothing Fancy to tiny, salty, chocolaty cookies, there are plenty of Instagram-worthy recipes that could easily become the next #Thing. When asked about her guess as to what recipe will go viral next, Roman denies knowing what will make a dish a social media phenomenon: "I don't know what the secret is!" While Roman herself doesn't speculate on the reason why — or feel any pressure for her next recipe to skyrocket to fame — there are rudimentary reasons why her recipes are adored by so many. Chief among them, they're approachable and delicious, striking the balance between unexpected and comforting; they allow all to delight in a piping hot bowl of chickpea-coconut milk stew or salty-sweet cookie no matter the level of cooking skill, even if it does occasionally mean messing up the former because you used low-fat coconut milk, or the latter because you're unable to beat the butter and sugar into a "fluffy" consistency after you decided to forego using an electric mixer (don't do it!).
This, then, is the thesis of Nothing Fancy: "It is not about living an aspirational life; it's about living an attainable one... It's the life we live, it's messy as hell, it's nothing fancy." In fact, she insists that most things rarely go according to plan when hosting, whether that means running out food before everyone gets in or not having enough chairs to sit on. "Accepting that things won't always go how I want them to when having people over is essential to enjoying what this is all about, anyway — having people over," Roman concludes. "So my advice to anyone asking for tips on how to deal with all this: be kind to yourself, manage expectations, and remember that this is supposed to be fun."
As for when you burn that chicken? According to Roman, order pizza — and maybe Instagram it. But, more importantly, tag your friends.
Nothing Fancy is available for purchase here.
NYLON uses affiliate links and may earn a commission if you purchase something through those links, but every product chosen is selected independently.