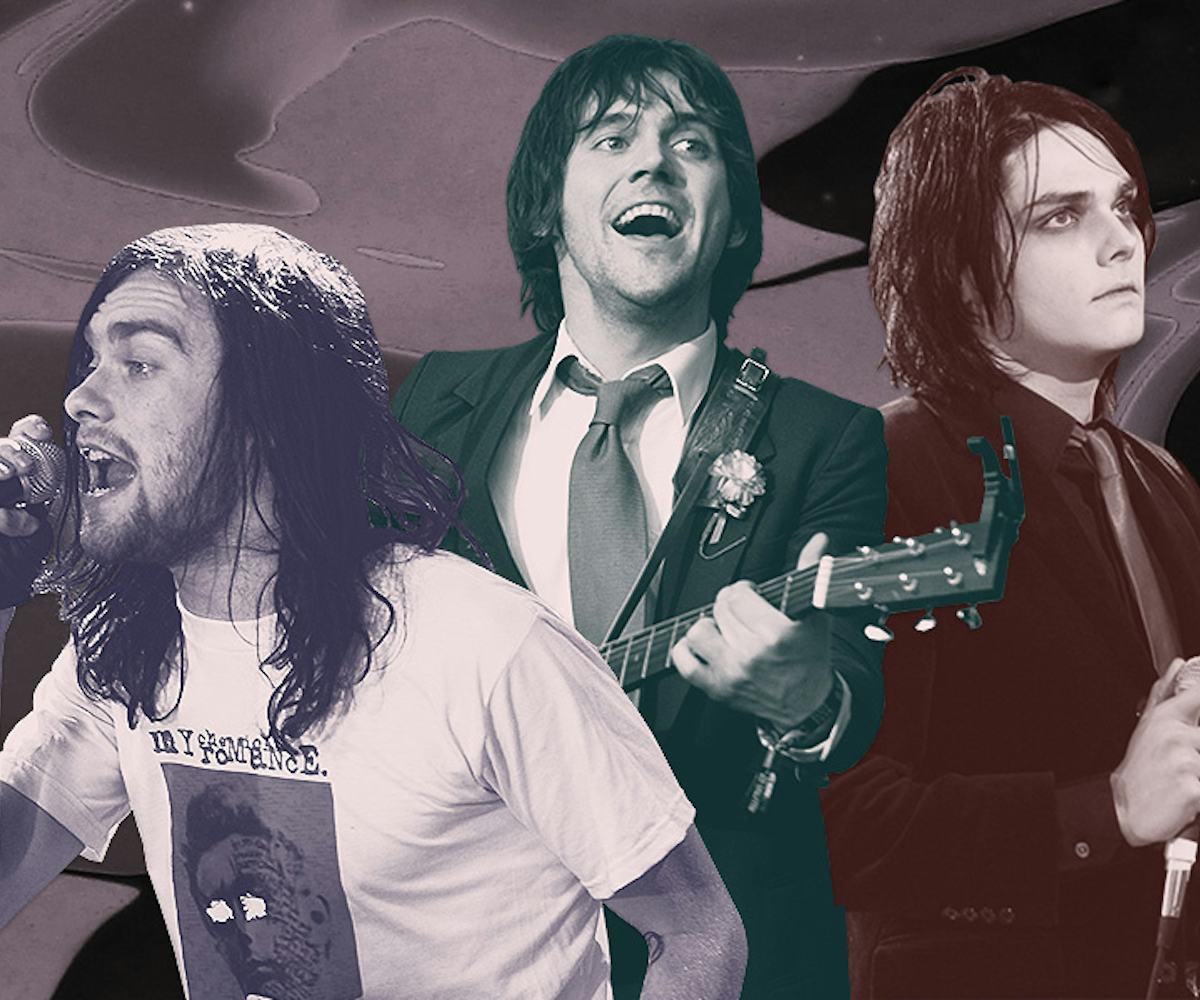 Getty Images
All The Bands That Have Reunited In 2020
We're back in the 2000s, baby!
Emo and pop-punk are not yet dead, and all the emo and pop-punk bands that were so beloved in the early aughts want you to know it. It seems like in the past couple of months nearly every single act from those genres — from My Chemical Romance to Rage Against The Machine — have risen from the proverbial grave to announce reunion tours and new music. Okay — not every band, but it feels damn near close to it.
The resurrections — most of which bloomed from cryptic Tweets and Instagram posts — have been met with exuberance and high demand. Bright Eyes's forthcoming shows immediately sold out, while My Chemical Romance reunion tour tickets came with price tags that set fans back hundreds of dollars. Other acts, like The Pussycat Dolls, have emerged from the ether of yesteryear with a bang, dropping a sizzling, choreo-heavy song and music video essentially out of nowhere to rapturous approval. (PCD may not fall in the emo, nu-metal wave, but who doesn't remember having "Don't Cha" sandwiched in-between replays of "Welcome To The Black Parade" on their iPods?)
While Nu-metal rockers Deftones and emo outfit The Used are promising new music in 2020, not all reunion tours are on the same path. The Decemberists are using their 20th anniversary tour to focus on fan-favorite hits as well as lesser-known deep cuts, while pop duo The Format is staying tight-lipped about the prospect of new releases.
Below, find some of the biggest reunions of the year so far. And since we're only two months into 2020, who knows what other surprise tours are on the horizon.
Bright Eyes
Patron saint of all sad boys and girls Conor Oberst is back to indoctrinate a new generation. After a few weeks of being cryptic online, Oberst announced that Bright Eyes signed to indie record label Dead Oceans for their next album, and would be heading on tour starting March 2020. Don't forget to grab some tissues!
My Chemical Romance
For a band that existed before everyone was truly logged on, My Chemical Romance really knows how to send the internet into a frenzy. After surprise a reunion announcement in the fall of 2019 followed by a sold-out comeback show at The Shrine Expo Hall in Los Angeles, the band has officially announced plans to take The Black Parade across the U.S., U.K., and Europe starting in September 2020. If you weren't one of the many who managed to snag a ticket, you just might be out of luck — every show has been sold out. So long, and goodnight!
The Used
Emo outfit The Used are taking the nostalgia-core revivals to a new level with not only a tour, but a whole new record. The band is releasing their eighth studio album, Heartwork, on April 24, and started things off with the single "Paradise Lost, A Poem by John Milton." The Used is currently on tour, and will head to the U.K. and Europe this spring.
The Decemberists
Sad indie bands love to make you face your mortality, and The Decemberists are doing it their way by announcing a 20th anniversary tour. Titled "20 Years Before The Mast," the U.S. tour kicks off this July and will be supported by Fruit Bats. The Decemberists frontman Colin Meloy likened the tour to "some kind of party" that would leave fans pleased. "We're heading out on the road to celebrate the work we've made over the last two decades — playing the hits, naturally, but digging into the deep cuts as well," he said in a statement.
Girl Talk
In a random act of early-aughts revival magic, Girl Talk is heading on tour. The Philadelphia-based mashup DJ will travel across the The U.S. and Canada this April through June. Bring your day-glo gear.
Rage Against The Machine
After a nine-year hiatus, Rage Against The Machine is back in the game. Beyond their headlining slots at festivals like Coachella and Reading and Leeds, the nu-metal outfit has mapped out a reunion tour that spans North America, the U.K., and Europe.
The Format
Pop outfit The Format hadn't played a gig since 2007, but that changed when Sam Means and singer Nate Ruess (of fun. fame) put on a surprise show in Arizona on February 2. And since there's no such thing as a surprise show in today's music landscape, fans were correct in speculating that a reunion was in the works. The Format will hit the road for a tight, five-show tour this March in NYC. The band has been quiet as to whether they'll be playing new music, but that can all change with one mysterious tweet or Instagram post.
Deftones
Nu-metal rockers Deftones have been casually recording a new record over the past few years, and with a tour set in stone for spring, it's likely new music will come with it. "It's been a cool process," said frontman Chino Moreno to NBC 7 San Diego last fall. "We get together, we work for a couple of weeks, whether that's just making noise and coming up with ideas, and then everybody just goes home and comes back to work on them a little bit more." Not only will Deftones take their act across North America this summer, but they'll be doing it with Poppy — the A.I. cyborg-meets-pop star project of Moriah Rose Pereira — as an opening act.
Motion City Soundtrack
Sadly, the beloved Motion City Soundtrack just wrapped up their Don't Call It a Comeback tour, their first in four years, on Tuesday in Minneapolis, but you can still have the opportunity to see them live come May if you attend the Slam Dunk festival in the U.K. Other than that, there's not much else confirmed for the group in the near future, but that could easily change. In a December 2019 interview with AltPress they did respond to a question addressing future music with, "you never know what might happen."
The Pussycat Dolls
You thought this entire list would be broken, emo music? Wrong! The reunion wave extends to the pop sector, where The Pussycat Dolls recently dropped their first new single in over a decade. "React" revives the sultry pop that led The Pussycat Dolls to stardom and also features an equally hypnotizing music video. It's clearly also proof that time is a flat circle.