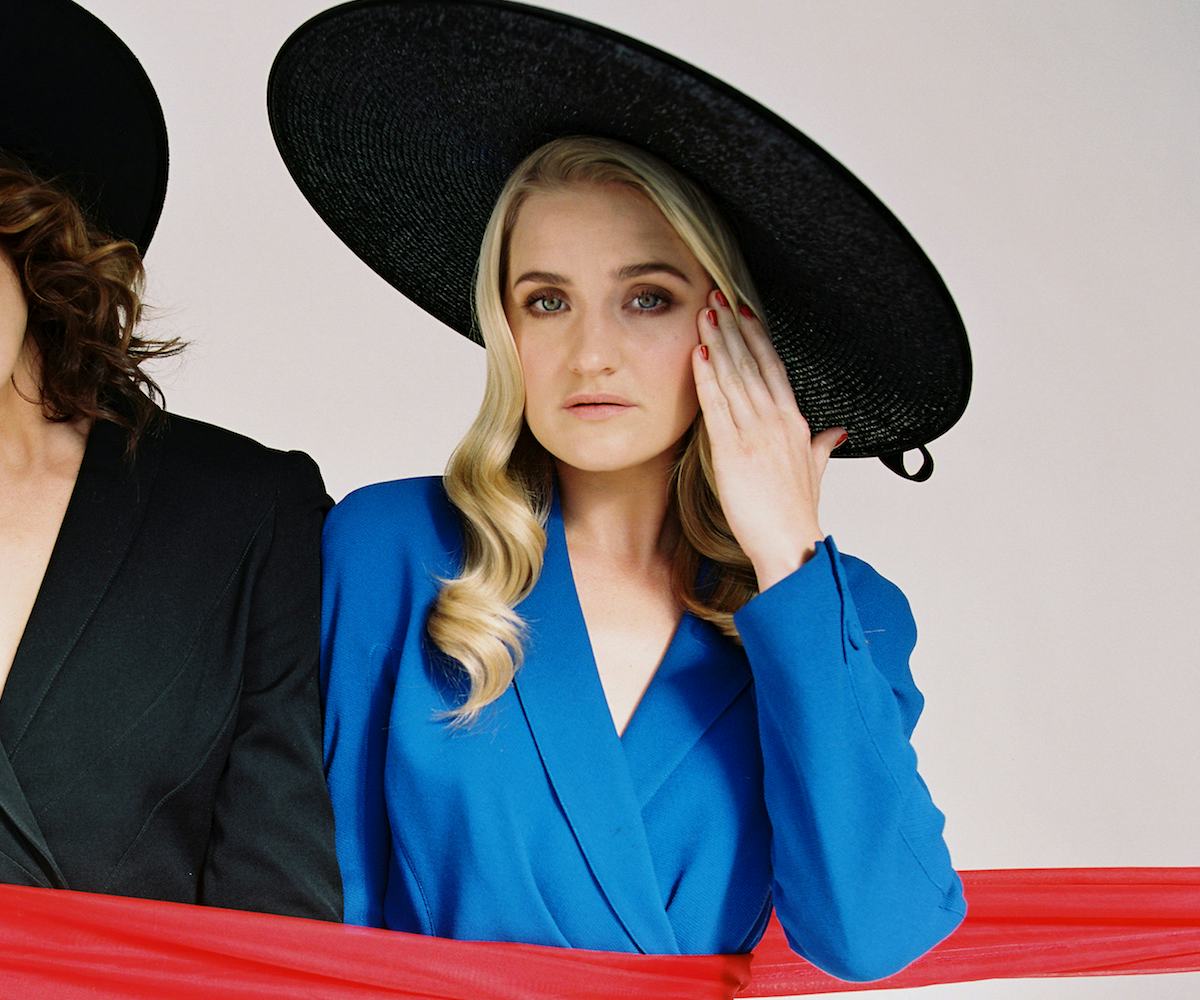 Photo by Parker Woods
Aly & AJ Don't Mind Being The Underdogs
The duo's best competition is themselves
Just a handful of days before their sold-out show at Irving Plaza, sisters Aly and AJ Michalka, who make up the duo Aly & AJ, sat down to discuss their recent Sanctuary EP, and the long journey that has taken them to this latest stage of their career. Aly & AJ's debut album came out 14 years ago, when they were only 16 and 14 years old, respectively. There are difficulties inherent to being in the public eye at such a young age, but the sisters are grateful that they've had the experience they did. As AJ told me, "You can look back and go, Well, that wasn't my best, but I'm able to do better now." This doesn't mean that they disown their prior work. "I love the music we released as kids," AJ said. "Some of it, I'm like, I'm glad that got out of our system."
In the mid-'00s, Disney stars ruled a certain branch of pop culture—including pop music. It was in the midst of Aly's time on Disney series Phil of the Future, that the two dropped their debut album Into the Rush in summer of 2005; and they'd later both join the canon of Disney Channel original movies with their roles in Cow Belles. But for every Jonas brother or Miley Cyrus or Selena Gomez who transitioned from Disney actor to pop star, there were others who never made it past a hit single or two. Aly & AJ were really aware of this, which is why they always wanted to maintain strict control over the creative process, for a catalogue and career trajectory that was entirely theirs—whatever the outcome.
"When we were younger, we were much more precious with our lyrics and melody choices," Aly said. "We were very overprotective because we wanted to be known as writers that were not just little kids… [and] be known as a legitimate act." Though they did have some much-loved hits, Aly noted to me, "We didn't really have the success that a lot of other people had [at Disney]. I think that was the timing, who we were, and the fact that we didn't just agree to do everything."
"We were very overprotective because we wanted to be known as writers that were not just little kids."
This artistic decision allowed them to forge their own path, and make it clear that they—and their sound—have evolved. This means that, while their longtime fans will still find plenty to love in their new work, nostalgia isn't the only draw to their music. Last year's aptly titled Ten Years EP is a great stand-alone album, and their latest Sanctuary EP is even better.
AJ explained that they have a complicated relationship with the idea of being a nostalgia act, telling me: "I feel like this [comeback] is specifically really special, and I think a lot of fans would agree with that." Aly added, "There are good versions of comebacks and bad and sad versions of comebacks. So we wanted to have a comeback that made sense; that didn't feel like we were doing it because we had missed the spotlight or anything."
But even if they didn't miss it, they are definitely back in it, and making the most out of it. "Even though we'd given people Ten Years, we kind of had to come out with another EP right after," AJ said. "But I do think Sanctuary has stronger songs on it, which is our goal: to improve on what we've done every time."
They've also worked to improve their concert experience, making it cohesive with their current work. That's why their track "Church" doesn't just open the Sanctuary EP, it opens the entire tour, each and every night. With the opening line, "I do bad things for the sake of good times," whatever venue in which they're performing is transformed into the House of Aly & AJ—a safe space built on synths and strobes and dancing. As AJ told me, "It sets the bar high."
And, as Aly explained about the song, "Really, what it came down to was focusing on a theme that didn't necessarily have to do with the actual idea of church, but whatever church means to someone... It's saying, I need a little peace, I need a little rest... the thing that grounds you."
"We also know that our fans feel that way about our music," Aly added. "They feel like they are in a safe place and can be free, and be themselves, not worry about the other things going on in their life for an hour and a half."
There's a little bit of pressure in maintaining that kind of community, but it's a challenge the sisters gladly take on. After all, it's their fans who push them to become better and better, making old and new material feel like club-ready bangers as they turn each venue into a sweaty, glittery dance floor each night. They see Aly & AJ's potential as pop underdogs, and the sisters kind of love it.
"There's something really great about flying under the radar for a really long time," AJ said. "Because, when you're above the radar really quickly, you fizzle out fast. As long as we soar and keep elevating as much as we can, we're good."
"But," she added, laughing: "I would take a cannonball moment."