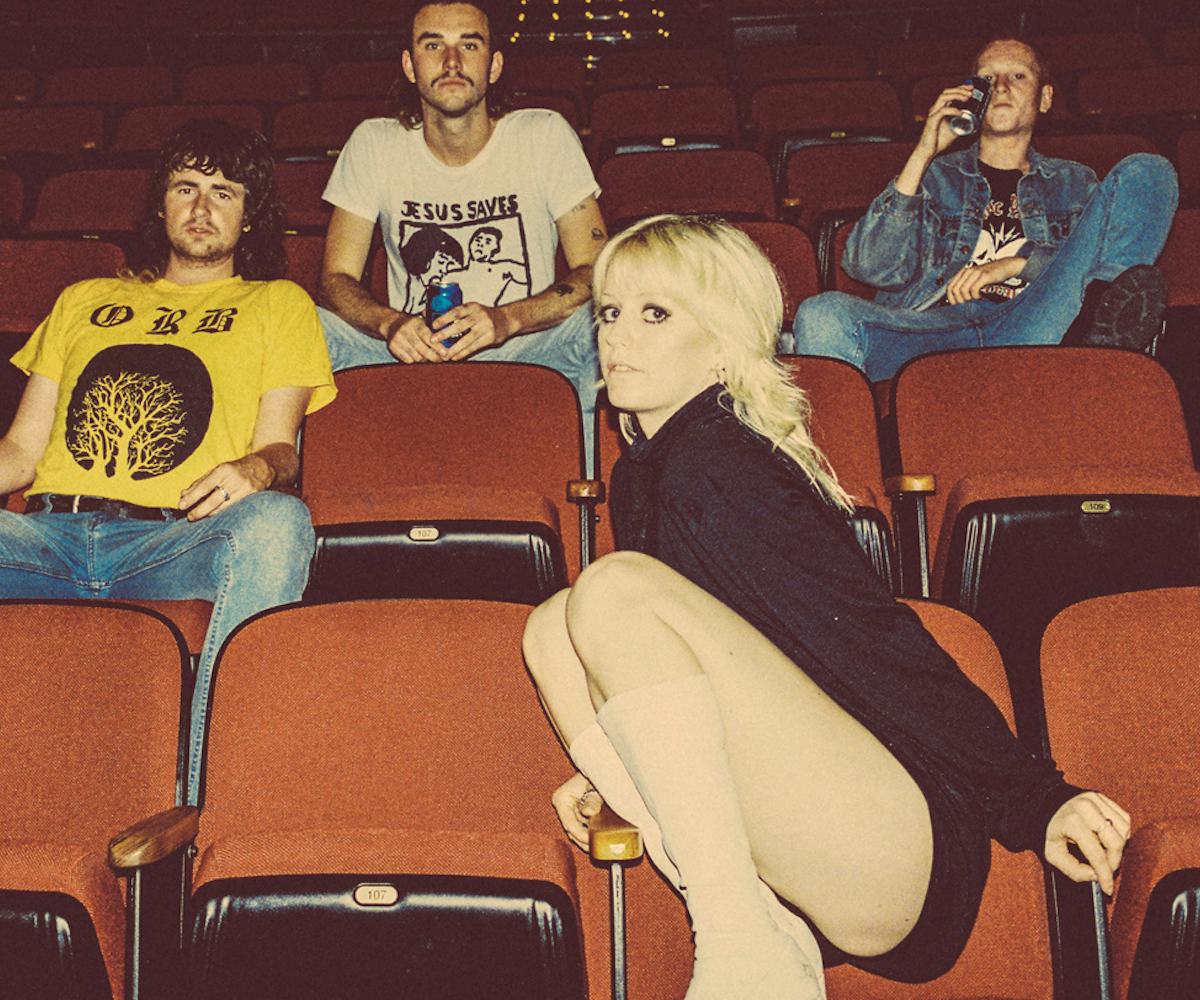 Photo by Jamie Wdziekonski
Amyl And The Sniffers Will Have The Last Laugh
The Australian band premieres the video for "I'm Not A Loser" with NYLON
In case you didn't get it, Amyl & the Sniffers' name is a joke about poppers, the recreational inhalants that produce a euphoric rush generally lasting only a few minutes. It should come as no surprise, then, that the band's early output seems to be defined by raw impulsivity.
The songs on their first EP, 2016's Giddy Up, came together at a rapid-fire speed. "We just, like, wrote them, recorded them, thought of a band name, mixed it that night, made an EP cover, and then just put it on Bandcamp the next day," says vocalist Amy Taylor. "I guess what we do isn't the most technical or crazy stuff. I kind of think, the more you think, the less you know, because once you start thinking about it too much, you lose a lot of the original energy," she says. From there, the band continued writing songs to fill out their setlist so they could perform. "Mainly it was just because we wanted to play live shows and just go to parties and make music and hang out," says Taylor.
Though the band's genesis was somewhat haphazard, Taylor denies the oft-repeated claim surrounding the band that they started as a joke. "Somewhere I said, 'When we started, we were taking the piss a little bit,' and I think that got misinterpreted. When I said 'taking the piss,' I mean like, we're not taking it too seriously," she says. "If we started as a joke, it'd just be, like, comedy. Maybe it is comedy to some people, and that's fine too, but we're definitely not a joke band."
The Australian punk band's debut garnered international attention, and after playing a string of gigs and festival slots, the band signed to ATO Records earlier this year. Their forthcoming LP, Taylor tells me, is coming together at a more deliberate pace due to the band's hectic schedule. The band has found an energetic match in New York-based band Surfbort, and are embarking on a joint Australian tour with them this December. "Me and Dani [Miller] are kind of like crazy parallel universe versions of each other, so we always have lots of fun," says Taylor.
Taylor herself is the heir apparent to a rich tradition of bawdy blonde frontwomen. It's difficult to find a profile of her or the band that doesn't draw comparisons between her and the lineage of platinum firebrands—even Dolly Parton, whom she calls her hero. ("She's so funny and sweet and smart and tough!") Taylor's matter-of-fact delivery of "Wherever you go, I'm gonna get you," on "Mandalay" smacks of a more ennui-ridden Debbie Harry, her lurid lyrics and snarling vocals reminiscent of Courtney Love. Even her shag haircut is referential enough to garner countless parallels between various '70s chanteuses, including Cherie Currie, for whom the band once opened for in their hometown, Melbourne.
Banking on elements of nostalgia can be a dangerous game for contemporary artists, but despite their pastiche of influences, or perhaps because of it, Amyl and the Sniffers have managed to successfully sidestep triteness. Maybe it's the irreverence with which Taylor approaches their lyrical subject matter. Odes to blowjobs, junk food, and making rent populate the band's discography. Taylor's penchant for injecting the mundane with a healthy dose of vulgarity stems from her own experience working shitty jobs. "Even though I'm pretty young, I've been working since I was 14 at different jobs, and all of them have been pretty mind-numbing," she says. "I feel like it's really unhealthy to just be in your head all day. I was trying to write lyrics instead of just thinking about all the shit you could go deep into, and go crazy." On "Cup of Destiny," a single released earlier this year, Taylor foreshadows her triumph over that humdrum existence: "I drank from the right glass/ I'm takin' the right path/ But it is testing me/ I'll have the last laugh/ Down at the work task/ They'll get the best of me."
Their most recent single, "Some Mutts (Can't Be Muzzled)" derives its title from a play fight between Taylor and two brothers she's friends with. "I told one of the brothers, 'Put your dog on a leash,' because he was talking shit, and then the younger brother was like, 'Some mutts can't be muzzled,' and it just kind of stuck with me. Some people just can't be told to shut up," she says. The track's lyrics are brusque and heavy on the repetition, with Taylor spitting: "You got a new dog, do you remember me?/ She walks around on my old lead." It is, as she tells me, about being a "crazy bitch" who gets dumped for someone tamer. There's something oddly refreshing about Taylor's ability to revel in such flagrant un-chillness. "I don't really think before I speak, so it's like, it just goes straight from my brain to my mouth," she says. "It doesn't always work in my favor, but it's like, oh well, that's who I am."
The band recently filmed the video for their latest single, "I'm Not A Loser," a tongue-in-cheek musing on the simple pleasures: Scraping by, getting sloshed, and falling asleep in the gutter. The video features a live rendition of the song, which sounds extra defiant alongside Taylor's wild stage presence. Check it out, below.