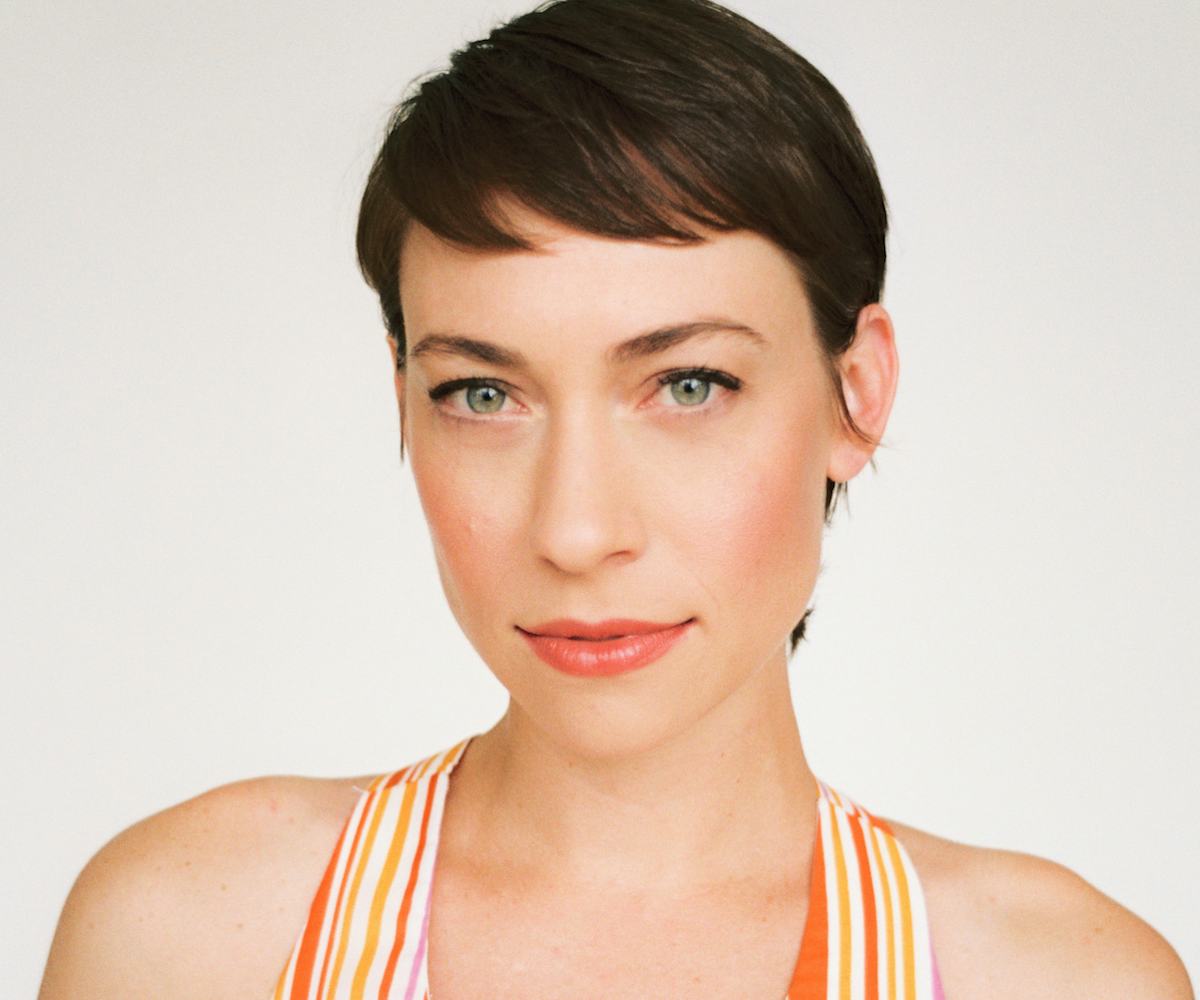 Photo by Alexa Viscius
Premiere: Anna Burch Is Left At The Altar In Her Dreamy "Party's Over" Music Video
Her groom may be missing, but there's a green-faced monster keeping a watchful eye nearby
Just two years after her debut Quit the Curse introduced us to her lackadaisical, warm guitar-driven pop, Anna Burch's sophomore album If You're Dreamingpivots into deeper poetic lyricism and darker metaphors, all strung together with the same lush vocals. Upon the release of her latest single "Party's Over" on Tuesday, she premieres the music video exclusively via NYLON.
The song itself is an anthem for the emotionally exhausted. Like a mantra, she breezily repeats, "I'm so tired" over a 12-string guitar, which lends a certain '60s sound that she translated straight into the accompanying visuals. "It's kind of strange but I already started envisioning the video as we were listening to the playback during recording," Burch told NYLON over e-mail. "I was originally picturing a runaway bride scenario, but I pivoted to runaway groom with the '60s sci-fi angle... A lot of my close friends and family have gotten engaged or married in the last year so weddings have been on the surface of my psyche as well."
In case the chorus' mantra wasn't enough to drive it home, Burch's album title If You're Dreaming is very literal. "I talk about sleep, or not being able to sleep, a lot throughout these songs," she said. "I wanted the title to have a hopeful connotation. I'm thankfully sleeping a lot better these days."
If You're Dreaming is available for pre-order here. Read a Q&A with Anna Burch and check out her upcoming tour dates below.
What was the inspiration behind the song?
I wrote Party's Over after a night out that didn't go my way. I used to live across the street from a wine bar that was sort of the nexus of my social scene in Detroit at the time. The summer was ending and I was ready to be in a committed relationship that made me feel secure. It's a song of exasperation and longing, and was one of the first I wrote for the new record. It feels closer lyrically to the songs on Quit the Curse, so there's a sense of continuity from where that record left off.
Take me back to where you were when you started writing this record. What drove you to write?
The writing process of the new record was much more drawn out than that of Quit the Curse. My life felt pretty chaotic, and I was trying to hang on to some thread of consistency. I went through a series of unfortunate and temporary housing situations that were spurred by getting robbed at gunpoint outside my house with my boyfriend. And then I toured a lot, playing about 130 shows in 2018. Once I got home from tour, we moved into a new apartment that finally felt like a home and I was able to make plans to record and finish writing the last few songs it needed. The record deals a lot with precarity and longing for stability, and I think and hope that there's a sense of resolution by the end of it.
What were/are you most excited to experiment with musically?
Playing keys! I wrote my first piano song for If You're Dreaming when I stayed in Berlin for a month between European tours — there was a piano in the flat I stayed at. I used to take lessons as a kid, but I switched to guitar in high school and didn't really look back until recently. My mom is an amazing piano player, so it's been a big part of my musical backdrop from an early age. I'm hoping to incorporate keys even more into the next batch of songs.
Looking back on the writing/recording process, what did you learn about yourself?
I'm still learning to hold on to the things that keep me steady. I'm a very fearful, worried person, and I still struggle with this often overwhelming sense of doom. But I'm learning to have hope and really appreciate the relationships I have in my life. I feel more deserving and capable of love than ever.
What do you hope fans take away from your new record?
I hope that these songs resonate with anyone who feels like their environment or existence is tenuous, and that they come away with a sense of calm and assuredness that there is peace to be found even when it seems impossible.
What's up next for you?
Getting to finally put these songs into the world and play them for people! I feel a bit lost when I'm not performing, so I'm excited to get back out there.
Anna Burch Tour Dates
3/14 – Cincinnati, OH @ MOTR Pub
3/15 – St. Louis, MO @ Blueberry Hill
3/16 – Fayetteville, AR @ George's Majestic Lounge
3/17-20 – Austin, TX @ SXSW
3/22 – Norman, OK @ Opolis
3/24 – Bloomington, IN @ The Bishop
4/03 – Detroit, MI @ UFO Factory #
4/04 – Toronto, ON @ The Baby G #
4/05 – Montreal, QC @ Casa Del Popolo #
4/07 – Boston, MA @ Great Scott #
4/08 – Philadelphia, PA @ Boot & Saddle #
4/10 – New York, NY @ Baby's All Right #
4/11 – Washington, DC @ Songbyrd #
4/13 – Atlanta, GA @ 529 Club #
4/14 – Nashville, TN @ DRKMTTR #
4/15 – Columbia, MO @ Cafe Berlin #
4/16 – Lawrence, KS @ White Schoolhouse #
4/17 – Omaha, NE @ Reverb Lounge #
4/18 – Denver, CO @ Hi-Dive #
4/20 – San Diego, CA @ The Casbah #
4/21 – Los Angeles, CA @ Bootleg Bar #
4/22 – San Francisco, CA @ Bottom of the Hill #
4/24 – Seattle, WA @ Sunset Tavern #
4/25 – Portland, OR @ Bunk Bar #
4/26 – Vancouver, BC @ Wise Hall #
4/30 – Minneapolis, MN @ 7th Street Entry #
5/01 – Madison, WI @ UW Madison – Terrace #
5/02 – Milwaukee, WI @ Company Brewing #
5/03 – Chicago, IL @ Sleeping Village #
5/06 – Bristol, UK @ The Louisiana
5/07 – Manchester, UK @ YES
5/08 – Dublin, Ireland @ The Sound House
5/09 – Belfast, UK @ Cathedral Quarter Festival
5/10 – Glasgow, UK @ The Hug & Pint
5/12 – Leeds, UK @ Brudenell Social Club
5/13 – London, UK @ Oslo
5/15 – Amsterdam, Netherlands @ Paradiso – Upstairs
5/16 – Paris, France @ Le Pop-Up du Label
5/17 – Groningen, Netherlands @ Vera
5/18 – Leffinge, Belgium @ De Zwerver
5/19 – Düsseldorf, Germany @ Kassette
5/20 – Hamburg, Germany @ Turmzimmer
5/21 – Berlin, Germany @ Privatclub
5/22 – Munich, Germany @ Heppel & Ettlich
5/23 – Freiburg, Germany @ Swamp
# w/ Long Beard