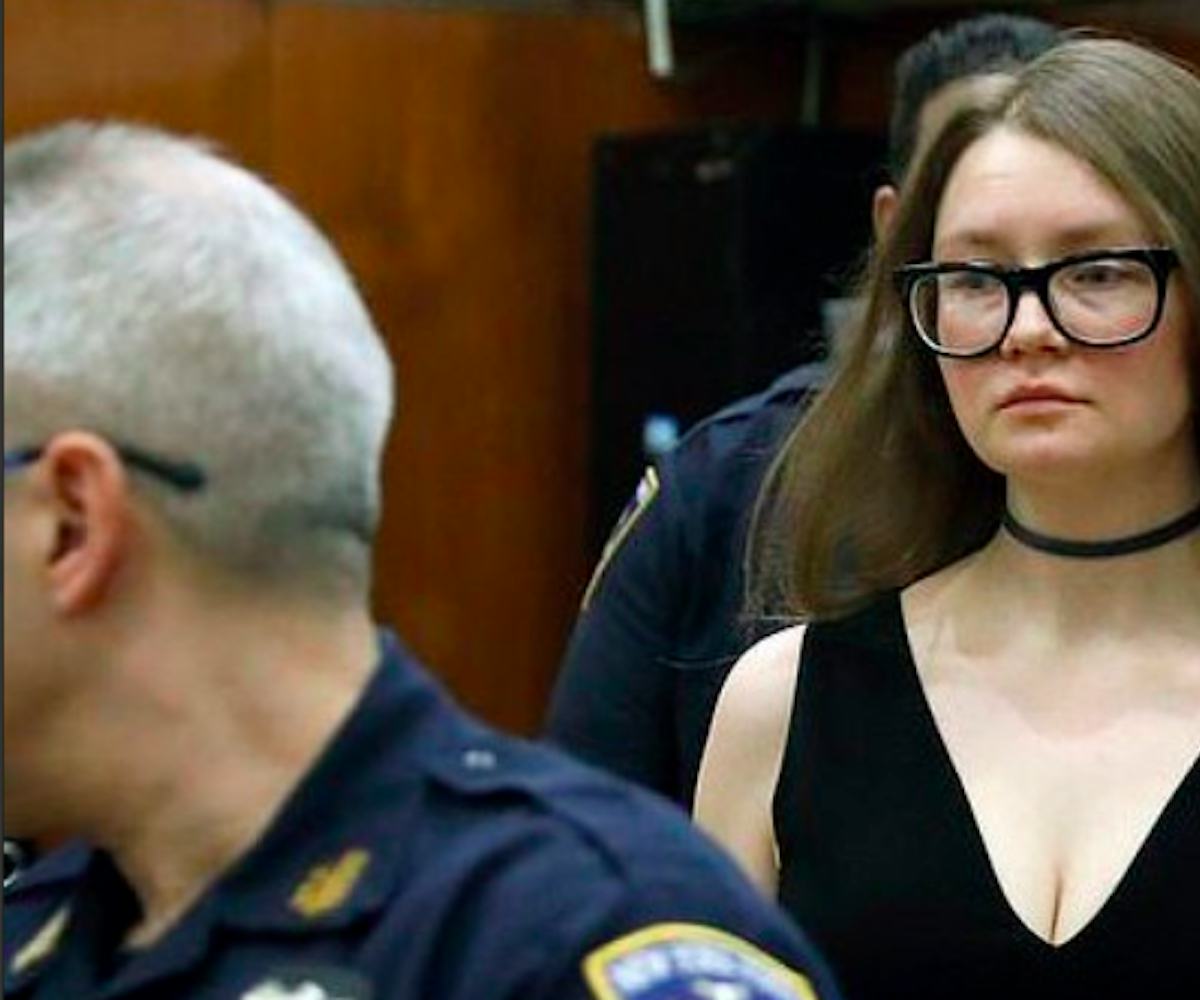 Photo via @LarzMarie Twitter
Anna Delvey Brought Peak Scammer Fashion To Court
UPDATE 3/29/2019 1:50pm: Apparently, Anna Delvey cares a little bit too much about maintaining her scammer fashionista status: She didn't show up to court on Friday morning because she wasn't satisfied with her outfit and refused to show up in the tan jumpsuit issued to her at Rikers Island. Her lawyer, Todd Spodek, said that "Her clothes are dirty and not pressed... She's dressed in sweatpants." Definitely not the style of someone who alleged she was an heiress.
Looks like Anna Delvey (real name Anna Sorokin) has not sacrificed her signature style during her stay at Rikers Island. During a court appearance this week, Delvey brought her scammer fashion to a court hearing.
Delvey, who is accused of scamming $275,000 out of friends, banks, and businesses by pretending that she was a German heiress, showed up to court on Wednesday afternoon in an all-black ensemble: glasses with thick frames, a sleeveless v-neck dress, and a thin choker to top it off. Honestly, it's a look—and one that may solidify the choker as the scammer accessory of the moment.
When I first saw it, I wondered where Delvey got her outfit from; she was known to wear brands like Balenciaga and Celine during her scamming heyday. But the New York Post reports that her lawyers picked up the entire ensemble from H&M, spending about $200 on pieces that "didn't scream 'inmate.'" Oh, how the mighty have fallen.
While we extensively researched how to achieve the looks spotted on scammers last year, which was definitely the year of the scammer, we're relieved to know that now all it takes is a quick trip to your neighborhood fast fashion retailer.