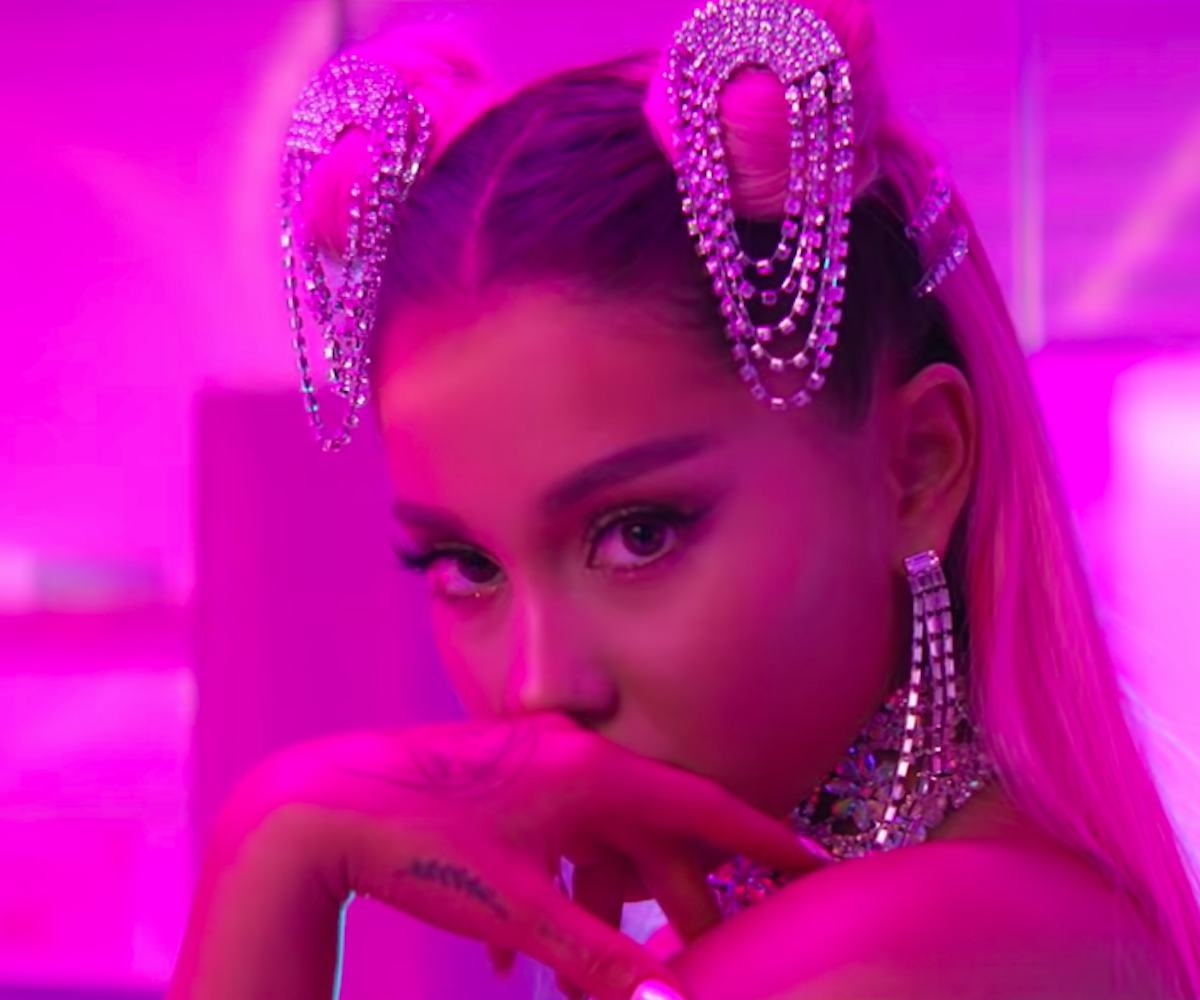 Screenshot via YouTube
Ariana Grande Is Suing Forever 21 For Allegedly Ripping Off "7 Rings" Looks
Her lawsuit claims that this goes against her right of publicity
Forever 21 didn't have the best summer, and fall is shaping up to be pretty bad, too. Just last week it was revealed that the retailer might be filing for bankruptcy, and now, Ariana Grande has filed a multimillion dollar lawsuit against the brand, alleging that Forever 21 attempted to dupe customers into thinking that she endorsed the brand with social media posts.
According to the New York Times, the lawsuit mostly revolves around posts to Forever 21's Instagram account after Grande's "7 Rings" video was released. Forever 21 posted screenshots of the music video, and used a "look-alike model" with Grande's signature ponytail and outfits similar to her "7 Rings" costumes in a campaign. In one Instagram post, the model wore bejeweled pink pom-poms in her hair similar to those Grande wore in the video, with a caption which used "7 Rings" lyrics: "Gee thanks, just bought it."
Another campaign photo has a model in pink camo pants with a white belt and pink stilettos with white socks, which is similar to another outfit from the video. Says the lawsuit, "The resemblance is uncanny and Forever 21's intent was clear: to suggest to the viewing public that Ms. Grande endorsed Forever 21, its products, and was affiliated with Forever 21." Grande herself noticed the posts on the brand's Instagram and contacted lawyers, and though the lawsuit claims that Forever 21 agreed to remove the unauthorized posts, they stayed on the page "until mid-April."
The lawsuit also points to Instagram posts which included photos of Grande and shots of her music video "Thank U, Next." The lawsuit maintains a violation of her right of publicity, and also alleges "false endorsement, trademark infringement, and copyright infringement." Grande also sued Forever 21's makeup brand Riley Rose for misusing "7 Rings" imagery.
After the "Thank U Next" single was released, Forever 21 was actually in talks with the singer's representatives about a social media endorsement deal, but it was ultimately declined because the brand wouldn't pay Grande enough. According to the lawsuit, an Instagram post from her costs "well into the six figures."
Forever 21 said in a statement on Tuesday that it has disputed the allegations. "We are hopeful that we will find a mutually agreeable resolution and can continue to work together in the future," it said.