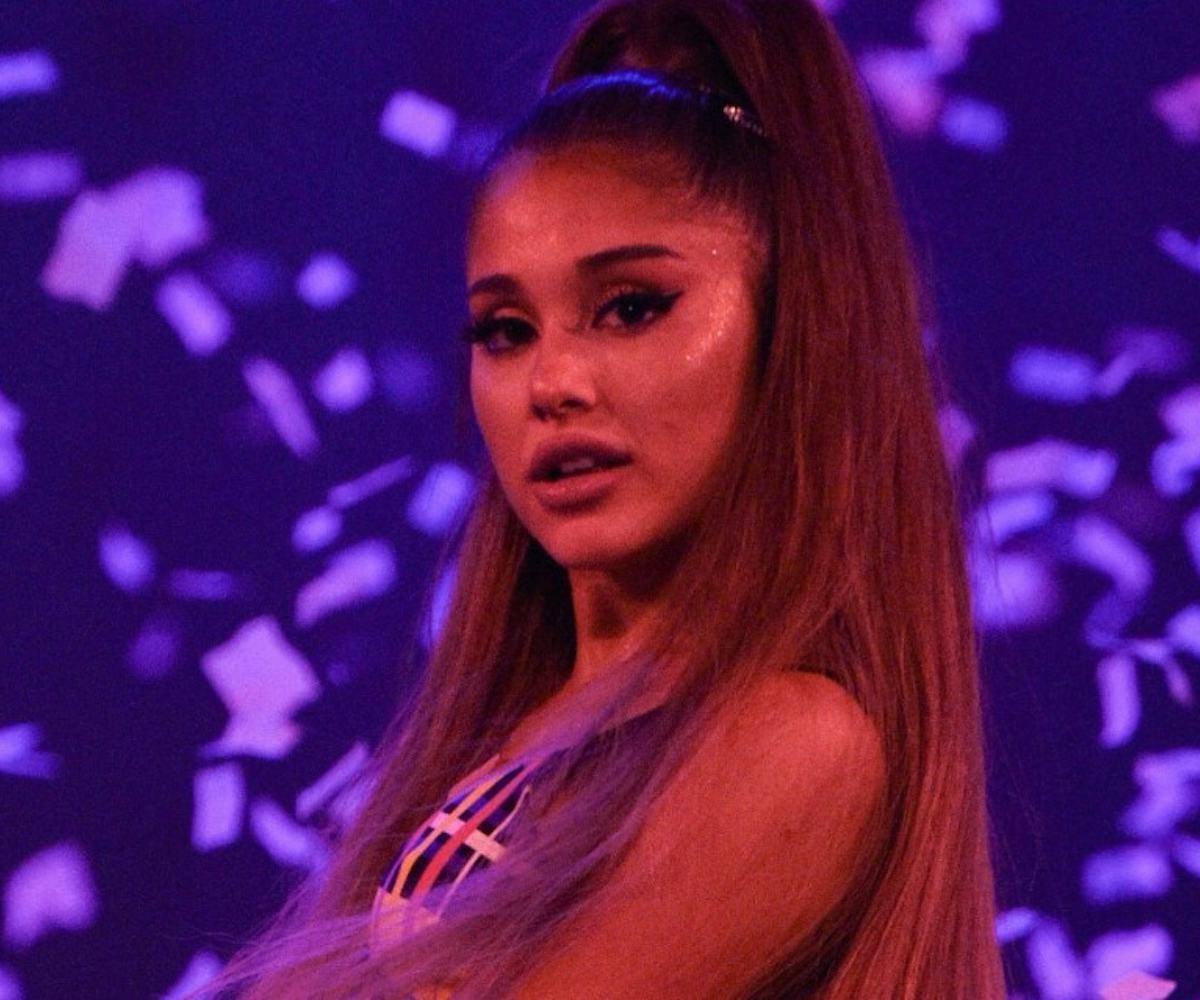 Photo by Kevin Mazur/Getty Images for AG
Ariana Grande Hasn't Been Wearing Her Signature Boots Anymore Because Of TikTok
Is this goodbye to an era?
If Party City were to ever sell an Ariana Grande costume for Halloween, the entire set would consist of an oversized hoodie and a pair of black thigh-high heeled boots. It wouldn't be a stretch to say that Grande's most recognizable characteristic following her inimitable vocals, and her long swishy pony, is that uniform. The memes about this have come and gone — remember that traumatizing video showing how Ariana Grande washes her hands — and now the discourse has settled at a strange place: with TikTok-ers uncannily impersonating the pop star, from her mannerisms all the way down to that specific look — and it seems like Grande has been paying attention.
On Wednesday, in response to fans lightly teasing her about her sweater-and-boots uniform, the pop star said in a series of tweets that she hasn't "even been able to put on a pair of fuckin boots lately because of the traumatic image i have in my head of these uh .... tik tok 'performers'."
Does this mean that Grande's very well documented thigh-high boot obsession is now over?! If so, pour one out for the iconic form-fitting, sometimes-suede-looking and sometimes-leather but always precariously high-heeled, thigh-high boots. They had a good run gracing stadiums all over the world for the last decade.
Grande later added that she doesn't like having her photo taken, and that she "escape[s] the paparazzi almost every time," which might explain why we only ever see a small slice of her wardrobe. But there's still something melancholy about the prospect of Grande finally relegating her boots to the back of the closet. On the other hand, though, it would be nice to see Grande in a different type of shoe like, maybe, a nice clog?
Elsewhere in the Twitter thread, a fan asked Grande if she could do her make-up, to which she responded: "not this plug you just called me frito toes ten minutes ago," which might come off as a pretty savage exchange but ultimately, it's all love. "thank you for your constructive criticism (not sarcastic)," Grande later tweeted. A level-headed response that only makes us stan harder.
Grande has previously commented on her most famous impersonator on TikTok, Paige Niemann, who does such a spot on impression of Ari that it's almost uncomfortable. "i am sure she is the sweetest sweet sweetheart forreal !!" Grande wrote of Niemann's videos in a tweet last November, "but it's definitley [sic] bizarre." See Grande's most recent fan exchange below.