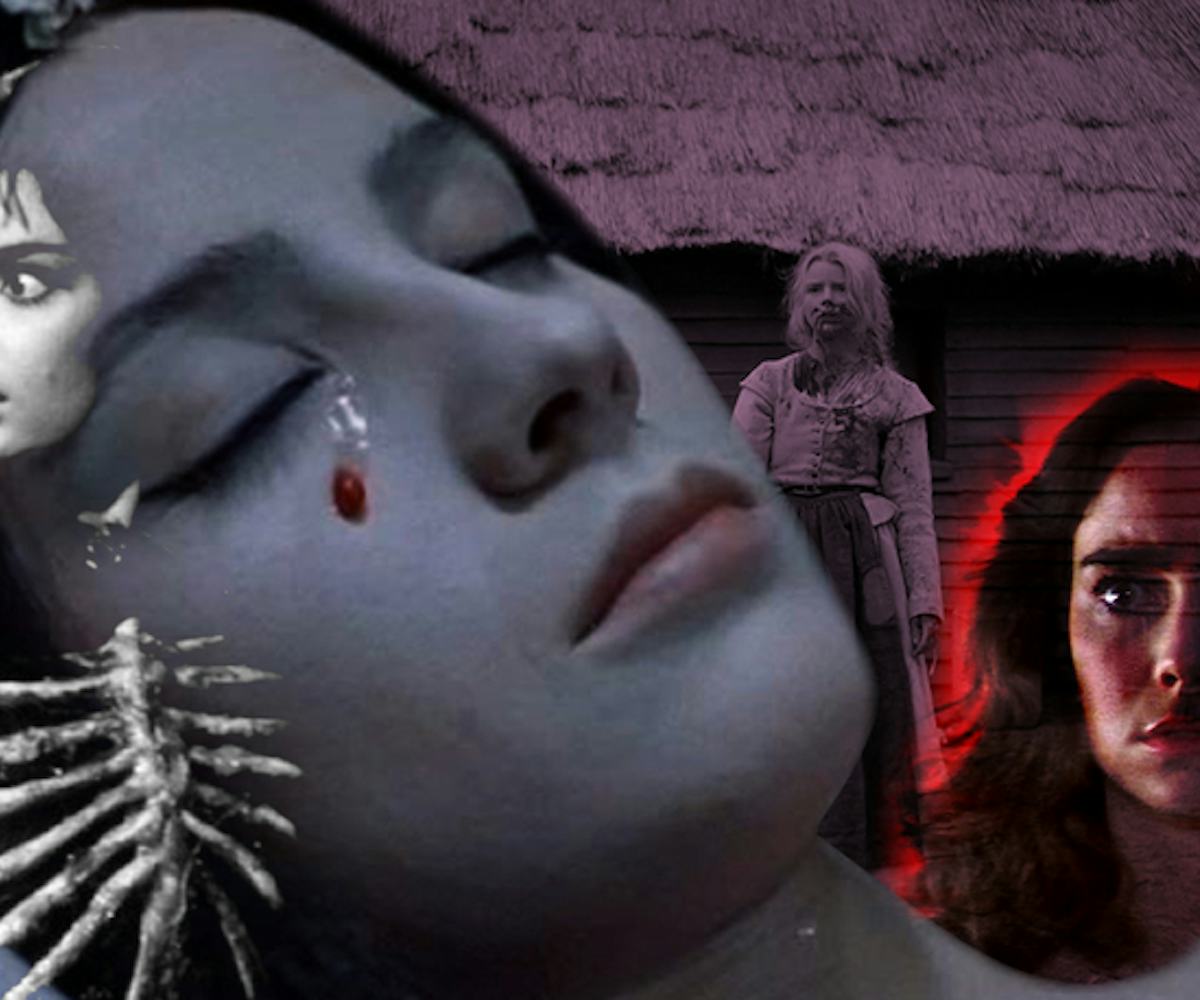 10 Visually Bewitching Movies About Witchcraft
They'll put a spell on you
There's no shortage of movies about witchcraft. From Hocus Pocus to Harry Potter and The Craft, witches are well-represented across various genres. Whether terrifying us in horror films or enchanting us in fantasy epics, the multifaceted witch archetype can be beautiful or haggard, entrancing or horrifying, good or evil—and even somewhere in between.
Across all movies about witches, however, one thing remains true: They are visually spellbinding. Whether dark or light in nature, magical aesthetics await viewers, from the hyper-Technicolor designs of The Love Witch to the gorgeous black-and-white gothic motifs in Black Sunday. Below, get bewitched by 10 of the most stunning films about witchcraft.
Suspiria
Suspiria remains one of the genre's most iconic and visually stimulating entries. When an American ballerina travels to Germany to study at a prestigious dance academy, she discovers that, despite its glamorous, upscale Art Nouveau design, her new school is actually a front for a sinister coven of witches. Directed by Italian auteur Dario Argento, the 1977 film is drenched in luxurious candy colors, with pink, red, blue, and green hues all playing an important role in setting a dreamy yet nightmarish mood.
The Witch
Robert Eggers' 2015 directorial debut offers an unsettling glimpse into the religious and patriarchal paranoia of late-17th-century New England. Tense and relentlessly dark, The Witch follows the harrowing familial and supernatural tribulations of a Puritan family who are banished to woods outside of their village. A gorgeous muted palette—think dusty, pale, earthy colors and somber gray hues—creates a sense of unease and gloom, while dramatic splatters of rich red gore accentuate the eeriness like rubies sparkling in the moonlight.
Belladonna of Sadness
Released in 1973, anime legend Eiichi Yamamoto's controversial Belladonna of Sadness remains a hidden gem within Japanese animation. Based on Jules Michelet's 1862 tome on witchcraft, La Sorcière, the film tells the tragic tale of Jeanne, a rural girl who, after being ravaged and outcast by her patriarchal society, turns to the devil to regain her power through magick. The Beatles' Yellow Submarine-meets-Sleeping Beauty, this trippy, candy-colored fairy tale is a swirling, erotic exploration of sexual awakening, religion, and ecofeminism, heavy themes which are contrasted by the film's psychedelic, hyper-feminine artwork.
Valerie and Her Week of Wonders
Themes of witchcraft abound in this whimsical 1970 Czechoslovakian film from Jaromil Jires. Valerie and Her Week of Wonders follows a curious young girl who, after getting her first period and finding a pair of magickal earrings, sees the world around her transform into a lucid nightmare rife with ghoulish vampires, erotic fantasies, and lecherous priests. The surreal film, with its endless Freudian phantasmagoria, is a tale of sexual awakening nestled within a hazy wonderland of pastel hues, dreamy floral tapestries, and quaint provincial imagery. 
Sleepy Hollow
Released in 1999, Tim Burton's take on Washington Irving's classic short story may stray from the original source material, but it builds a ravishing Gothic horror-fantasy in its place. Though not exclusively about witches (the ghoulish Headless Horseman takes center stage, after all), the film's plot and enchanting spooky visuals are propelled by themes of witchcraft—even Christina Ricci's adventurous Katrina Van Tassel dabbles in white magick. Featuring foggy monochromatic landscapes, soft lighting, fantastical cinematography, and sumptuous period costumes, Sleepy Hollow is an immersive ride into one of America's most celebrated folk tales.
Black Sunday
Mario Bava's shadowy 1960 horror classic remains one of the genre's most elegant, celebrated, and referenced works. A scary tale about a 17th-century witch who returns from the grave to exact revenge on the family who condemned her, Black Sunday (also known as The Mask of Satan) gushes with Gothic mystique. Featuring luxuriant black-and-white cinematography, the film is a gorgeous masterpiece of lighting, sound design, and atmosphere.
Kiki's Delivery Service
One of Hayao Miyazaki's most beloved works, this 1989 fantasy film about a young witch on a journey to find her place in the world remains beyond charming. Loveable characters abound (including the movie's titular witch-in-training and an adorable black cat named Jiji), while themes of growing up make for a memorable if appropriately lighthearted story. Taking place in a fictional Stockholm-inspired European seaside city and featuring vibrant animation, Kiki's Delivery Service is both delightfully playful and technically stunning.
Viy
Based on Nikolai Gogol's 1835 pseudo-folkloric novel of the same name, Viy, USSR's first horror film, is a bleak fairy tale masquerading as a scary story. After a haggard witch is beaten to death by a seminary student, she transforms back into her true form: the beautiful young daughter of wealthy Cossack. When the student is tasked with praying over her body for three nights in a locked chapel, he encounters a string of horrors, including her reanimated, revenge-seeking corpse. Fantastical bucolic visuals decorate the 1967 film, like flower crowns and sweeping pastures, while the vintage cinematography and kitsch appeal make for an enchanting watch. 
The Love Witch
Breathtaking attention to detail is paid in this black comedy about a modern-day witch who uses sex magic to make unwitting men fall hopelessly in love with her. Director Anna Biller filmed The Love Witch on 35mm, which gives the 2016 film a campy 1960s sheen—think, if Hitchcock cast Lana Del Rey in his version of Valley of the Dolls—while decadent jewel tones and gorgeous pastels burst from each Technicolor frame. Meanwhile, horror motifs and occult imagery, like tarot cards, bubbling cauldrons, and pentacles, add a wickedly macabre touch.
Poison for the Fairies
Mexican director Carlos Enrique Taboada's 1984 film about two young schoolgirls who dabble in witchcraft toggles between a sweet coming-of-age tale and melodramatic Gothic thriller, creating an unsettling dichotomy that is mirrored by its young leads: naive Flavia (Elsa María Gutiérrez) and manipulative Veronica (Ana Patricia Rojo). Dreamy and nightmarish all at once, Poison for the Fairies (Veneno Para Las Hadas) is a beautiful vintage-hued bedtime story brimming with pastel babydoll dresses, blood pacts, and themes of girlhood.