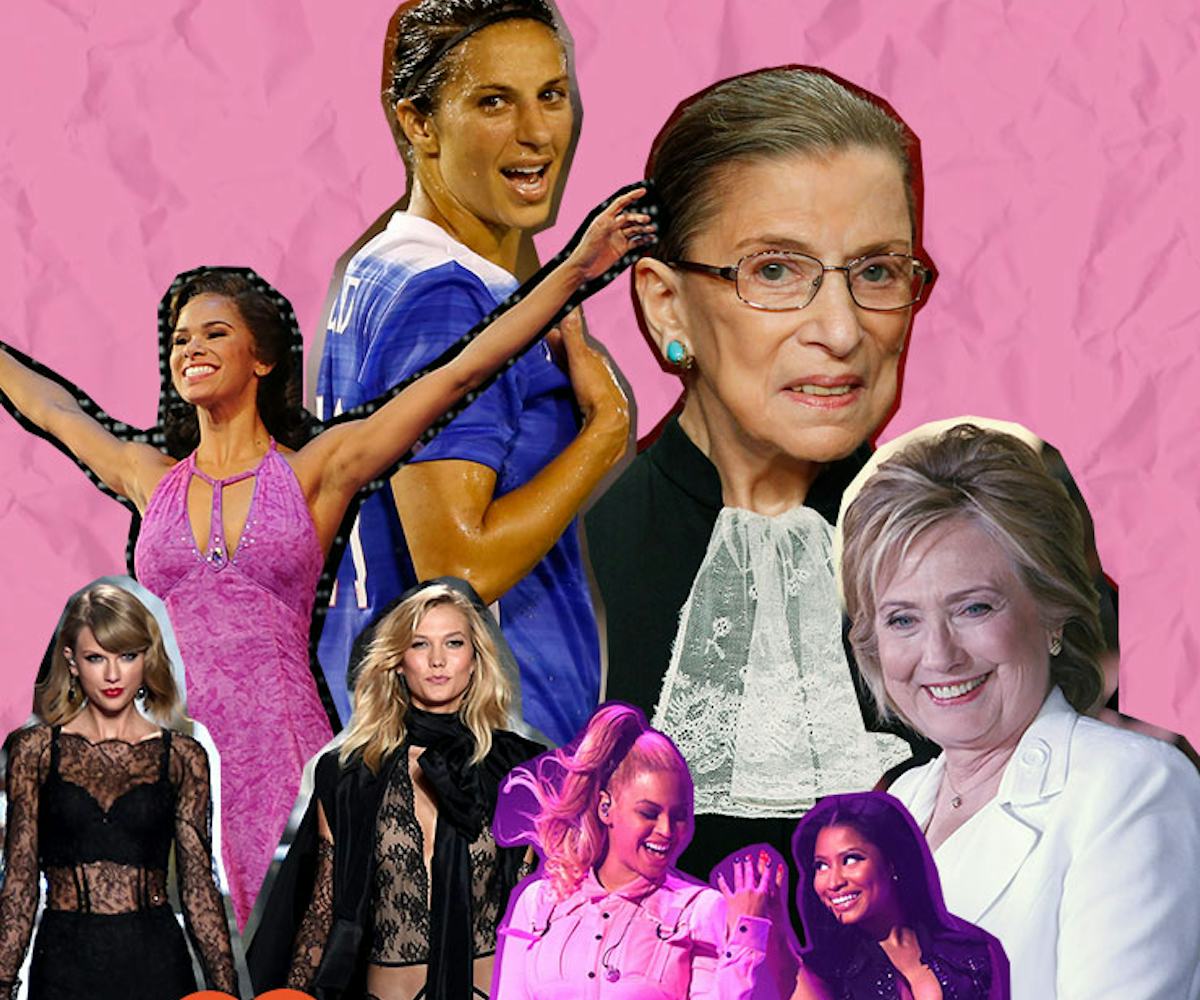 Collage photos via Getty Images
11 Costumes for a #GirlPower Halloween
trick or treat, squad style
Finding your passion—and turning it into money—is tricky for anyone, but especially for women. The persistent gender wage gap, the lack of top female executives, and the dearth of mentorship present unique challenges. Luckily, our friends at Levo League give young women the tools and resources they need to navigate the workplace and to feel empowered and challenged in their careers. Check out their site for tips, tricks, and generally pretty wonderful advice about how to get the job you deserve.
If you're a planner like me, you've already started perusing Etsy to see where you can find that one obscure item you need for your Halloween costume. (No one else? Just me?) But in case you haven't figured out exactly what you want to dress up as this year, here are 11 costumes that will help spread some #GirlPower vibes all night long.
1. Karlie Kloss and Taylor Swift
If you and your BFF are looking for the perfect duo costume, repping the Karlie/Taylor combo is a great way to go. Just grab some blonde wigs (if you're not already blonde), and then the sky's the limit. Go old-school T. Swift with some cowboy boots and a sparkly dress, or channel Karlie's new student status with an NYU T-shirt. Bonus points if you carry their joint Vogue cover around with you.
READ MORE: College Grad Correspondent: "Loneliness in the Streaming Era"
2. Literally anyone from the "Bad Blood" music video
This is a great option if you have a bunch of girlfriends, or if you just want an excuse to dress like a badass ninja warrior. Throw on some black and leather (but maybe skip the stilettos), and give yourself a fun nickname. Personally, I think I'd go with Mad Hatter.
READ MORE: "Here's What Happened When I Said 'Yes' to Everything for an Entire Week"
One word: pantsuit. Grab one in your favorite color, give yourself a great blow-out, and then read up. You want to be ready for an impromptu debate at any point in the evening.
If dressing up as the Notorious R.B.G. doesn't make you feel like you can take on the world, I'm not sure what will. For this costume, wear an all-black dress, create a white lace collar, and make sure you wear those glasses. Pull your hair back, and you'll be ready to rule any courtroom. Well, at least any Halloween party room.
5. Carli Lloyd
This U.S. Women's National Team player clinched the Women's World Cup this summer, and as a bonus, her costume isn't that complicated to create. If you can get your hands on a Lloyd jersey, you're golden. If not, any soccer jersey will do, as long as you pair it with some high soccer socks and a thin headband.
She embodies athleticism and grace, and how fun would it be to dress up as a ballerina? You can either put on a leotard and tutu or go for an all-purple ensemble, like her Under Armour campaign outfit. Either way, put on baby-pink flats and tie ribbons around your ankles to give the illusion of pointe shoes.
READ MORE: 7 Things to Do With a Mentor That *Don't* Include Coffee or Lunch
Grab your tennis racket, a neon tank, and tennis skirt to embody this powerhouse athlete. Also feel free to gather around a ton of trophies and to flex your muscles as often as possible.
8. Daenerys Targaryen from Game of Thrones
She's the Mother of Dragons, she commands respect, she continuously shows bravery, and she becomes the ruler of a tribe she isn't originally from. One of the easiest ways to look like Daenerys is to wear a long, loose blue dress and a wavy, blonde wig. Oh, and if you can get a dragon, that'd be top-notch.
9. Kimmy Schmidt from Unbreakable Kimmy Schmidt
She's not only curious and courageous, but she's also proven herself to be a super-independent power woman. Copy the outfit she wears during the insanely catchy opening song (floral shirt, yellow cardigan, pink pants) to look most like Klassic Kimmy. Just don't forget her purple Jansport!
READ MORE: 10 Confidence Boosting Tips in 140 Characters or Less
10. Beyoncé
What's the best part about dressing up as Bey? All. The. Options. Do you want to go the more ambiguous route and wear a bee costume with a crown? Or do you want to wear a "Kale" sweatshirt à la the "7/11" music video? Whatever you choose, make sure you have a megawatt smile and tons of confidence to go with it.
11. Equal Pay
You can definitely use all your creative powers for this one, but dressing up as "equal pay" is a unique take on a normal Halloween costume. Try attaching equal amounts of blue and pink Monopoly money to a shirt, but make sure to take a pen and turn all those pink $5s into $50s in order to match the blue bills. Then get excited for all the awesome conversations your costume will strike up with everyone you see.