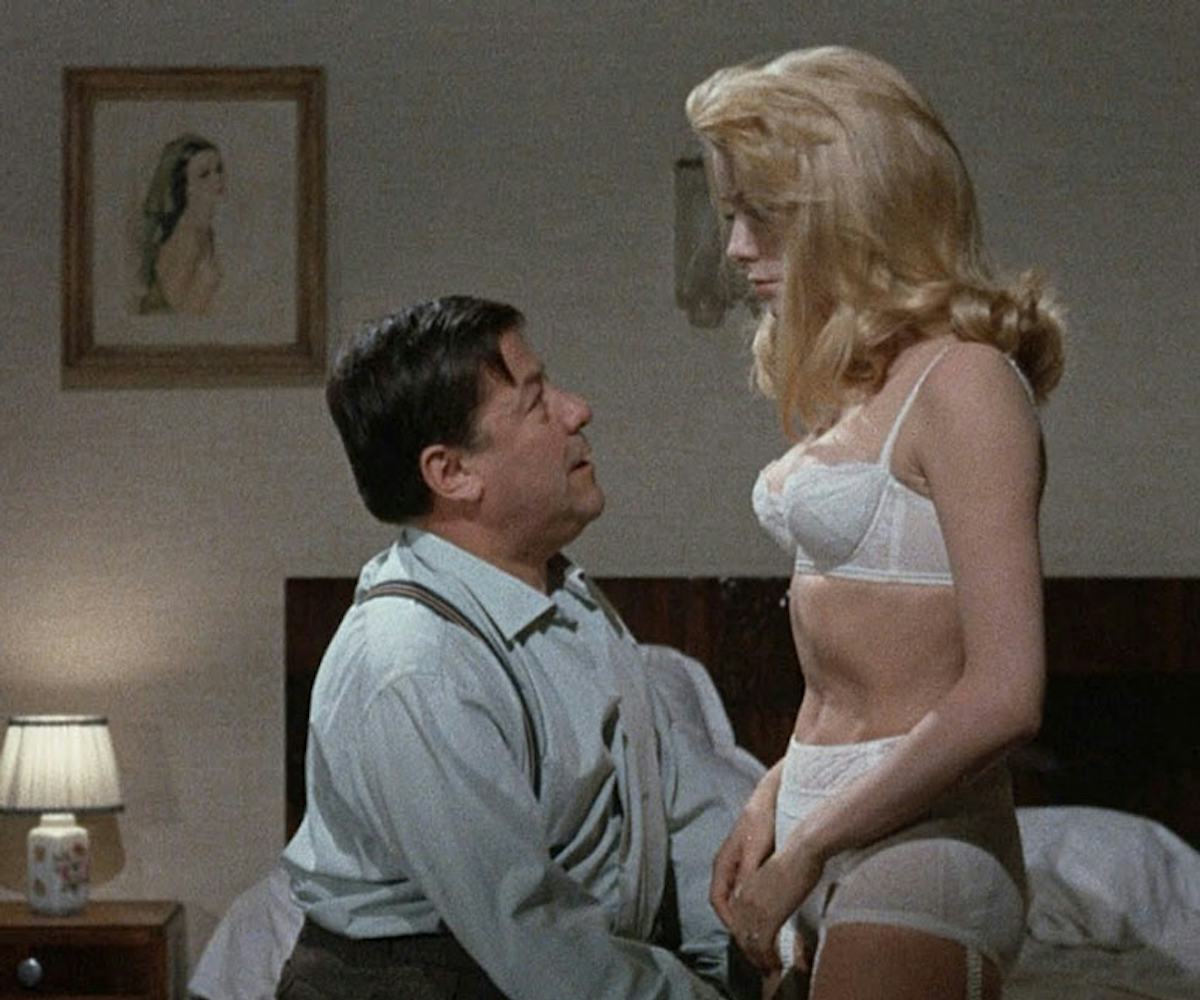 The 15 Best Indie Films About Sex
Covering the movie world is an enormous endeavor, and by our standard, no one on the web does it quite as well as Indiewire, a one-stop destination for movie news, trailers, criticism, in-depth features, and thought-provoking lists. We proud to share some of their consistently excellent coverage with you, our movie-obsessed reader, and be sure to head to their site to for more. 
More so than mainstream, studio-backed movies, indepent movies have the freedom to challenge the limits of cinematic eroticism. Here are the 15 indie films that have done it best. 
More from Indiewire:
On the Rise: 20 Actors to Watch
10 Essential LGBT Films Worth Celebrating
Belle de Jour (1967)
Luis Buñuel's erotic drama about a bored and troubled housewife who turns to prostitution for titillation is one of the greatest achievements in surrealist cinema to date. By all outward appearances, Severine (Catherine Deneuve) leads a perfect bourgeois existence—she's married to a wealthy surgeon, has all the time in the world and accrues admirers wherever she goes. Under the surface, however, she's consumed by virulent sexual fantasies that threaten to dissolve her sanity. Behind her husband's back—she refuses to have sex with him for unknown reasons—Severine decides to indulge in her fantasies, which range from masochism to bondage. She joins a local high-class brothel, setting a course of events into motion that prove both destructive and fatalistic. The aristocratic sylph becomes a slave to her deepest and most confounding desires. By taking us into the labyrinthine catacombs of Severine's imagination, Buñuel poetically depicts the true source of sexual gratification: the mind.          
Blue Is the Warmest Color (2013)
Making waves at Cannes in 2013 by winning the Palme d'Or for director Abdellatif Kechiche and both lead actresses, Blue Is the Warmest Color thoughtfully depicts the sexual realization of schoolgirl Adèle (Adèle Exarchopoulos). While her gossiping friends believe that Adèle should be with any boy she chooses, she instead finds an intense attraction to a blue-haired lesbian artist named Emma (Léa Seydoux). The film follows the ensuing romance over the course of several years. Every nuance of their relationship is explored, from differences in parenting (Adèle's parents are conservative; Emma's are far more accepting) to Adèle's subsequent exclusion by her friends. While the film drew criticism for its explicit sex scenes, the raw, carnal energy of these moments show Adèle's sexual awakening in such a visceral nature that her attraction to Emma cannot be denied. 
Breaking the Waves (1996)
Lars von Trier's Breaking the Waves explores sexuality with a powerful combination of empathy, anger and romanticism. The film centers on Bess McNeill (Emily Watson), a woman with a history of psychological issues, whose atheist husband Jan (Stellan Skarsgard) asks her to sleep with other men after an injury leaves him immobile. Von Trier carefully and sensitively examines each spouse's attitude towards sex. More specifically, he demonstrates the ways in which Bess conflates conceptions of sin and infidelity, and how, as Jan indicates, sexual intimacy can be realized figuratively. Watson is groundbreaking as the concealed, devoutly religious woman who desperately seeks out sex to preserve her marriage, while Von Trier fashions an immersive film about love, sex, faith—and how difficult it can be to distinguish between them.
Crash (1996)
David Cronenberg's divisive "Crash" forms around a rather direct conceit. In the film, producer James Ballard (James Spader) and Dr. Helen Remington (Holly Hunter) develop an intense sexual connection after colliding in a fatal car crash. What follows is an exceptionally graphic and loosely psychological exploration of attraction and fetish. While certainly embracing hyperbolic extremes in its depiction of sex, Crash starts from a recognizable place: An open marriage in which the sex is hopelessly boring. As Ballard and Remington try to figure out what, exactly, has happened to them, the audience gets taken on their intriguing ride. Cronenberg has said in the past that the goal of the film was to figure out why he was making it in the first place. You feel his own contentions throughout Crash. As a result, its provocative ideas and considerations can't help but be reckoned with by all who see it.
Sex and Lucia (2001)
Sex, death, sex, depression and more sex adorn the screen in Julio Médem's wild Sex and Lucia. The titular Lucia (Pax Vega) meets writer Lorenzo (Tristan Ulloa), who she claims to love based on her adoration for his writing. From there they begin an intense sexual relationship. Meanwhile, a one night stand Lorenzo had six years ago with Elena (Najwa Nimri) has resulted in a child, though Lorenzo is initially unaware since they never swapped names. Later, however, Lorenzo finds out about the child, only to begin an affair with the babysitter, Belen (Elena Anaya). The trio of of Lorenzo, Lucia and Belen becomes even more intertwined as the film progresses, causing further confusion and intrigue. Their interactions seem near coincidental, though they are forever united by love and sex, almost as if the deed is the only common ground shared by the film's spiraling characters.
In the Mood for Love (2000)
Wong Kar-Wai captured unrequited love in filmic form with In the Mood for Love, a tantalizing tone poem of the tension between love and sexual fulfillment. In Hong Kong, two neighbors discover their spouses have been having an affair. While probing the details, the neighbors themselves enter into a passionate yet inchoate romance; they agree not to mirror the duplicitous actions of their spouses. But as the relationship progresses, the couple becomes gridlocked into their virtues. Fear precludes the possibility of happiness together. The film is a series of impressionistic encounters as the couple's repressed passion sputters on and off again. Through stairwells and windows, we're treated to a voyeuristic account of love and its faithful companion, loneliness. The eroticism arises not from what's onscreen, but from the imagined potential of what could be.
The Blue Room (2014)
Mathieu Amalric's The Blue Room premiered at the 2014 Cannes Film Festival. Currently streaming on Netflix, the relatively short feature is the story of a tractor salesman, Julien, and his affair with the local femme fatale, Esther. The film jumps between past and present; as authorities interrogate Julien, the scenes that led to the crime are shown in a parallel timeframe. From the very opening sequence, sex is at the forefront of the film, and the tone is set when blood drips onto the bed. Amalric showcases his astute visual style, emphasizing both the importance of close-ups and motifs. Through visual cues he explores guilt and desire. Passion becomes violence. The sexual fantasies turn into an out-of-control erotic nightmare, and the film exposes a sexual desire that hinders its characters from enjoying the lives they always wanted. 
Last Tango in Paris (1972)
In Bernardo Bertolucci's erotic Last Tango in Paris, Marlon Brando and Maria Schneider star as lovers who unexpectedly meet when looking to rent the same apartment. They embark on a sexual relationship that is anonymous but passionate—despite not knowing each other's names, they become increasingly entwined. But the more that they reveal, the less their relationship seems to work. In this dramatic and unique take on relationships, it's clear that sometimes when relationships go beyond sex, things gets complicated. Bertolucci takes a very raw, intimate look at sex without the intricacies of relationships and personal backstories weighing the narrative down. The result is a film that is erotic in every frame. After a few minutes into the infamous butter scene, you'll know exactly why. 
Nymphomaniac: Vol. I (2013)
For the last installment of his "Depression Trilogy," Lars Von Trier presented audiences with Nymphomaniac: Parts I and II. The controversial director created a story of the self-proclaimed sex addict Joe (Charlotte Gainsbourg), who is found beaten up by Seligman (Stellan Skarsgard). Joe explains her sexual past to Seligman in this two-part, four hour experience. Prosthetics and body doubles are used to bring Joe's graphic sexual track record to life onscreen. Joe's sexual experiences show the development of sexuality and the curiosity that comes with it. Before its release, some found Nymphomaniac to be pornographic and lacking substance, but the film's intention was to view sexuality from a definitively female perspective. Most scenes find Joe being assertive in the past, while Seligman provides analytical meditations on her actions in the present. From this perspective, the film demonstrates how sex is empowering, meaningful and stimulating to more than just the body.
The Overnight (2015)
Now playing in select theaters, Patrick Brice's hilarious sex romp features a quartet cast—Adam Scott, Taylor Schilling, Jason Schwartzman and Judith Godrèche—that expertly navigates the awkward plot of two couples who go from strangers to possible swingers over the course of one bizarre evening. While the film includes a ton of R-rated raunch (we're looking at you, prosthetic penises!), The Overnight gets real bonus points for handling its swingers storyline with the utmost care for its characters' predicaments. At the end of the day, the film is a relatable look at how suburban conformity reduces the spark between parents, and how maybe, just maybe, a new sexual experience can help bring it back. 
Secretary (2002)
Before the cinematic adaptation of EL James' infamous Fifty Shades of Grey, Steven Shainberg's Secretary brought BDSM relationships to the silver screen. Maggie Gyllenhaal plays Lee Holloway, an unstable woman coming from a dysfunctional family who gets hired to be attorney E. Edward Grey's secretary, despite her awkwardness, overqualification and incessant typos. The typos end up sparking their relationship, however, as Grey's dominant side comes out in order to properly punish Holloway, who ends up being a perfect submissive. Rather than exploit the relationship for sexiness or offer some kind of commentary on S&M, the sex and related behavior is meant to be bizarre and comical. The characters are eccentric and their relationship works because of their sexual quirks. In this world, BDSM is not something to study or diagnose. This results in graphic sex scenes that are quite liberating to watch.
The Sessions (2012)
Sex on screen is always going to be used as a metaphor for human connection, but rarely is the metaphor as vulnerable, sensitive and touching as it is in writer-director Ben Lewin's The Sessions. Painfully robbed of an Oscar nomination for Best Actor, the great John Hawkes plays polio-stricken poet Mark O'Brien with an enviable optimism and humorous edge. Living his life in an iron lung, O'Brien has never had the chance to have sex, so he hires a sex surrogate (Helen Hunt) to help him lose his virginity before death takes its toll. Awkward, intimate and heartbreaking, The Sessions chronicles the unusual employer/employee relationship and the special bond that blossoms as the two keep putting off the dirty deed until their next meeting. In the hands of Lewin, Hawkes and Hunt, sex has never been more satisfyingly poignant.
sex, lies, and videotape (1989)
Steven Soderbergh made a remarkable debut with sex, lies and videotape, winning the prestigious Palme d'Or at Cannes and announcing himself as the definitive indie director. While sex is the first word in the title, hardly any of it is visually depicted, though nearly every line of dialogue deals with it. Ann (Andie MacDowell) is a buttoned-up wife that finds sex unenjoyable. She's also married to the very bro-like John (Peter Gallagher), who just so happens to be sleeping with Ann's hyper-sexual sister, Cynthia (Laura San Giacomo). Things take an interesting turn when John's college buddy Graham (James Spader) comes to visit. Expecting his old "bro," John is surprised to find a quiet, mysterious and contemplative man with a hobby of videotaping women talking about their sexual experiences. Through the film, sex is discussed as a vital instrument for carnal pleasure, vicious betrayal, self discovery and liberation. It's not about the act; it's about the consequences.
Shame (2011)
The second collaboration between director Steve McQueen and actor Michael Fassbender, "Shame" does a remarkable job of making sex unappealing, which is imperative for a film detailing the abusive lifestyle of a sex addict. Brandon (Fassbender) is a young, attractive, successful and extremely sexually active businessman, living what is often advertised as the "good life." And yet sex and success in his early 30's are a burden for Brandon, as each orgasm is painted more like torture than bliss. His life is aimless, which McQueen captures with intense beauty and pain, whether through a long take of a jog through the cold streets of New York, a very naked stroll through Brandon's apartment, or close-ups of physical distress during copulation. In Shame, sex is suffering that alienates rather than something that brings two people together.
She's Lost Control (2014)
If The Sessions had a self-aware sister, it'd be Anja Marquardt's She's Lost Control. Following a sexual surrogate through her lonely and physically vulnerable existence, Marquardt's film explores the darker repercussions of sex therapy with an unflinching eye. When the surrogate develops feelings for one of her clients, the very meaning of intimacy is called into question. She's Lost Control is a brutal meditation on the boundaries of empathy. It's now streaming on iTunes.