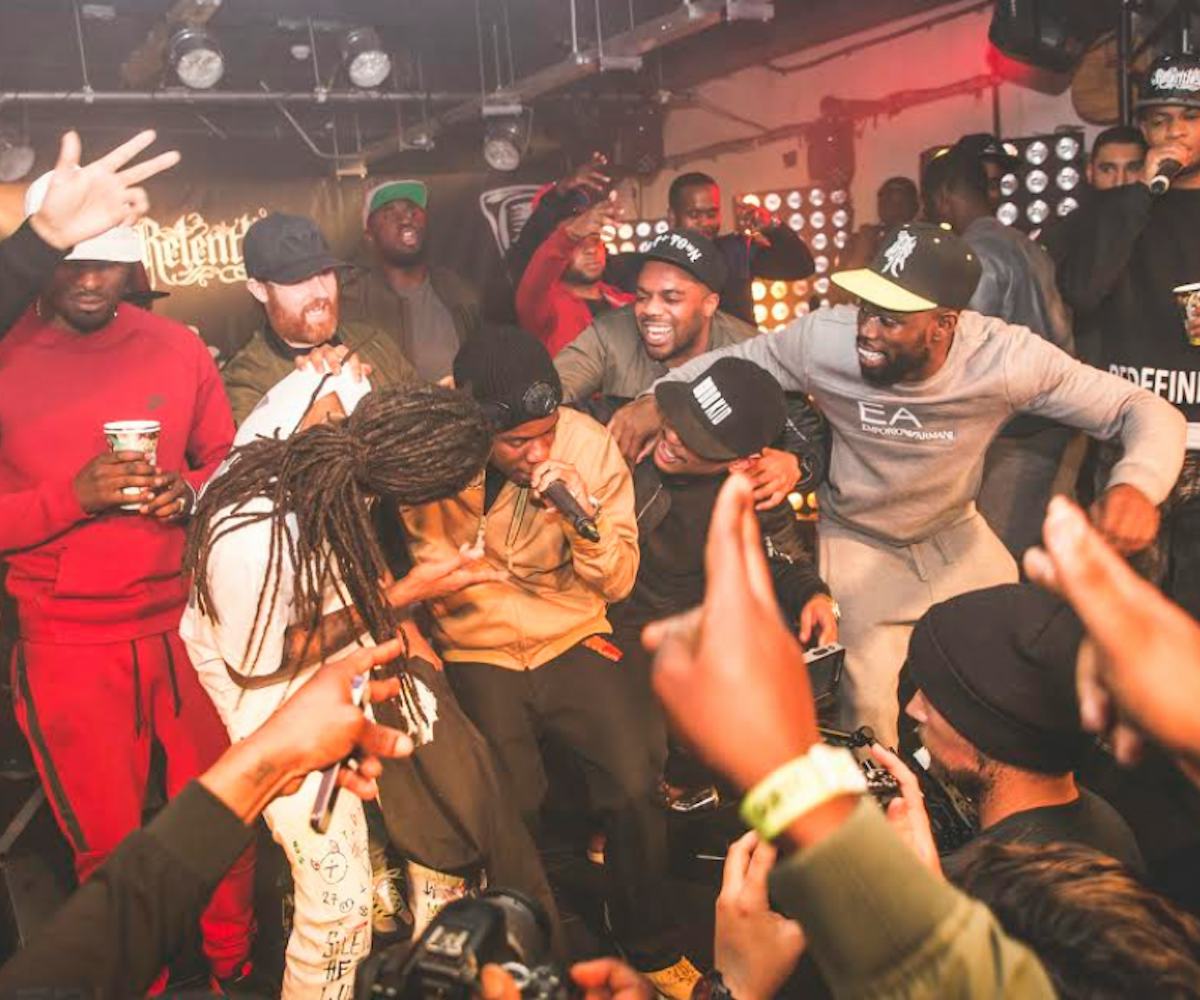 Photo by Courtney Francis
15 Tracks That Prove Grime Won 2016
At least something good did this year
Grime—a sound and lifestyle birthed out of frustration with the world and refusal to conform to the ways of U.K. garage, the scene that came before it—has gone further than its naysayers would have maybe hoped or liked. Whilst the UKG dons of old were turning their noses up at this new generation of angst-ridden teens, who had more than Moët and Moschino to chat about on wax, a whole new movement was being forged in the tower blocks of East London (or North, or South, depending on who you ask).
That movement began in 2001 and was energized by pirate radio and raves in the name of Young Man Standing, Sidewinder, and Eskimo Dance. Before grime was known as "grime," however (and it was first dubbed that by journalists Martin Clark, Chantelle Fiddy, and Hattie Collins), the sound went under various guises for various sets of people: "Sublow" for what Jon E Cash was creating, "Eski" for what Wiley was making, or simply "dark garage" for the discerning bedroom listener. Made up of a mix of genres—UKG, jungle, dancehall, ragga, and American hip-hop had a hand in it too, but mainly for its knack for storytelling—it was reflective of what was going on in the hood over ice-dripping sonics, and the energy on record and in live sets had the power to send shivers down anyone's spine.
Following the success of Dizzee Rascal's seminal debut album, 2003's Boy In Da Corner—arguably the blueprint album of the scene—it didn't take long for the majors to latch on and try to change everything that made grime authentically raw. Around late 2009, core figures began falling down the trap of mainstream money, recording disastrous electro-pop and Euro house-tinged songs that were a far, far cry from their gully beginnings. It was a cycle that continued for a good three or four years until a man named Meridian Dan came through and changed the order of proceedings. Known mostly for his snappy verse on Skepta's "Private Caller"—a posse cut from 2005—Meridian Dan wasn't an obvious choice for a savior, but his track "German Whip" (featuring Jme and Big H) brought a much-needed vibrancy to the scene.
Sure, there was a stint between 2010 and 2011 where "new wave" emcees, like Kozzie, Maxsta, Scrufizzer et al, were keeping it all the way grime—and Elijah & Skilliam's Butterz label kept the club element active with instrumental-led releases—but Meridian Dan's Heavytrackerz-produced, 2013-released heater was the official Grime 2.0 moment.
Then came Skepta in 2014 with the single "That's Not Me", featuring younger brother Jme—an Eski-nodding number made during a realization period that saw Joseph Adenuga confront his past demons and poor musical decisions (see: "Rolex Sweep," "Sunglasses At Night"), so he could focus on his future and grime's explosive next phase. From that point on, everything changed: Pirate radio saw a revival, the fashion reverted back to its heyday of Nike tracksuits and huaraches, and best of all? New artists. A massive influx of fresh-faced emcees. Stormzy, Novelist, AJ Tracey, Big Zuu, Mez, Rocks FOE, and more have taken this new, international interest in the scene (word to Drake and Kanye) and are working with the top boys to make sure things never go awry again.  
This has been a year of chart-bothering albums, big awards wins, and every ~arts and culture~ journalist trying their hardest to get hip with the culture (and sometimes failing miserably). And it's with this in mind that we bring you 15 tracks that prove grime won in 2016. (Also don't forget to check out this piece about the five most powerful women in grime.) Press play on our Spotify playlist down below and join in on the conversation.