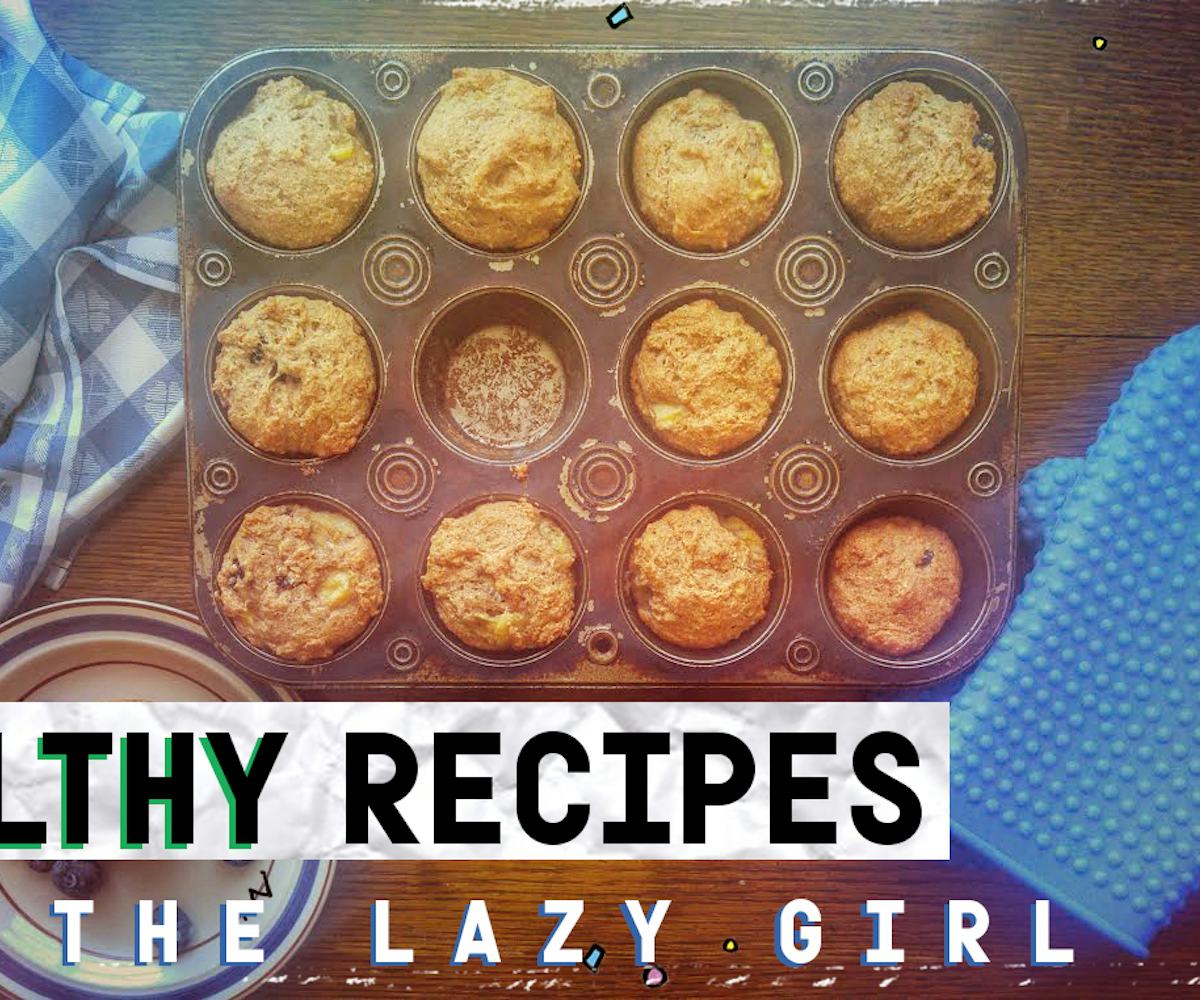 Photograph by Shea Peters
Three Healthy Breakfast Recipes For the Lazy Girl
We're told all our lives that breakfast is the most important meal of the day, yet the effort it takes to actually cook it leaves us skipping it. And traditionally breakfast dishes can be packed with fat and calories, especially when they're not planned properly. So as a moderately (but health-conscious) lazy girl, I'm here to give you three recipes that'll make you look like a master chef in no time: One recipe that you can actually put into your dying fireplace or grill overnight, one that's literally whole wheat pancakes in muffin form, and one that involves spreading yogurt over granola breakfast bars. The recipes await in the gallery, below.
FroYo Blueberry Breakfast Bars
This is an easy way to have grab-and-go breakfast for the week ready, without a lot of effort or a lot of added fat, which is our goal here.This requires only 15 minutes of actual work, with the oven and the freezer doing the rest of the grunt work for you.
Stuff You Need
2 ½ cups organic oats and honey granola, plus 2 tablespoons crushed
¼ cup of butter, melted
2 cups Greek blueberry yogurt
¼ cup of blueberries
Make It
Heat oven to 350 degrees. In a large bowl, mix the 2 ½ cups of granola with butter. Press granola into the bottom of an ungreased 8-inch square pan. Bake for 10 minutes, cool for another 10, and then freeze for 5. Spoon the yogurt over the crust and cover gently. Place blueberries on top and sprinkle with the leftover 2 tablespoons of crushed granola. Freeze for at least 3 hours or until firm. Remove pan from freezer and let sit for 10 minutes. To make breakfast bars, cut 5 by 2-inch rows, making 10 bars. Wrap each bar in plastic wrap and store in the freezer for the laziest breakfast you'll ever make.  
Banana Pancake Muffins
Everyone loves pancakes, but we hate that they require actual work and aren't always healthy due to added butter and syrup. In addition, there is always that first pancake that burns and no one can ever figure out why. Skip the drama and added calories by placing your batter in muffin tins with this recipe.
Stuff You Need
cooking spray
2 cups of your fave whole wheat pancake mix
⅛ tsp ground cloves
½ tsp ground cinnamon
1 banana, mashed
⅓ cup of raisins
⅔ cup of 2 percent milk
⅓ cup of honey
1 egg , beaten
¼ cup vegetable oil
1 tsp real vanilla extract
Make It
Preheat oven to 425 degrees. Spray muffin pan with cooking spray. Combine pancake mix, cloves, cinnamon, banana, and raisins in one bowl. Whisk together honey, egg, oil, and vanilla extract in a second bowl. Add wet ingredients to the dry one. The mixture should be just moist but not overly wet. Fill muffin cups three-quarters full and bake for 15-18 minutes, or until a toothpick comes out clean when you poke the muffins. Cool for about 2 minutes and remove from muffin pan. Makes 12 muffins.
Freestyle This
The great thing about these pancake muffins is they are perfect for lazy chicks, so if you don't have bananas and/or raisins, use blueberries and strawberries, chopped carrots and apples, or pecans and walnuts. Or, simply add nothing and just enjoy the whole wheat goodness on its own!
Morning-After Eggs
This spicy egg dish is perfect for late risers and can be eaten at room temperature, making this perfect for weekend brunches at home. Spicy foods are not only great for your metabolism but also help clear your sinuses and improve heart function. So don't feel guilty about eating eggs when you spice them up.
Stuff You Need
¼ cup extra virgin olive oil
medium yellow onion (coarsely chopped)
6 garlic cloves (sliced if you're up for it, but you're lazy...so just smash)
2 chipotle peppers (coarsely chopped)
1 tsp of chili flakes
1 28 oz can of pureed tomatoes or tomato sauce
8 eggs
kosher salt
¼ cup of grated Parmigiano-Reggiano cheese (can substitute with Pecorino Romano or Parmesan as long as it isn't the stuff from the can)
Make It
If you're lucky enough to have a fireplace or charcoal grill, the lazy part is to wait for the coals to die down at the end of the night and place all the ingredients, fully assembled in a ceramic ovenproof dish, and cover. You'll wake up to the most amazing warm, eggy, cheesy well-done egg dish you'd ever imagine. Now, if you're like me and live in an apartment in Brooklyn, New York, then you have to actually stand in your tiny kitchen and make this. So proceed as follows:
Heat olive oil, add onion, and cook until translucent. Add garlic, chipotle, and chili flakes. Make sure your stove vent is on and/or the kitchen is properly vented to prevent you from suffering from the burn of inhaling chili fumes. Add tomato sauce and bring to a boil. Lower heat. Crack eggs, so they nestle down into the sauce. Sprinkle each egg with a pinch of kosher salt. Cook on a low setting with the lid on until eggs get to your desired setting (i.e., firm whites, slightly runny yolks.) Remove from heat. Sprinkle with cheese and allow to cool. Serve with whole grain toast and mimosas of course.