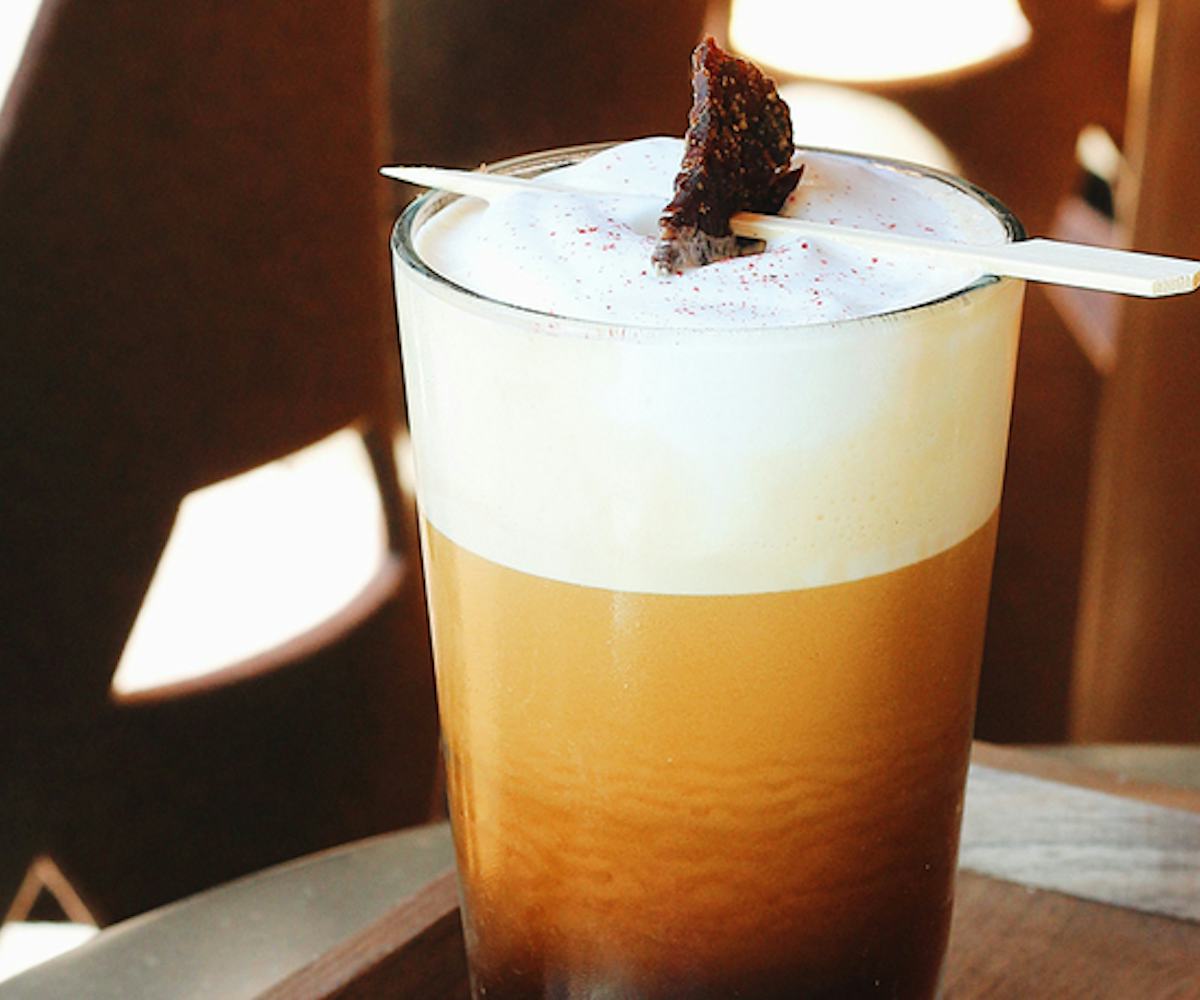 Photo via Starbucks
8@8: Your Morning Scoop
Starbucks' new drink features… beef jerky?
Today is...
National Night Out Day!
News of the Day:
+ Starbucks just announced its newest specialty drink—and it's topped with something totally unexpected: beef jerky. The coffee empire recently adopted a new roast from the Democratic Republic of the Congo, and the brew, Starbucks Reserve Eastern D.R. Congo Lake Kivu coffee, is a key ingredient. The Pepper Nitro with a Jerky Twist includes a slow-steeped cold brew served through a nitro tap and infused with a malted fennel black pepper syrup topped with a layer of honey cold foam, cracked pink peppercorn, and a bamboo skewer of beef jerky. It's available for a limited time only at Starbucks' Seattle Reserve Roastery.
+ As Lady Gaga and the entire world prepare for her highly-anticipated Joanne World Tour, the singer gave Instagram a sneak peek of what to expect. Gaga posted a photo of her colorful new 'do and glitter lips. Her caption gave credit to her hair stylist and makeup artist and included an official countdown to the tour. BRB, booking an appointment!
+ As if the fidget spinner hasn't done enough, Lush Cosmetics just jumped on the trend. The handmade cosmetics brand released its newest product, the Bubble Spinner, which allows fidgeters to enjoy a bath with entertainment. To use the bubble bar, just place it under running water as it releases lemon and lime bubbles. Then, leave it out to dry for your next bath. The magical product retails only in the U.K. for 4.95.
+ Rihanna just proved once again that she could care less about what haters say. A Rihanna fan account posted a video on Instagram from two years ago, in which Rihanna's friend mocks the singer for buying four snacks at a grocery store. A second friend in the video says, "You're judging her. Stop judging her." The fan account posted the video, urging the public to do as the second friend says. Rihanna commented on the post saying, "Somebody called me too fat?" followed by three laughing emojis. Again, let's all strive to be as carefree as RiRi.
+ Lingerie brand Yandy just introduced a Hogwarts-inspired lingerie set as part of its fantasy collection. Complete with suspenders and a little tie, the grey-maroon-and-gold ensemble is perfect for the Harry Potter-obsessed. The set will retail online for $35.95 starting September 7. The collection also includes looks inspired by Alice In Wonderland and Wonder Woman. Being sexy never felt so magical!
Deal of the Day:
The latest beauty product at Sephora is not what you think. The water bottle innovator bkr launched its Big Spiked collection on the beauty retailer today! Each bottle costs $55 and holds one liter of water. Not only are these bottles pretty, but they're also environmentally-friendly. Made of glass, these bottles are saving the earth, one plastic bottle at a time. And with a variety of colorful, spiked sleeves, hydration has never looked this badass. 
Advice of the Day:
"If you don't like something, change it. If you can't change it, change your attitude about it." —Maya Angelou
GIF of the Day: