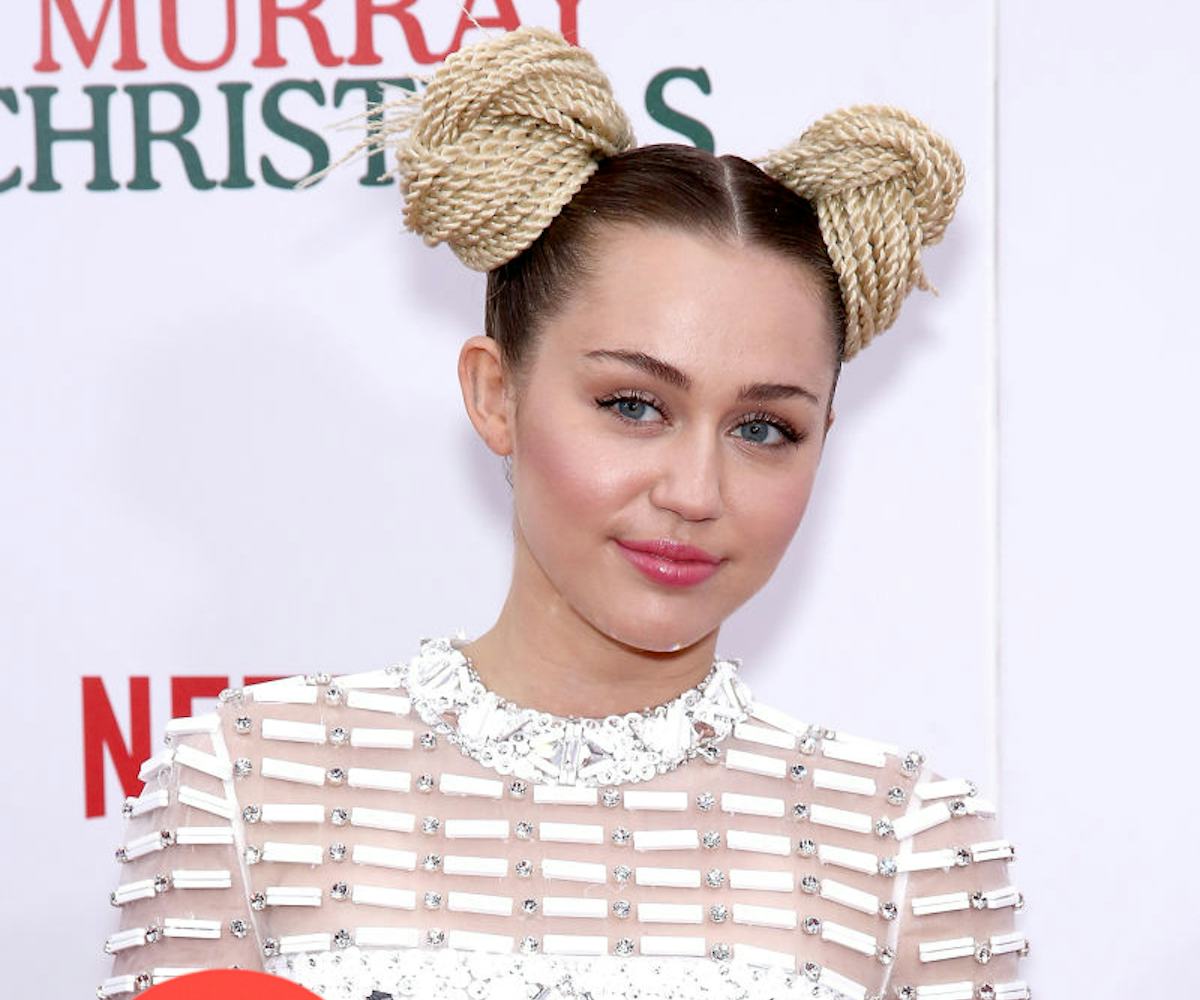 Photo by Paul Zimmerman/Getty Images
8@8: Your Morning Scoop
Looks like Miley's 2014 VMA is for sale
Today is...
National Matchmaker Day!
News of the Day:
+ Does the name Jesse Helt ring a bell? How about Miley Cyrus? Flashback to just two years prior, and Cyrus was making headlines at the 2014 VMAs for sending her friend and homeless youth advocate, Jesse Helt, up to accept her award for Video of the Year, where he made a groundbreaking speech about his experiences as a homeless teen. Helt is back in the headlines, this time for posting an eBay ad for Miley's VMA Moonman. With just three bids so far, the interstellar trophy is up to $10,300. Remind us to crack open our piggy banks when we get home.
+ Because celebrity offsprings have one of the toughest goes at life, Anna Wintour's niece Ellie Wintour is September cover girl for the British one-percenters' favorite glossy, Tatler. Sporting some of auntie's favorite brands, like Chanel and Prada, we're sure we'll be seeing more of Ellie's striking face in months to come. Check the cover and the full spread here. Is it just us, or does she resemble a young Michelle Williams circa Dawson's Creek?
+ Alicia Keys has been dominating headlines for her makeup-free look from the 2016 VMAs (absolutely flawless, by the way). Unfortunately, there has been some pushback on social media because the world can be an awful place. In an effort to appease her haters, Keys released her short and sweet statement on Twitter—"Do you!"—and we totally agree. 
+ Justin Bieber took a break from romancing Sophia Richie and causing mass hysteria on Twitter to pose with a Guinness World Records book. It turns out that amidst a whirlwind year of touring for his new album Purpose, relationships, and controversy, Bieber managed to break EIGHT world records, including ones for the most streamed album on Spotify in one week and elongated occupancy on the music charts. Check him out cheesing hard with his framed titles!
+ Breaking news: Bob Ross, the calming painter whom you've either been forced to watch in studio art class or on Netflix while stoned out of your mind, has naturally straight hair. It turns out Ross' iconic 'fro was an attempt to save some money years ago via a perm. Once his fancy 'do became a part of the look that made him famous, he was stuck with it, and apparently "mad about that." Nevertheless, we admire his sacrifice.
Deal of the Day:
With fashion week gearing up, Opening Ceremony has released one their Fall/Winter '16 collabs, Opening Ceremony x Gentlemonster. These sexy sunnies take a futuristic spin on the aviator, cat eye, and more. Grab a pair before they're all gone!
Advice of the Day:
"Look, you have to make mistakes. That's how you learn and that's how the world works." —Naomi Campbell
GIF of the Day: