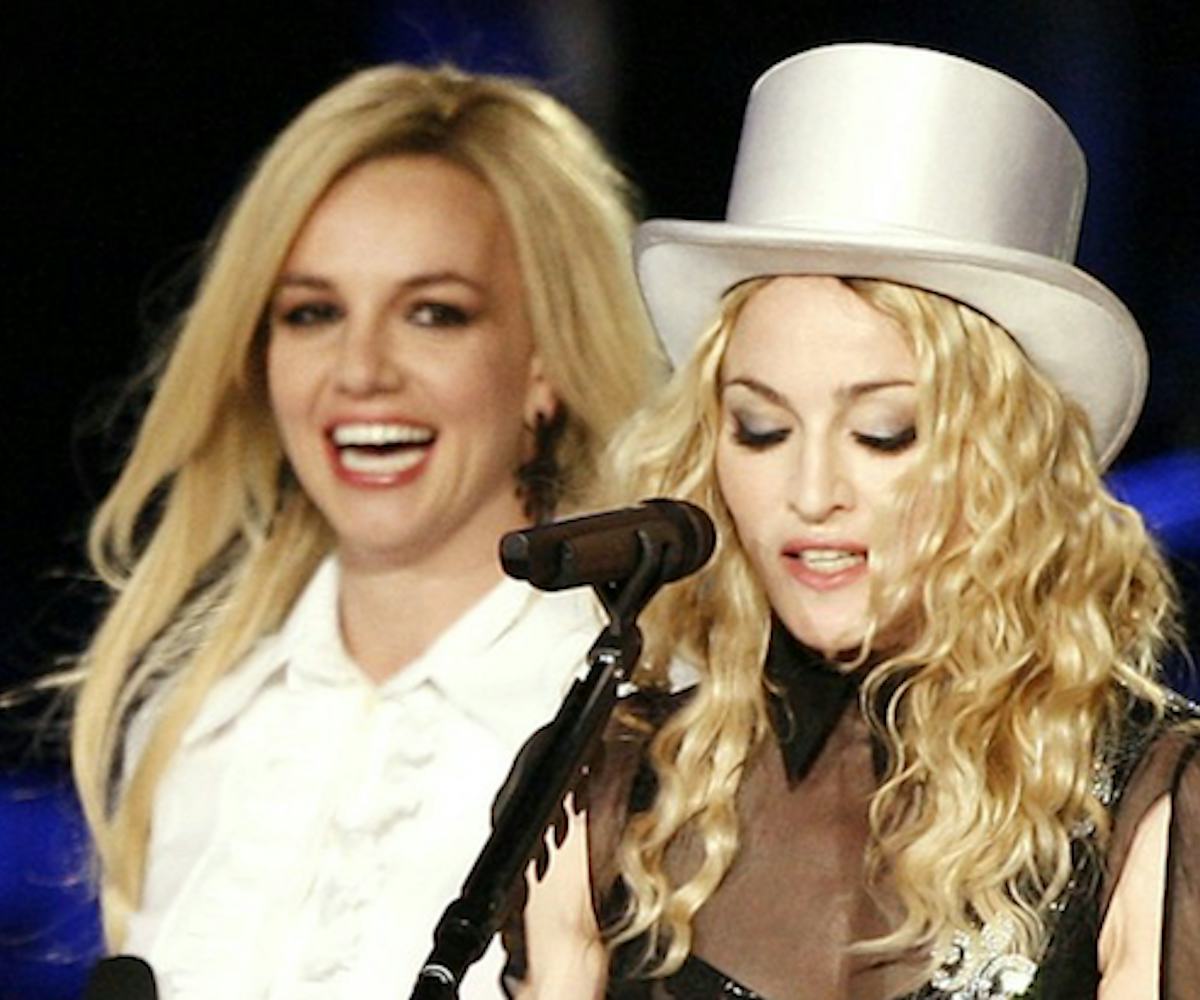 Photo via JustJared.com
8@8: Your Morning Scoop
Madonna had a special surprise for Britney on her birthday
Today is...
National Cookie Day!
News of the Day:
+ In honor of Britney Spears' 36th birthday, the singer's gal pal Madonna decided to
" on Instagram. In addition to the birthday nod, Madge's post also acknowledged Friday as World AIDS Day. Madonna-Britney in 2020?
+ Speaking of the election: Is Dwayne "The Rock" Johnson considering a presidential bid? Well, the answer isn't no. The wrestler-turned-actor has long teased about running, and in a recent interview with InStyle, he said:
This whole thing started with a piece in The Washington Post about a year and a half, two years ago. And then, when it started to pick up and got to the point where it was just impossible to ignore, I said, "Of course I would consider a run." So where we're at right now is just quietly observing everything happening on the political landscape, and when the next election comes along… I will be watching very intently.
Also, do yourself a favor and click on that InStyle link. Your Monday morning needs a little eye candy.
+ More trouble ahead for "Pharma Bro" Martin Shkreli. In addition to his legal woes (he's currently awaiting sentencing after being convicted of fraud), the U.S. Government might just take away his coveted Wu-Tang Clan album. Prosecutors are arguing that the disgraced businessman should relinquish his copy of Once Upon a Time in Shaolin—the only copy that exists, mind you—as punishment for his crimes. Members of Wu-Tang have been extremely vocal about their displeasure of Shkreli buying the album, but it's unclear that they would get it back if it's indeed forfeited. 
+ Now you have even more of a reason to go to Barbados: There's a new street there named Rihanna Drive. The singer herself was on hand to commemorate the renaming of the road, which was formerly Westbury New Road, aka the street on which the icon grew up. As Rihanna explained, "My life was shaped on this very road. I was just a little island girl riding bikes, running around barefoot and flying kites in the cemetery, but I had BIG dreams. Dreams that were born and realized right here." Rihanna shared more anecdotes of her upbringing on
, which should warm your heart enough to get you through the week.
+ Finally, a little bad news. It looks like the Twitter employee, Bahtiyar Duysak, who deleted Donald Trump's account for a few blissful minutes didn't actually do it for the good of all mankind—turns out it was an accident. According to The Washington Post, Duysak apologized for the incident. In an interview with TechCrunch, he said "I had a wild time in America, and I was tired sometimes, and everyone can do mistakes. It might be that I did a mistake." A mistake, maybe, but it was the greatest mistake of our lives. Thank you for your service, Bahtiyar.
Deal of the Day:
Contemporary footwear brand iRi NYC has launched its third collection just in time for your holiday wish list. This eclectic line mixes classic sneaker and boot shapes with modern-art styling at the sole and heel. Translation: Everyone is going to be asking where you got them. Creative director Janet Yeung explains that the collection is inspired by the idea of "taking off and flying through the clouds." The textured, wavy bottoms definitely do give the impression that you could go and spring up into the sky at a moment's notice. Which, let's face it, we dream about doing at least nine times a day. Shop the whole collection now on the iRi NYC's website.
Advice of the Day:
"Women will only have true equality when men share with them the responsibility of bringing up the next generation." - Ruth Bader Ginsburg
GIF of the Day: