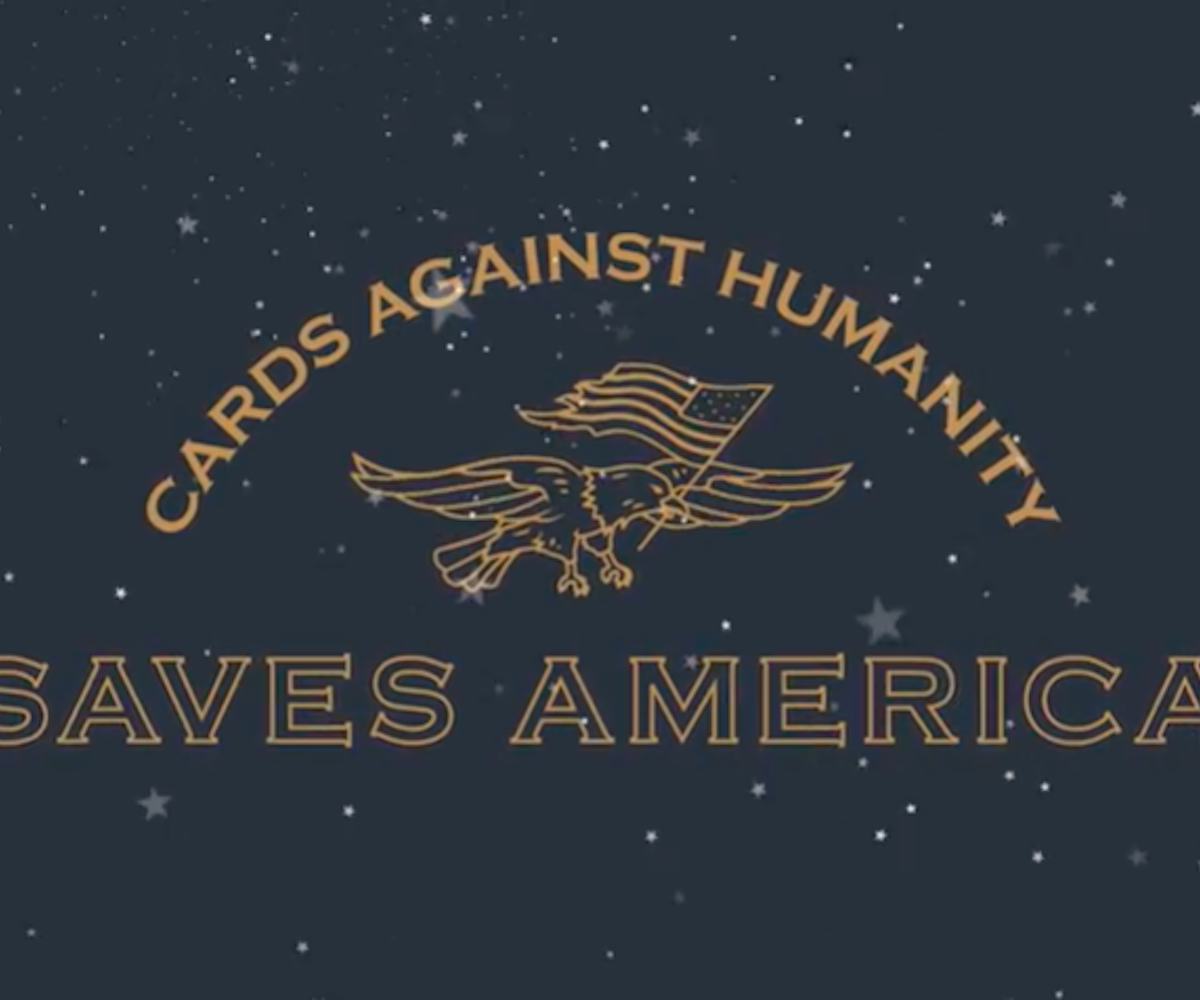 screenshot via youtube
8@8: Your Morning Scoop
Cards Against Humanity bought a piece of the U.S. border so Trump can't
Today is...
National Pickle Day!
News of the Day:
+ The masterminds behind controversial party game Cards Against Humanity are back. "Donald Trump is a preposterous golem who is afraid of Mexicans," CAH's latest website, Cards Against Humanity Saves America, reads. "He is so afraid that he wants to build a twenty-billion dollar wall that everyone knows will accomplish nothing. So we've purchased a plot of vacant land on the border and retained a law firm specializing in eminent domain to make it as time-consuming and expensive as possible for the wall to get built." For just $15, supporters receive six days worth of surprises, starting with an illustrated map of the purchased land, a certificate of the promise to fight Trump's wall, a CAH expansion pack, and more. Watch the promo video, below, and sign up, here, to help the team with their mission to save the country.
+ Women's club The Wing is making its foray into the print world with No Man's Land, a publication focused on amplifying the organization's mission and "showcasing the magic that's created when women come together." The inaugural issue features a diverse and inspiring group of women, including Tavi Gevinson, Remy Ma, and cover girl Hari Nef. You can snag your own copy at The-Wing.com, Barnes & Noble, or select New York and Los Angeles booksellers—and we highly suggest you do. 
+ Photo editing apps are nothing new—for years, people have been using smartphone technology to even out skin tone, add a little rosy tint here and disguise a blemish there. But, newcomer MakeApp is designed to do just the opposite, and many aren't thrilled. According to Refinery29, the app takes your original photo and adds redness and dullness, where none existed before, and "perpetuates the idea that underneath the layers of concealer, highlighter, blush, and mascara, you're not just a person who happens to not be wearing makeup—you're ugly." If you're still curious, you can download MakeApp for free from the App Store, but we'd much prefer to celebrate our barefaced beauty than feel pressured to resent it. 
via Refinery29
+ In a speech at the 2017 Glamour Women of the Year Summit, Tracee Ellis Ross took issue with those criticizing the 45-year-old for her "single" status. Like the true independent-woman-who-don't-need-no-man that she is, the Black-ish star makes one thing clear: "My life is mine," she asserts. She talks of warding off critics as "Brave Tracee," and encourages listeners to call upon their brave selves, too. "The Brave You," she says, "gives you the courage to hold your own agency, your own choice, your own desire, your own longings, your own fear, your own grief, your own future." Watch the empowering speech, below: 
+ Not all heroes wear capes—some don bicycle helmets and flash middle fingers at presidential motorcades. Fifty-year-old Juli Briskman was fired from her job after sharing an image of herself sending a very clear message to Trump's passing convoy. In solidarity with Briskman and her First Amendment exercise, a GoFundMe page was created in her name, raising over $90,000 to help with her (hopefully temporary) lack of income. If you're inspired by Briskman and want to help out, you can find the campaign here.
image via Dazed Digital
Deal of the Day:
Founded by lifelong best friends and business partners Kohl Crecelius and Travis Hartanov, new brand Known Supply is "reimagining apparel production in a way that honors and celebrates the people behind the clothing." Each versatile piece gives the buyer the opportunity to go online and learn more about the maker—and even write them a personal note if they so choose. In an age where supply chain transparency is often given little priority, Known Supply is a refreshing deviance. Check out the new collection here.
Advice of the Day:
"Your body will lie to you sometimes, your heart will lie to you sometimes, and your mind will lie to you sometimes, too. But, if you listen to all three at once, you can move the needle somewhere toward the right direction." —Hari Nef
GIF of the Day: